Schlachter named Fownes Super-Sr. POY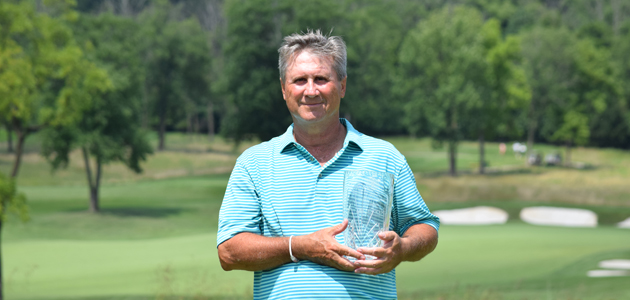 Paul Schlachter named 2018 William C. Fownes, Jr. Super-Senior Player of the Year
2018 W.C. Fownes, Jr. Super-Senior Point Standings
BROOMALL. Pa. - Paul Schlachter earned another honor after a year in which he continued to etch his name in the Pennsylvania Golf Association record books. After winning the Super-Senior crown at the 59th Pennsylvania Senior Amateur Championship presented by LECOM at Philadelphia Cricket Club's Militia Hill course in August, Schlachter moved to the top of the point standings and held on to claim his first W.C. Fownes, Jr. Super-Senior Player of the Year award. He compiled 540 points to finish ahead of Frank Polizzi, Whitemarsh Valley Country Club, who totaled 400 points.
Schlachter, a PAGA Individual Member, is a four-time winner of the Association's Senior Player of the Year (2007, 2008, 2010, 2011). His win at Militia Hill was the 16th PAGA win in his career, and made him the first golfer to win the Association's Amateur, Mid-Amateur, Senior and Super-Senior championships. And he did it in style, bettering his age as the 69-year old fired a 66 in day two en route to an event record score of 136.
"Winning the Player of the Year is a great honor," said Schlachter, who will turn 70 on Christmas Day. "I've always been fond of our PAGA events, because not only do we get to go to terrific venues across the state, but with the high level at which the events are run and the deep fields of top competitors, these are events which are not only a pleasure to play in, but are ones in which you really want to play well."
For Schlachter, the award is a culmination of another strong year, both on the local and national circuit. He earned points in four separate Association events – the 12th Senior Match Play Championship presented by LECOM at LedgeRock Golf Club, 26th Senior Four-Ball Championship presented by LECOM at Lehigh Country Club with partner Todd Kennedy, the aforementioned Senior Amateur and the 78th Dressler Memorial Championship presented by LECOM at Country Club of York, while also qualifying for the U.S. Senior Amateur at Eugene Country Club in Eugene, Oregon.
"Generally I had some very good moments this year," Schlachter said. "I missed out on four tournaments due to the wet late summer and fall, but overall I played well and had a very good year. I'm already looking forward to 2019."
Schlachter is working with a physical therapist who specializes in work with golfers this offseason in an attempt to continue to compete at a high level. He may have some minor equipment tweaks ("looking to go lighter shafts with my irons") but is excited to attempt to repeat as Super-Senior Player of the Year again next year.
About William C. Fownes, Jr.
W.C. Fownes, Jr. was the quintessential amateur golfer who led by example and whose good influence - personal and institutional - was extensive. W.C. Fownes' major golf credits include being a Pennsylvania Amateur and U.S. Amateur Champion, Walker Cup organizer, player and team captain, and USGA president.
The William C. Fownes, Jr. Amateur Player of the Year Award is given to the player who exemplifies the highest standards of excellence on the golf course in skill, sportsmanship, and etiquette in the Commonwealth of Pennsylvania.