Knapp wins back-to-back Fownes Sr. POY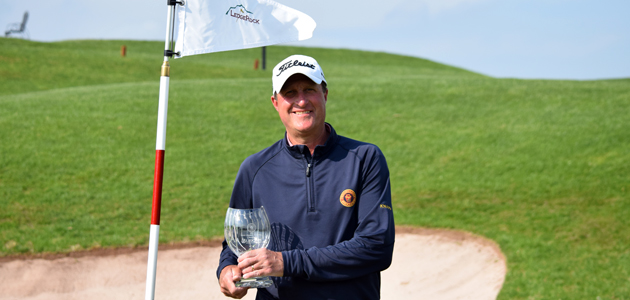 Sean Knapp named 2018 William C. Fownes, Jr. Senior Player of the Year for second time
2018 William C. Fownes, Jr. Senior Player of the Year Point Standings
BROOMALL, Pa. - Sean Knapp claimed the William C. Fownes, Jr. Senior Player of the Year Award for the second consecutive year.
Knapp, of Hannastown Golf Club, spent the season as the reigning U.S. Senior Amateur Champion, and along with it came a physically and mentally demanding schedule. He compiled a staggering 1,060 points in the Fownes Senior POY standings, well ahead of runner-up David Brown of St. Clair Country Club, who posted 385.5 points.
As a result of his victory in the 2017 U.S. Senior Amateur, Knapp earned exemptions on the national circuit and competed in the U.S. Open, U.S. Amateur, U.S. Mid-Amateur, U.S. Senior Open, and U.S. Senior Amateur. If that wasn't enough, he also qualified for the U.S. Amateur Four-Ball at Jupiter Hills with partner Rick Stimmel of Diamond Run Golf Club.
"Unless you've won a USGA event, it's hard to explain," Knapp said. "You're not just representing yourself and your family anymore. You represent the Pennsylvania Golf Association, Western Pennsylvania Golf Association and USGA. It's very humbling because those deals are a lot harder to win than you think. The travel was tough at times for sure, and created a lot of conflicts with some events I traditionally have on the schedule. The national schedule helped in a way by putting me in a mindset to perform at a high level. The time period that you reign goes by quicker than you think. Don't blink; it's a year like no other."
While his travel and competitive schedules were complex in 2018, Knapp, always one to embrace a challenge, took it in stride. He posted victories in both the 12th Senior Amateur Match Play Championship presented by LECOM at LedgeRock Golf Club and the 59th Senior Amateur Championship presented by LECOM at Philadelphia Cricket Club's Militia Hill Course. In addition, he finished tied for 12th place in the 105th Amateur Championship presented by LECOM at Sunnehanna Country Club.
"It means a lot, obviously, to win the Senior Player of the Year as a result of playing well in State events," Knapp, 56, of Oakmont, Pa., said. "I love the State events: the way they are run, the venues are always top notch and certainly enjoy the camaraderie with the players. I'd love to win the Amateur Player of the Year and wish I could have played in more events, but it was really a byproduct of what happened in 2017. When you break it down, you can't play in everything."
During the summer, Knapp won his eighth West Penn Amateur Championship at Fox Chapel Golf Club, tying a 102-year record held by none other than Oakmont Country Club's William C. Fownes, Jr. Knapp's first West Penn Amateur win came in 1988, and his most recent prior to 2018 was 2003. During the U.S. Mid-Amateur in September in Charlotte, N.C., Knapp sustained a hand injury that shelved golf for approximately a month.
In his comeback at the West Penn Senior Amateur in early October at Allegheny Country Club, Knapp grinded in difficult conditions to win in a playoff over The Kahkwa Club's Ed Podufal. He became the first player in West Penn history to win its Amateur and Senior Amateur in the same year.
In his title defense at the U.S. Senior Amateur at Eugene Country Club in Eugene, Ore., Knapp made match play by making birdie on the first hole of a 14-for-13 playoff. From there, as the No. 52 seed, he nearly did the unthinkable, coming up just short in the final against perennial contender Jeff Wilson of Fairfield, Calif.
"I've been searching for more consistency the last few years, trying to enhance the short game and achieve more balance," Knapp said. "I see things from Nathan Smith, trying to eliminate deficiencies and become a more dangerous player to beat. I just love competing and striving to be the best. We always want to be better the next time. It may sound rude, but I want to win every competition. In golf, we have an opportunity to compete throughout life, whereas other sports you can't; your time is limited. That's what makes golf great."
What's in the bag?
Driver – Titleist TS2 – 10.5 degree
3wood – Titleist 917 15 degree
Hybrid -Titleist 915
Irons – Titleist 718MB 4-PW
Wedges – Titleist SM5 54* - 58* - 62*
Putter – Edel Custom (Anser style)
Ball – Titleist ProV1x
About William C. Fownes, Jr.
W.C. Fownes, Jr. was the quintessential amateur golfer who led by example and whose good influence - personal and institutional - was extensive. W.C. Fownes' major golf credits include being a Pennsylvania Amateur and U.S. Amateur Champion, Walker Cup organizer, player and team captain, and USGA president.
The William C. Fownes, Jr. Amateur Player of the Year Award is given to the player who exemplifies the highest standards of excellence on the golf course in skill, sportsmanship, and etiquette in the Commonwealth of Pennsylvania.