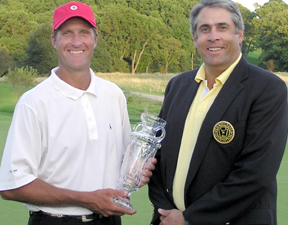 St. Jude GC's Knapp takes third Mid-Am title
GLADWYNE, Pa. – Sean Knapp of St. Jude GC survived a treacherous track and staunch field to capture the 11th Middle-Amateur Championship on Tuesday at Philadelphia Country Club (par 71, 6,865 yards). Knapp finished at 1-over par for the 36 holes to become the first player in Pennsylvania Golf Association history to capture three Middle-Amateur championships.
Chris Lange of Overbrook GC and Glenn Smeraglio of Yardley CC tied for second a shot back. Three others finished at 5-over par to round out the top five.
"I think the state events are penultimate for amateurs, exclusive of USGA events," said Knapp, 42, of Oakmont, Pa. "This means a lot. I felt I haven't done enough, in terms of victories, in state events."
Maybe Knapp's win total isn't what he wants it to be, but his resume is truly remarkable.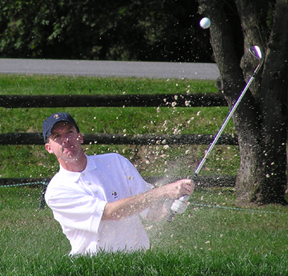 In addition to capturing three Middle-Amateur titles (1996 at Lancaster CC and 1997 at Longue Vue Club), Knapp has finished in the top five in the last 10 state amateurs he's competed in, including a victory in 1997 at the Country Club of Scranton, and has qualified for a remarkable 17 USGA championships. He's a household name in national circles.
The Middle-Amateur Championship changed to a 36-hole, stroke play format this year. Prior, the champion was determined through medal play qualifying and a match play draw.
Knapp, who was in a six-way tie for the lead after carding an opening-round 72, posted a level-par 71 to secure the title.
He birdied No. 1 (par 4, 325 yards) but bogeyed No. 2 (par 4, 353 yards) from 75 yards out when he found the greenside bunker. Another under-par score on No. 8 (par 4, 380 yards) watched Knapp turn in 1-under-par 35. He offset a bogey on No. 11 (par 3, 181 yards) with a six-foot birdie on No. 13 (par 4, 380 yards) before securing the victory on No. 14 (par 4, 472 yards). Knapp pounded a driver, 6-iron to 40 feet behind the flag. A quick, downhill putt, Knapp's chance fell in for an unexpected three.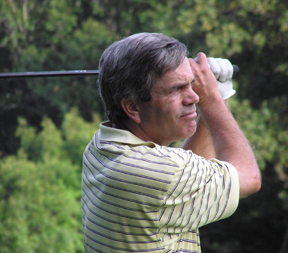 "I was just trying to find a way to make a bogey [on the difficult 16th]," said Knapp. "I got it into the right rough and tried to hit a little chip 9-iron to get it to roll up. It rolled up [almost] onto the 11th hole." Knapp chipped out sideways and then missed his five-foot bogey opportunity.
Knapp then finished with two solid pars, including a nifty 5-wood chip to two feet on No. 18 (par 4, 392 yards) that he sank for par.
Lange, 49, of Bryn Mawr, Pa., posted the lowest round of the day, a 2-under-par 69. Smeraglio, 44, of Yardley, Pa., also finished in red digits on Day Two with a 1-under-par 70.
"I was trying to shoot 68," said Smeraglio, who carded four birdies, a double bogey and a bogey. "I birdied No. 1 and No. 2 and was off and running. Then I hit a very uncharacteristic [block drive] into the woods on No. 9 and had to take an unplayable."
Lange carded four birdies and two bogeys on his round.
The 2005 Middle-Amateur Championship is set Sept. 12-13 at the Country Club of York.
| | | | | | |
| --- | --- | --- | --- | --- | --- |
| Pos | Player Name | Club | Rd 1 | Rd 2 | Total |
| 1 | Sean R. Knapp | St. Jude GC | 72 | 71 | 143 |
| T2 | Chris Lange | Overbrook GC | 75 | 69 | 144 |
| T2 | Glenn Smeraglio | Yardley CC | 74 | 70 | 144 |
| T4 | P. Chet Walsh | Philadelphia CC | 72 | 75 | 147 |
| T4 | Don Erickson III | Indiana CC | 72 | 75 | 147 |
| T4 | Rich Pruchnik | West Chester G & CC | 72 | 75 | 147 |
| T7 | Brian Gillespie | St. Davids GC | 76 | 72 | 148 |
| T7 | Andrew Achenbach | Lu Lu CC | 77 | 71 | 148 |
| T9 | James Bohn | Bucknell GC | 75 | 74 | 149 |
| T9 | Robin S. McCool | Saucon Valley CC | 76 | 73 | 149 |
| T9 | Oscar L. Mestre | Overbrook GC | 75 | 74 | 149 |
| T9 | James R. White | Philadelphia Cricket Club | 77 | 72 | 149 |
| T13 | Arnold K. Cutrell | Totteridge GC | 73 | 77 | 150 |
| T13 | Mike Danner | Lu Lu CC | 77 | 73 | 150 |
| T15 | Gary E. Daniels | Aronimink GC | 76 | 75 | 151 |
| T15 | Artie Fink, Jr. | Sinking Valley CC | 76 | 75 | 151 |
| T15 | David Liotta | Whitemarsh Valley CC | 75 | 76 | 151 |
| T15 | Gregg Angelillo | Moselem Springs GC | 72 | 79 | 151 |
| T15 | Timothy Burns | CC of Scranton | 77 | 74 | 151 |
| T20 | Michael Domenick | Phoenixville CC | 77 | 75 | 152 |
| T20 | John Mullins | Spring Ford CC | 80 | 72 | 152 |
| T20 | Michael Nilon | Philadelphia CC | 76 | 76 | 152 |
| T23 | Francis J. McFadden | Overbrook GC | 79 | 74 | 153 |
| T23 | John G. Benson | Totteridge GC | 72 | 81 | 153 |
| T25 | Edmund C. Chylinski | Chester Valley GC | 77 | 77 | 154 |
| T25 | Jim Rattigan | Schuylkill CC | 77 | 77 | 154 |
| T25 | John C. Rodney | Dimond Run GC | 73 | 81 | 154 |
| T25 | Don Wessner | Philadelphia Publinks | 77 | 77 | 154 |
| T29 | John K. Sweeney | Lancaster CC | 78 | 77 | 155 |
| T29 | Kevin Kelly | Philadelphia Cricket Club | 77 | 78 | 155 |
| T29 | Freddy Henriquez | Loch Nairn GC | 80 | 75 | 155 |
| T29 | Mike J. Vassil | CC of Scranton | 79 | 76 | 155 |
| T33 | Ed Blechschmidt | Whitemarsh Valley CC | 78 | 78 | 156 |
| T33 | Les Neilly | Edgewood CC | 82 | 74 | 156 |
| T33 | Tom Piersanti | Saucon Valley CC | 79 | 77 | 156 |
| T33 | Chris Kovaly | Deer Run GC | 79 | 77 | 156 |
| T33 | Jeff Frazier | Carlisle CC | 76 | 80 | 156 |
| T33 | Marlin Detweiler | Lancaster CC | 81 | 75 | 156 |
| T33 | Francis X. Downey | North Hills CC | 77 | 79 | 156 |
| T33 | James Finegan | Philadelphia CC | 76 | 80 | 156 |
| T33 | Donald Dubyak | Hannastown GC | 78 | 78 | 156 |
| T42 | James J. Bryan | Latrobe CC | 84 | 73 | 157 |
| T42 | John W. Robinson | Commonwealth National GC | 78 | 79 | 157 |
| T42 | Charles J. Dowds, III | Applebrook GC | 81 | 76 | 157 |
| T42 | Craig Scott | Huntingdon Valley CC | 78 | 79 | 157 |
| T46 | Kevin Kornuszko | Spring Mill CC | 81 | 77 | 158 |
| T46 | Brandon Antus | Totteridge GC | 83 | 75 | 158 |
| T46 | Christopher S. Wallin | Indian Valley CC | 80 | 78 | 158 |
| T46 | Drew Panebianco | Talamore at Oak Terrace CC | 78 | 80 | 158 |
| T46 | Kevin Haag | Deer Run GC | 77 | 81 | 158 |
| T46 | Thomas Dell | Lancaster CC | 78 | 80 | 158 |
| T46 | Gordon Jamieson | Merion GC | 81 | 77 | 158 |
| T46 | Santo Lafoca | Huntsville GC | 80 | 78 | 158 |
| T54 | Joe Corsi | Totteridge GC | 80 | 79 | 159 |
| T54 | Ed Knoll | Range End CC | 80 | 79 | 159 |
| T54 | Robert Billings | Rolling Green GC | 73 | 86 | 159 |
| T54 | Richard Thon | The Springhaven Club | 79 | 80 | 159 |
| 58 | Thomas Hyland | Moselem Springs GC | 81 | 79 | 160 |
| T59 | Richard A. Smith | Philadelphia CC | 79 | 82 | 161 |
| T59 | Richard F McKee | Wyncote GC | 85 | 76 | 161 |
| T59 | Roger T. Karsnits, Jr. | Lebanon CC | 80 | 81 | 161 |
| T59 | Ed Strickler | Huntingdon CC | 82 | 79 | 161 |
| T63 | Bill Seng | Colonial CC | 81 | 81 | 162 |
| T63 | Craig Kliewer | Meadia Heights GC | 80 | 82 | 162 |
| T63 | Ken Waldron | Buffalo GC | 82 | 80 | 162 |
| T66 | Jon Helhowski | Philmont CC | 79 | 84 | 163 |
| T66 | Mark Czerniakowski | Philadelphia Publinks | 83 | 80 | 163 |
| T66 | Jeff Paige | Penn National GC | 84 | 79 | 163 |
| T66 | Doug Zelner | Coatesville CC | 81 | 82 | 163 |
| T66 | Bill Rosemeyer | Treesdale G & CC | 83 | 80 | 163 |
| T71 | Frederick Taggart | Meadia Heights GC | 85 | 79 | 164 |
| T71 | Wayne Bartolacci | Jericho National GC | 82 | 82 | 164 |
| T71 | Vincent A. Scarpetta, Jr. | Glenmaura National GC | 81 | 83 | 164 |
| T71 | Chris Gambacarta | Sinking Valley CC | 83 | 81 | 164 |
| T75 | Fred Stern | Alcoma GC | 78 | 87 | 165 |
| T75 | William G. Mecca | Emanon CC | 83 | 82 | 165 |
| T75 | Bob MacWhinnie | St. Clair CC | 81 | 84 | 165 |
| T78 | Frank Polizzi | Whitemarsh Valley CC | 84 | 82 | 166 |
| T78 | John Alterman | Commonwealth National GC | 86 | 80 | 166 |
| T78 | George Connell, Jr. | Gulph Mills GC | 81 | 85 | 166 |
| T78 | Gregory M. O'Connor | Huntingdon Valley CC | 85 | 81 | 166 |
| T78 | Nate M. Reck | Four Seasons GC | 82 | 84 | 166 |
| T78 | Mike Marron | St. Jude GC | 87 | 79 | 166 |
| T84 | Eugene Maginnis | Whitemarsh Valley CC | 86 | 81 | 167 |
| T84 | Chris Kallmeyer | Philadelphia Cricket Club | 81 | 86 | 167 |
| T84 | Donald Ashley | Philadelphia CC | 87 | 80 | 167 |
| T84 | Joe Kinsman | Sandy Run CC | 87 | 80 | 167 |
| T88 | Gregory Ferguson | Sinking Valley CC | 80 | 88 | 168 |
| T88 | Brad Flickinger | CC of Scranton | 82 | 86 | 168 |
| T88 | Daniel P. Delaney | Concord CC | 81 | 87 | 168 |
| T88 | Andrew Lombard | The Springhaven Club | 83 | 85 | 168 |
| T88 | Pete Moran | Edgmont CC | 86 | 82 | 168 |
| T93 | Chris Esbenshade | Fairview GC | 85 | 84 | 169 |
| T93 | Chris Connors | Sewickley Heights GC | 87 | 82 | 169 |
| 95 | Randall Finn | Moselem Springs GC | 89 | 82 | 171 |
| 96 | Robert McMenamin | Philadelphia CC | 90 | 82 | 172 |
| 97 | Thomas P. Mohr | Coatesville CC | 86 | 88 | 174 |
| 98 | Al T. Hughes | CC of Scranton | 85 | 89 | 174 |
| T99 | Jay R. Stoner | Range End CC | 91 | 87 | 178 |
| T99 | Henry P. McCullough | Rolling Green GC | 91 | 87 | 178 |
| T99 | Michael McKee | Philadelphia Publinks | 95 | 83 | 178 |
| 102 | Matthew Brodsky | Radley Run CC | 88 | 91 | 179 |
| 103 | Aric E. Sites | Penn National GC | 96 | 84 | 180 |
| T104 | Arthur J. Kania Jr. | Overbrook GC | 81 | WD | WD |
| T104 | Gerald Coyne | Glenmaura National GC | 87 | WD | WD |
| T104 | Richard Mottura | Pittsburgh Golfer's Tour | 80 | WD | WD |
| T104 | Jay Desjardins | Waynesborough CC | 84 | WD | WD |
| T104 | Robert Gill | Fox Hill CC | 88 | WD | WD |
| T104 | Fran Hamm | CC of Scranton | 93 | WD | WD |
| T104 | Brad McFadden | Overbrook GC | 80 | WD | WD |
[ Back ]