*Day One results
*Day Two results
Van Sickle blisters field with 65;
takes 91st Open Championship
LANCASTER, Pa.–Mike Van Sickle of Wexford, Pa., the son of renowned
Sports Illustrated
golf scribe Gary Van Sickle, penned his own Pulitzer piece on Wednesday at Lancaster CC (par 70, 6,828 yards) when the 20-year-old emerged from a wild final-round scramble with a 5-under-par 65 to take the 91st Chuck Deardorff Memorial Open Championship.
Van Sickle finished the 54 holes at 7-under-par (203 total) and became the second consecutive amateur to earn the Open crown. Kyle Davis of Kennett Square, Pa., turned the trick last year at Nemacolin at Woodlands Resort (Mystic Rock Course).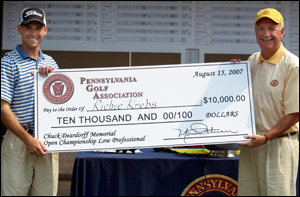 Richie Krebs (left) of Spring Grove, Pa.
is presented the low professional $10,000
check by King Knox, both an Executive
Committee and Lancaster CC member.
A resolute Richie Krebs, the unheralded assistant professional from Spring Grove, Pa. who led after each of the first two rounds, finished in second place at 5 under (205 total). HHis His fantastic three days of play earned him the $10,000 top professional prize.
"It's certainly a day I'm going to remember for a long time," said Van Sickle, a junior at Marquette University. "I needed to shoot a great round to even come close to catching [Richie]. I was thinking before the day that 66 might be good enough for a playoff."
Chip Lutz, an amateur from Reading, Pa. and LedgeRock GC, placed third after carding a final round 4-under 66 to finish at 4-under-par overall. Greg Pieczynski of Kingston, Pa., a mini-tour professional, and Stu Ingraham, the head professional at Overbrook GC, tied for fourth at 3-under overall.
"This is way more than I ever could have imagined," said Krebs, 25, an assistant pro at Hanover CC. "I proved to myself that I can play with these guys."

First you see it, now you don't.
Mike Van Sickle's clinching birdie putt on No. 18.
Van Sickle entered the third round two strokes behind Krebs but headed to the final hole (No. 18, par 4, 470 yards) on Wednesday with a one-shot lead. There, both players gave themselves lengthy birdie opportunities with Van Sickle a couple of feet outside of Krebs.
Looking to seal the victory right there, Van Sickle made the 20-foot left-to-right breaker to seal the win.
"I said to my caddie Doug [Stadler] that I needed to make this because I knew Richie was going to make his," said Van Sickle. "I had a pretty good read on it and I had a good feel for the speed."
Krebs held fast atop the leaderboard most of the afternoon before Van Sickle finally ripped the lead away for good on No. 16 (par 4, 357 yards). A long drive and 70-yard wedge left Van Sickle with an uphill 20 footer for birdie. Krebs found the right fairway bunker with his 3-iron off the tee and knocked his approach 25 feet above the hole. On a day when the greens had some speed to them, putting downhill wasn't the place to be. Krebs three-putted after missing his 10-foot comebacker. Van Sickle powered his into the heart to move clear by two shots.
A hole prior, Krebs made a fantastic 12-foot, up-the-hill par save to remain at 6-under par before Van Sickle, just minutes later, drained a slippery six footer for birdie to move into a share of the lead.
Before the exchange, the two players volleyed back-and-forth most of the day.
Krebs carded three birdies and a bogey on the front nine to make the turn with a one-stroke lead. Van Sickle quickly responded on No. 10 (par 4, 459 yards) with a pitching wedge from 140 yards to 10 feet. Krebs wasn't rattled, though, and lofted a wedge from 70 yards to two feet on No. 13 (par 5, 517 yards) to regain control by a stroke.
The 2008 Open Championship is set for Aug. 11-13 at Old York Road CC in Spring House, Pa.
NOTES–Defending champion Kyle Davis, an amateur from Innsicrone GC, failed to make the cut … the total purse for the Open Championship was $50,000.
Name, city, state

Rd. 1

Rd. 2

Rd. 3

Total

Purse

(a) Mike Van Sickle, Wexford, PA

67

71

65

203

Richie Krebs, Spring Grove, PA

65

71

69

205

$10,000

(a) Chip Lutz, Reading, PA

71

69

66

206

Gregory Pieczynski, Kingston, PA

68

70

69

207

$5,250

Stuart Ingraham, Newtown Square, PA

69

68

70

207

$5,250

Geoffrey Kelowitz, Jim Thorpe, PA

69

72

68

209

$3,750

Travis Dickson, Butler, PA

71

71

68

210

$3,050

(a) Arnie Cutrell, Greensburg, PA

69

72

70

211

(a) Brian W. Bergstol, Mt. Bethel, PA

68

72

71

211

(a) Sean Knapp, Oakmont, PA

72

69

70

211

(a) Christopher Schultz, Shillington, PA

68

72

72

212

Gordon Vietmeier, Pittsburgh, PA

71

71

70

212

$2,600

(a) Cole Willcox, Berwyn, PA

73

71

69

213

Travis Deibert, Doylestown, PA

76

70

67

213

$2,300

Brian Kelly, Lewisburg, PA

70

70

74

214

$2,100

(a) Christian S. Davis, Scranton, PA

67

77

71

215

(a) Doug Stadler, Wexford, PA

75

71

69

215

(a) Jarred Texter, Millersville, PA

74

65

76

215

(a) Adam Cohan, Wayne, PA

73

69

74

216

Bob Ford, Oakmont, PA

72

72

72

216

$1,603

Bob Friend, Pittsburgh, PA

72

71

73

216

$1,603

George Forster, Villanova, PA

74

72

70

216

$1,603

Jason Hrynkiw, Gladwyne, PA

72

73

71

216

$1,603

Robert McClellan, Butler, PA

69

75

72

216

$1,603

(a) Chad Bricker, Waynesboro, PA

72

71

74

217

(a) Chris Gallagher, West Chester, PA

73

72

73

218

Clint Deibert, Doylestown, PA

73

72

73

218

$1,026.67

David Malatak, Pittsburgh, PA

73

72

73

218

$1,026.67

Mark DiGiacomo, Lebanon, PA

75

68

75

218

$1,026.67

Roy Vucinich, Moon Twp, PA

72

74

73

219

$800

Brian Tutich, Greensburg, PA

76

71

73

220

$612.50

(a) Jeff Daniels, Harrisburg, PA

76

71

73

220

Robert Shuey, Mechanicsburg, PA

74

70

76

220

$612.50

Scott Ehrlich, Blue Bell, PA

73

71

76

220

$612.50

Terry Hatch, Pottsville, PA

72

68

80

220

$612.50

(a) Conrad Von Borsig, Swarthmore, PA

72

74

75

221

(a) Stephen Kidron, Horsham, PA

77

70

74

221

John Mazza, Beaver Falls, PA

73

73

76

222

$475

(a) Gregg A. Hostetter, Leola, PA

70

76

77

223

(a) Daniel Obremski, Irwin, PA

73

71

81

225

(a) Matt Moot, Johnston, PA

75

72

78

225

Chad M. Zelenak, Punxsutawney, Pa

74

73

79

226

$440

Paul Oglesby, Ardmore, PA

73

74

79

226

$440

(a) Philip Bartholomew, Yardley, PA

72

74

80

226

Total:

$50,000.01

(a) - Amateur
[ Back ]