*Day One results
*Tee Times
Spring Grove's Krebs stays put at Open;
large pack lurking close behind
LANCASTER, Pa.–Unheralded Richie Krebs of Spring Grove, Pa., an assistant professional at Hanover CC, remains atop the 91st Chuck Deardorff Memorial Open Championship after two rounds with a slew of recognizable names lurking in close proximity.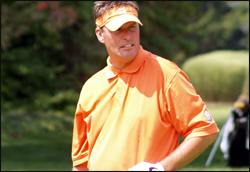 STU INGRAHAM
Krebs, who fired a 65 yesterday, carded a steady 1-over-par 71 on Tuesday at Lancaster CC (par 70, 6,828 yards) and stands at 4-under-par 136 for the two rounds. His once three-shot advantage now stands at one stroke with 18 holes remaining.
Stu Ingraham of Newtown Square, Pa., the longtime head professional at Overbrook GC and a former State Open Champion (1998), posted a 2-under-par 68 for a two-round score of 137 (3 under). Mike Van Sickle, a top collegiate amateur from Treesdale G&CC and Wexford, Pa., and Greg Pieczynski, a touring professional from Kingston, Pa., trail by two shots at 138. Hometown favorite Jarred Texter of Lancaster CC and Lancaster, Pa., a top collegiate player at UNLV, sent a charge through the golf course with the day's best round, a 5-under 65, to move to 1-under par for the tournament.
A group of five players are at even par.
The cut to the low 40 players and ties fell at 7-over-par 147. A total of 44 players (24 professionals, 20 amateurs) advanced to the third round set for 7:30 a.m. Wednesday. The final grouping of Krebs, Ingraham and Van Sickle, will begin at 9:50 a.m.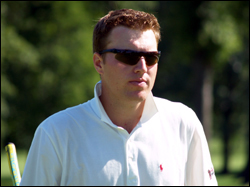 MIKE VAN SICKLE
"I have nothing to prove. Whatever happens tomorrow, I'm just happy to be in the position I am in," said the 25-year-old Krebs. "I was definitely thinking about being in the lead and being in the final group tomorrow. I can play pretty well but my lack of experience is giving me the only second thoughts about what could happen.
Then he added with a smile, "I might have trouble fallen asleep tonight."
Krebs kept himself at the top of the leaderboard with more great flat stick work.
He recorded only 31 putts on a day when hole locations proved extremely challenging. Add that to the fact he needed just 11 putts on his inward nine yesterday en route to a back nine 30, and there you have the secret recipe.
"I feel like I hit the ball worse than I shot," said Krebs. "But I putted great both days and that's the reason I'm here. I guarantee it. I just hope it can keep on tomorrow."
Krebs, starting on the back nine, carded two bogeys and a birdie to make the turn in 1-over on the round. He registered over-par scores on Nos. 10 (par 4, 459 yards) and 18 (par 4, 470 yards) sandwiching a 35-foot birdie bomb on No. 12 (par 3, 181 yards) in between. On No. 1 (par 4, 434 yards), his 10th hole, Krebs drive found the left fairway bunker and he failed to get up-and-down.
A pitch from 80 yards on No. 5 (par 4, 392 yards) resulted in a 12-foot birdie
"I was very happy to be around par today. That was fine with me."
Ingraham, 47, continued his ascent up the scoreboard with more solid play, hitting 17 greens in regulation. He registered birdies on Nos. 10 (par 4, 459 yards) and 12 (par 3, 181 yards) with 8-irons, to start his round – he opened on the back nine – before blocking his drive into the right bunker on No. 15 (par 4, 442 yards) for a bogey. It was his lone bogey of the day and only second of the tournament.
Ingraham grinded out 11 pars and one birdie in his next 12 holes to finish at 3 under overall. His other red-digit score coming on No. 7 (par 5, 529 yards). He hit a wedge from 95 yards to 18 feet below the hole and made the putt.
"I've played Lancaster for 36 holes and made two bogeys and one was a three putt, so I feel good," said Ingraham. "Considering all the circumstances, I'm tickled. I'm in the last group. It's a great opportunity. If I play good tomorrow, I know I can win. I've won before. I'm not saying I will win but I like my position."
Strangely enough, when Ingraham won the 1998 Open his three round scores were 69-68-65. His first two rounds at Lancaster CC this week, 69-68.
Texter's 65 is the lone bogey free round of the tournament, so far.
He made five birdies in all, closing with a 4-iron to five feet on No. 8 (par 3, 198 yards) and a pitching wedge from 124 yards to seven feet on No. 9 (par 4, 435 yards).
The 21-year-old Millersville, Pa., resident is a three-time Lancaster County Amateur Champion.
"I wanted to get myself back into the tournament, which I did, but I was just focused on hitting good shots," said Texter who started the day tied for 43rd. "Tomorrow should be fun."
NOTES–Two former champions are amongst the group at even par, Terry Hatch (1999) of Pottsville, Pa., a touring professional, and Brian Kelly (1987) of Lewisburg, Pa., the head professional at Bucknell GC. Defending champion Kyle Davis of Inniscrone GC fired a 4-over-par 74 and finished the two rounds at 10-over-par 150. He failed to make the cut.
Player, city, state

Rd 1

Rd 2

Total

Richie Krebs, Spring Grove, PA

65

71

136

Stuart Ingraham, Newtown Square, PA

69

68

137

Gregory Pieczynski, Kingston, PA

68

70

138

(a) Mike Van Sickle, Wexford, PA

67

71

138

(a) Jarred Texter, Millersville, PA

74

65

139

Brian Kelly, Lewisburg, PA

70

70

140

(a) Brian Bergstol, Mt. Bethel, PA

68

72

140

(a) Chip Lutz, Reading, PA

71

69

140

(a) Christopher Schultz, Shillington, PA

68

72

140

Terry Hatch, Pottsville, PA

72

68

140

(a) Arnie Cutrell, Greensburg, PA

69

72

141

Geoffrey Kelowitz, Jim Thorpe, PA

69

72

141

(a) Sean Knapp, Oakmont, PA

72

69

141

(a) Adam Cohan, Wayne, PA

73

69

142

Gordon Vietmeier, Pittsburgh, PA

71

71

142

Travis Dickson, Butler, PA

71

71

142

Bob Friend, Pittsburgh, PA

72

71

143

(a) Chad Bricker, Waynesboro, PA

72

71

143

Mark DiGiacomo, Lebanon, PA

75

68

143

Bob Ford, Oakmont, PA

72

72

144

(a) Christian S. Davis, Scranton, PA

67

77

144

(a) Cole Willcox, Berwyn, PA

73

71

144

(a) Daniel Obremski, Irwin, PA

73

71

144

Robert McClellan, Butler, PA

69

75

144

Robert Shuey, Mechanicsburg, PA

74

70

144

Scott Ehrlich, Blue Bell, PA

73

71

144

(a) Chris Gallagher, West Chester, PA

73

72

145

Clint Deibert, Doylestown, PA

73

72

145

David Malatak, Pittsburgh, PA

73

72

145

Jason Hrynkiw, Gladwyne, PA

72

73

145

(a) Conrad Von Borsig, Swarthmore, PA

72

74

146

(a) Doug Stadler, Wexford, PA

75

71

146

George Forster, Villanova, PA

74

72

146

(a) Gregg A. Hostetter, Leola, PA

70

76

146

John Mazza, Beaver Falls, PA

73

73

146

(a) Philip Bartholomew, Yardley, PA

72

74

146

Roy Vucinich, Moon Twp, PA

72

74

146

Travis Deibert, Doylestown, PA

76

70

146

Brian Tutich, Greensburg, PA

76

71

147

Chad Zelenak, Punxsutawney, Pa

74

73

147

(a) Jeff Daniels, Harrisburg, PA

76

71

147

(a) Matt Moot, Johnston, PA

75

72

147

Paul Oglesby, Ardmore, PA

73

74

147

(a) Stephen Kidron, Horsham, PA

77

70

147

Failed to qualify

(a) Alan Borowsky, Bala Cynwyd, PA

68

80

148

Eddie Perrino, Mifflintown, PA

78

70

148

(a) Jimmy Markovitz, Bridgeville, PA

74

74

148

John Allen, Media, PA

76

72

148

Mark Sheftic, Ambler, PA

76

72

148

Rich Steinmetz, Gilbertsville, PA

71

77

148

(a) Ryan Castanet, McDonald, Pa

74

74

148

Ryan Sikora, Greensburg, PA

74

74

148

Stuart Hanford, Lebanon, PA

74

74

148

(a) Travis Howe, Osceola, PA

76

72

148

Andrew Turner, Lititz, PA

75

74

149

(a) Brett Diakon, North Wales, PA

71

78

149

Dan Walters, Lancaster, PA

76

73

149

(a) James M. Gardas, Hawley, PA

74

75

149

(a) Kenneth Phillips, Lancaster, PA

72

77

149

Kevin Shields, Pittsburgh, PA

74

75

149

(a) Ronald DeNunzio, Jeannette, PA

76

73

149

Tyler Witman, Manheim, PA

77

72

149

Wilson Zehner, Lancaster, PA

76

73

149

(a) Zachary Drescher, Landisville, PA

78

71

149

(a) Alexander Maguire, Jr., Philadelphia, PA

78

72

150

(a) Brandon Detweiler, Akron, PA

73

77

150

(a) Chris A. Storck, Sinking Spring, PA

74

76

150

(a) Kyle Davis, Kennett Square, PA

76

74

150

(a) Mark D. Miller, Levittown, PA

73

77

150

Michael Moses, Garnet Valley, PA

75

75

150

William Sautter, Warrington, PA

74

76

150

Alex Knoll, Bethlehem, PA

73

78

151

(a) John Michael Pelet, Atglen, PA

73

78

151

Hugh Reilly, Willow Grove, PA

74

78

152

Terry Hertzog, Lititz, PA

78

74

152

(a) Christopher Ault, Yardley, PA

78

75

153

Henry D'Alberto, Easton, PA

77

76

153

(a) James Bohn, Lewisburg, PA

76

77

153

(a) Matthew Rebitch, Delmont, PA

79

74

153

(a) Stephen Arnold, Langhorne, PA

83

70

153

(a) Tyler Brewington, Orangeville, PA

75

78

153

(a) Brian Belden, Jr., Emmaus, PA

77

77

154

Dan Thompson, Johnstown, PA

73

81

154

Dick von Tacky, Jr., Titusville, PA

75

79

154

Eric Figueroa, Kennett Square, PA

77

77

154

(a) Jerry Hostetter, Lancaster, PA

75

79

154

Lowell Miller, Brodheadsville, PA

74

80

154

Matthew Goudie, Conestoga, PA

78

76

154

(a) Nate Reck, Mechanicsburg, PA

76

78

154

Justin Lamason, Scotland, PA

78

77

155

Rick Flesher, Bethlehem, PA

78

77

155

Jim Cichra, Pittsburgh, PA

78

78

156

(a) John Sweeney, Lititz, PA

79

77

156

(a) Jordan J. Griggs, South Williamsport, PA

79

77

156

(a) Zachary Rockwell, Uniontown, PA

78

78

156

(a) Bo Maguire, Pottstown, PA

78

79

157

Joe Boros, Saxonburg, PA

78

79

157

Joey Bonargo, Warrington, PA

79

78

157

Michael Ladden, Coatesville, PA

78

79

157

(a) Michael Vassil, Dalton, PA

77

80

157

(a) Ryan Franks, Bethel Park, PA

80

77

157

(a) Jacob Pleczkowski, Valencia, PA

81

77

158

Rob Scott, Ardmore, PA

76

82

158

(a) Cary Walton, Red Lion, PA

76

83

159

(a) Christian Breed, Waynesboro, PA

78

81

159

(a) Lucas V. Serbun, Abington, PA

80

79

159

(a) Peter J. Moran, Chester Springs, PA

84

75

159

Robert Rohrbach, Ephrata, PA

84

75

159

(a) Tyler Glassman, Ft. Washington, PA

77

83

160

Vincent Zachetti, Greensburg, PA

77

83

160

(a) Chad Warmbein, McMurray, PA

82

79

161

Jim Smith, Jr., Jenkintown, PA

83

79

162

Jeffrey Herb, West Chester, PA

87

76

163

(a) Lynn Kilduff, Dallas, PA

85

78

163

(a) Jarred Johnson, Waynesboro, PA

82

84

166

Sean Smyth, Lebanon, PA

88

78

166

(a) Phil D'Amato, Harrisburg, PA

82

86

168

(a) Charles Tait, Harrisburg, PA

82

WD

WD

John Pillar, Sr., Hawley, PA

78

WD

WD

WD-withdrawal

(a)-amateur