*Amateur Bracket
*Senior Amateur Bracket
Belden defeats Daniels in Sigel final;
Benson earns Senior Division crown
KING OF PRUSSIA, Pa.–Brian Belden, Jr., of Emmaus, Pa., a sophomore at the University of Kentucky, stopped Jeff Daniels of Harrisburg, Pa., a 32-year-old real estate agent, 3&1, for the 4th R. Jay Sigel Amateur Match Play Championship title on Thursday at Gulph Mills GC.
Belden constructed a 4-up advantage after nine holes before closing the match out on No. 17 (par 3, 213 yards) with a conceded birdie.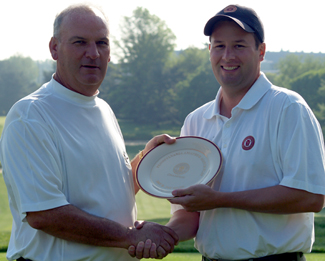 John Benson receives congratulations from Mark
Peterson, the Executive Director of the
Pennsylvania Golf Association.
The Sigel Championship was Belden's first state title. His top finish prior was a fourth-place showing at last year's Amateur Championship.
"This feels good," said a reserved Belden. "It's a great start to the summer."
Belden never trailed in the championship match, recording a par on No. 1 (par 4, 415 yards) and a kick-in birdie on No. 2 (par 4, 404 yards) to jump ahead 2-up. Daniels then conceded an eagle to Belden on No. 7 (par 5, 496 yards) after his second shot drifted into the deep, left quarry guarding the green. Belden continued the momentum on the ensuing 8th hole (par 4, 351 yards) when the Brookside CC of Allentown member guided a nifty Lob Wedge from 55 yards out onto the same tier as the back hole location 15 feet left of the flag. Daniels' 65-yard shot failed to climb the ridge leading to the hole and rolled 30-feet back. Daniels two-putted for par but Belden, as he did all day with the flat stick whenever he needed to, converted his 15-foot birdie chance, to move 4-up.
Daniels, who advanced to the Round of 16 in last year's 2006 U.S. Publinks Championship, wouldn't go away quietly, however, and used a par on No. 10 (par 4, 417 yards) and birdie on No. 11 (par 4, 363 yards) to cut the deficit in half. On No. 12 (par 5, 523 yards), Daniels pulled his 5-iron from 203 yards left of the green and failed to get up-and-down. Belden, 5 yards closer in the fairway, watched his 6-iron just skip sideways into the rough at the top of the greenside bunker. He converted his birdie chance to push his edge back to 3-up. Both players made good par saves on the 14th hole (par 3, 190 yards) after missing the green right. Belden drained a nice six-foot putt with Daniels inside of that.
Daniels did take the next hole after Belden's tee shot clipped a tree and fell out of bounds, but both players came up short with their approaches on No. 16 (par 4, 400 yards). Both players saved par, Belden draining another 15-footer.
On the match's final hole, No. 17, Daniels missed the green left before Belden rocketed a 5-iron to 12 feet. Daniels chip sailed past the hole and the players shook hands.
"He made all the putts he needed to make," said Daniels. "I couldn't hit it in the fairway early and got behind. Fairways here, especially with the rough being thick, are imperative."
Said Belden, "He was slowly working his way back. I had to make those putts to knock him back a little bit. If I didn't make those, the result of the match could have definitely been different."
Arnie Cutrell was the two-time defending R. Jay Sigel champion. Kyle Davis is the only other man with his name on the trophy. Davis took the inaugural event in 2004.
The completion of the morning semifinal matches, which were postponed due to the weather yesterday, saw Belden defeat Adam Cohan of Wayne, Pa., in 19 holes and Daniels upend Conrad Von Borsig of Swarthmore, Pa., 2&1.
Belden made birdies on Nos. 17 and 18 to force a playoff before using a par on the first extra hole to advance.
Senior Division
John Benson of Punxsutawney, Pa., defeated Frank Polizzi of Bryn Mawr, Pa., 3&2, for the R. Jay Sigel Amateur Match Play Championship Senior Division title earlier in the day. The match was a continuation from yesterday when it was postponed on the 14th hole due to inclement weather. Benson held a 2-up advantage at the time.
The Senior Final swung squarely in Benson's favor right before the delay as the two were playing the 13th hole (par 4, 401 yards). The wind direction had turned into the players' faces for the first time all week with the impending storm bearing down on the course, making the uphill par 4 that much longer. Polizzi, the 12th seed, fired a 4-iron from 180 yards to six feet and "felt this was his chance to get even." Benson, the No. 3 seed, however, responded with a smooth 8-iron from 148 yards that stopped just inside of Polizzi's ball.
Polizzi missed his birdie chance. Benson did not. Benson's three moved him 2-up with five holes to play.
"That was basically the difference," said Benson, a member at Totteridge GC. "Being 2-down is a lot different than being 1-down or even when you are standing on the 14th tee."
The two exchanged bogeys on the ensuing two holes before the match finally concluded on No. 16 (par 4, 386 yards) with a Benson birdie and Polizzi bogey.
"I am very happy," said Polizzi, a member of Whitemarsh Valley CC. "I consider this a total success. I played four really good players this week and beat three of them."
Added Benson, a multiple-time champion in other arenas around the Commonwealth and country, "This was very important to me. I had never won a state title before. The golf course was impressive and the competition was real impressive."
This was the first year the R. Jay Sigel conducted a Senior Division. A field of 16 started with reigning Senior Amateur Champion, Paul Schlachter, seeded No. 1.
Amateur Division
Final
8. Brian Belden, Jr., Emmaus, Pa., d. 3. Jeff Daniels, Harrisburg, Pa., 3&1
Semifinals
8. Belden, Jr., d. 4. Adam Cohan, Wayne, Pa., 19 holes
3. Daniels d. 10. Conrad Von Borsig, Swarthmore, Pa., 2&1
Senior Division
Final
3. John Benson of Punxsutawney, Pa., d. 12. Frank Polizzi of Bryn Mawr, Pa., 3&2
Semifinals
3. Benson d. 10. Michael Nilon, Gladwyne, Pa., 4&3
12. Polizzi d. 9. Ed Chylinski, King of Prussia, Pa., 3&2

[ Back ]