Scally, Walters cards 68s, lead State Open
SPRING HOUSE, Pa.–Dan Walters, a mini-tour professional from Lancaster, Pa., and Chuck Scally, Jr., a teaching professional from Moon Township, Pa., lead the 92
nd
Robert L. Fryer Memorial Open Championship after posting 3-under-par 68s Monday at a challenging Old York Road CC (par 71, 6,558 yards). The pair stands a shot clear of the quintet of Clint Deibert of Doylestown, Pa., David DeNunzio of Jeannette, Pa., John Pillar, Sr., of Hawley, Pa., Conrad Von Borsig of Swarthmore, Pa., and Cole Willcox of Malvern, Pa.
The second round begins at 7:30 a.m. tomorrow. The 122-player field, consisting of 68 professionals and 54 amateurs, will then be cut to the low 40 players and ties for Wednesday's final round. The Open contains a purse of $50,000 with a top share of $10,000 for professionals.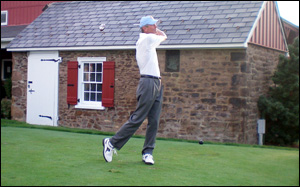 Bob Fryer strikes the symbolic opening shot
in the tournament memorializing
his father Robert L. Fryer.
Walters, who entered the State Open off a recent Lancaster County Open victory, began his round with a bogey (No. 1, par 4, 352 yards) before rattling off three birdies in the next four holes. On No. 2 (par 4, 340 yards) he hit a pitching wedge from 120 yards to a foot; on No. 3 (par 3, 181 yards) he knocked a 6-iron to six feet and on No. 5 (par 3, 228 yards) he launched a magnificent 3-iron to 15 feet. An errant drive into the left rough on No. 7 (par 4, 410 yards) resulted in a bogey, however, and Walters made the turn at 1 under.
Walters, though, again used an early quick birdie barrage on the back nine to skyrocket to the top of the leaderboard.
The 24-year old birdied No. 11 (par 4, 391 yards) with a 9-iron to 20 feet; No. 12 (par 4, 354 yards) with a Gap Wedge from 100 yards to 20 feet and No. 15 (par 5, 509 yards) with a short pitch to 10 feet. However, a poor tee ball on No. 17 (par 4, 411 yards) resulted in a bogey and Walters finished at 3 under.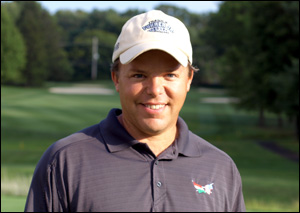 CHUCK SCALLY, JR.
"I hadn't really been playing a lot since the last week in June but I was fortunate enough to beat Jarred [Texter] in the Lanco Open to get some nice mojo going," said Walters, who competes on the competitive Hooters Tour in Florida. "I hit it good today and didn't make many mistakes."
Scally started his round at 1:30 p.m. on the back nine. It was his first round ever at Old York Road CC.
Like Walters, he three-putted his first hole for bogey but responded nicely with successive birdies on No. 14 (par 3, 159 yards) with a 7-iron to 12 feet and No. 15 (par 5, 509 yards) on a 30-yard pitch to five feet. A poor drive on No. 17 (par 4, 411 yards), however, dropped Scally to even par at the turn.
His front side, though, contained nothing but blue (par scores) and red (birdie scores) figures. He lofted a 95-yard sand wedge to a foot on No. 1 (par 4, 352 yards) for a 3 before draining a 12-foot birdie on No. 4 (par 5, 525 yards) and knocking a 9-iron from 138 yards to two feet on No. 6 (par 4, 399 yards).
"I have never seen the course before. I tried to play it yesterday but got rained out," said Scally, 43. "It is very much in front of you. I didn't make many mistakes. I hit a lot of greens [15 total] and fairways [14 total]. I didn't get in any real trouble."
Scally's family owns Scally's Golf Center in the Pittsburgh area.
"I haven't been playing well lately," he added. "I've been working on my swing with my wife Jill. She's a teaching professional at the range as well. I've really been working on my takeaway."
Defending champion Michael Van Sickle, an amateur from Wexford, Pa., opened with an even-par 71.
Name, city, state

Score

Chuck Scally, Jr., Moon Township, PA

68

Dan Walters, Lancaster, PA

68

Clint Deibert, Doylestown, PA

69

(a) Cole Willcox, Berwyn, PA

69

(a) Conrad Von Borsig, Swarthmore, PA

69

(a) David DeNunzio, Jeannette, PA

69

John E. Pillar, Sr., Hawley, PA

69

(a) Jon Pratkanis, Kittanning, PA

70

(a) Kyle Davis, Kennett Square, PA

70

(a) Matthew Mattare, Bethlehem, PA

70

Travis Deibert, Doylestown, PA

70

Christian Bartolacci, Langhorne, PA

71

(a) Michael Van Sickle, Wexford, PA

71

(a) Nathan Sutherland, Wyomissing, PA

71

(a) Travis Howe, Osceola, PA

71

(a) Tyler Brewington, Orangeville, PA

71

(a) William Miller, Venetia, PA

71

Bob Ford, Oakmont, PA

72

(a) Chance W. Miller, Lancaster, PA

72

Eddie Perrino, Albrightsville, PA

72

Geoffrey Kelowitz, Jim Thorpe, PA

72

Gregory Pieczynski, Kingston, PA

72

Henry D'Alberto, Easton, PA

72

(a) Joseph Gunerman, Yardley, PA

72

Kevin Shields, Pittsburgh, PA

72

Lewis G Sturgeon, Pittsburgh, PA

72

Rick M Flesher, Bethlehem, PA

72

Roy Vucinich, Moon Twp, PA

72

(a) Stephen Dressel, Malvern, PA

72

Stuart Ingraham, Harrisburg, PA

72

Chris Gallagher, West Chester, PA

73

(a) Daniel Charen, Langhorne, PA

73

(a) Dominic Frassinelli, Allentown, PA

73

(a) Eric Williams, Honesdale, PA

73

George J. Forster, Villanova, PA

73

(a) Jeff Daniels, Harrisburg, PA

73

Mark DiGiacomo, Lebanon, PA

73

(a) Robert Galbreath, Jr., Huntingdon Valley, PA

73

Scott Ehrlich, Blue Bell, PA

73

Sean Szerencsits, Coplay, PA

73

Steve M. Cutler, Kennett Square, PA

73

(a) Adam Cohan, Wayne, PA

74

(a) Chad A. Bricker, Waynesboro, PA

74

(a) Clayton Rotz, Chambersburg, PA

74

(a) Daniel Obremski, Irwin, PA

74

Erik B Bertrand, Pittsburgh, PA

74

Gordon Vietmeier, Pittsburgh, PA

74

(a) Marc Mandel, Conshohocken, Pa

74

(a) Mark Miller, Levittown, PA

74

(a) Michael D Turner, Baden, PA

74

(a) Nathan Smith, Pittsburgh, PA

74

Rich Steinmetz, Gilbertsville, PA

74

Robert McClellan, Butler, Pa

74

Stephen Arnold, Langhorne, PA

74

Terry Hatch, Pottsville, PA

74

Alex Knoll, Bethlehem, PA

75

Brian Kelly, Lewisburg, PA

75

(a) Christian S. Davis, Scranton, PA

75

Dave Roberts, Ambler, PA

75

David M Vallina, Langeloth, PA

75

David Patronik, Erie, PA

75

David W Malatak, Pittsburgh, PA

75

Jarred Texter, Millersville, PA

75

Joe Boros, Saxonburg, PA

75

John D Mazza, Beaver Falls, PA

75

John D. Allen, Media, PA

75

Mark Sheftic, Ambler, PA

75

(a) Matt Moot, Johnstown, PA

75

(a) Nicolas Milito, Jeannette, PA

75

(a) Travis Gahman, Souderton, PA

75

Andrew Dawes, Hershey, PA

76

Anthony Napoletano, Springfield, PA

76

(a) Brian Creghan, Radnor, PA

76

(a) Christopher Schultz, Shillington, PA

76

(a) James Bohn, Lewisburg, PA

76

(a) Philip Bartholomew, Yardley, PA

76

(a) Rich Pruchnik, West Chester, PA

76

(a) Warren Taylor, Newtown, PA

76

(a) Zak Drescher, Landisville, PA

76

Adam J. Corson, State College, PA

77

Albert Hromulak, Pittsburgh, PA

77

(a) Brian Belden, Jr., Emmaus, PA

77

Brian Bergstol, Mt. Bethel, PA

77

Logan Terry, Plymouth Meeting, PA

77

Michael Z. Moses, Garnet Valley, PA

77

Nick Milicevich, Smithton, PA

77

(a) Robert Robertson, Philadelphia, PA

77

Terry Hertzog, Lititz, PA

77

Tug Maude, Wayne, PA

77

Bob Friend, Pittsburgh, PA

78

(a) Bryan Marvin, Horsham, PA

78

(a) Gray West, State College, PA

78

Greg P King, Harrisburg, PA

78

(a) Jason Cohan, Merion, PA

78

John Spina, Schwenksville, PA

78

(a) Ronald DeNunzio, Jeannette, PA

78

Wilson Zehner, Lancaster, PA

78

Andy Fisher, Mill Hall, PA

79

Anthony L. Bonargo, Warrington, PA

79

Brian Gardner, Norristown, PA

79

Daniel J Mahoney, Northumberland, PA

79

Dennis M Munko, Leechburg, PA

79

(a) Greg Forster, Blue Bell, PA

79

Justin Lamason, Scotland, PA

79

(a) Marlin Detweiler, Akron, PA

79

Ryan Knolles, Wyalusing, PA

79

Steven Wager, State College, PA

79

(a) Ed Chylinski, King of Prussia, PA

80

Scott E. Hunter, Collegeville, PA

80

Andrew J. Signor, Jonestown, Pa

81

(a) Ben P. Rowe, Lancaster, Pa

81

Matthew Nuechterlein, Kennett Square, Pa

81

Richard N. Gibson II, Lancaster, PA

81

Richie Krebs, Spring Grove, PA

81

(a) Arnie Cutrell, Greensburg, PA

82

(a) Doug Stadler, Wexford, PA

82

Mike Milewski, Paupack, PA

82

(a) Jonathan D. Brust, Elverson, PA

85

(a) Tony Perla, Collegeville, PA

85

(a) Christopher L. Clark, North Wales, PA

87

(a) Patrick Mitchell, Scranton, PA

88

Hugh P. Reilly, Willow Grove, PA

NS

NS-No show
[ Back ]