*Sigel Amateur bracket
*Sigel Senior Amateur bracket
*Day One results
Cutrell, Schlachter take Sigel Match Play titles
ELVERSON, Pa.–Arnie Cutrell and Paul Schlachter, the top two seeds in their respective flights of the R. Jay Sigel Match Play Championship, added state titles to their already impressive resumes on Tuesday at Stonewall.
Cutrell, 43, of Greensburg, Pa., defeated seventh-seed Eric Williams of Honesdale, Pa., 5&4, for the Amateur championship while Schlachter, 59, of Bridgeville, Pa., upended Thomas Bartolacci, Jr., of Washington Crossing, Pa., the sixth seed, 3&1, for the Senior crown.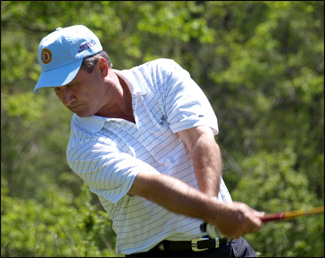 Paul Schlachter tees off on No. 8
in his match with Thomas Bartolacci.
This was Cutrell's third Sigel Amateur Match Play title. He also earned victories in 2005-06.
For Schlachter, this was his seventh state championship but first R. Jay Sigel Senior Match Play crown. Schlachter has previously won the 1998 Amateur, 2004 Senior Amateur, 2005 Middle-Amateur, 2006 Senior Amateur and Senior Better-Ball championships in 2005 and 2007. This is the second year the Association has administered a Sigel Senior Division.
"To win this event three times in the last four years is an honor," said Cutrell, who plays out of Greensburg CC. "It was really special meeting Mr. Sigel. When I was growing up he was Mr. Amateur Golf in Pennsylvania. He was who I looked up. It was great to get a chance to talk to him."
Unbeknownst to the players, R. Jay Sigel, the event's namesake and member of the Champions Tour who is recovering from left shoulder surgery, viewed the final two matches and presented the championship trophies.
Cutrell won four straight holes late in the front nine to seal his finals win. Down one hole on the sixth tee, Cutrell, who won the event the last time it was held at Stonewall in 2005, took the next four to move 3-up heading to the back. Cutrell two putted No. 6 (par 4, 442 yards) for par; knocked a 9-iron to 20 feet on No. 7 (par 3, 170 yards) and made birdie; parred the difficult No. 8 (par 4, 439 yards) with Williams in trouble off the tee and rocketed a 4-iron that kicked off the right bank near the ninth (par 3, 229 yards) green and trickled down to six inches for another birdie.
When Williams failed to capitalize on Cutrell's poor second shot on No. 10 (par 4, 395 yards) and the two halved the hole with bogeys, the outcome turned into when, not who.
"It's tough to come back from that far behind on a guy who has won this two times," said Williams, 35. "I'm happy with the tournament. It's early in the season and to make the final and meet Mr. Sigel was great."
Said Cutrell, "I said after [the 10th] hole that I still have to play. I told myself there are a lot of holes out here you can make bogey on."
The Bartolacci-Schlachter match was nip-and-tuck the entire way with neither player building more than a 1-up lead until No. 15.
The two made the turn All Square, before a pair of clutch up-and-down par saves by Schlachter on holes No. 13 (par 4, 419 yards) and No. 14 (par 4, 379 yards) kept him ahead, as it turns out, for good.
On No. 13, Schlachter blocked his 8-iron from 162 yards into the right greenside bunker, got it out and drained the 30-foot par putt. On No. 14, Schlachter again flared his 8-iron, this time from 164 yards, and the ball settled in the rough behind the right, greenside bunker. Left with a delicate downhill chip, he knocked it into the grassy bank in his path and watched the ball stop eight feet from hole. He made the par putt. Bartolacci countered with fours of his own without finding any real trouble, but instead of potentially winning both holes with par, he headed to the 15th tee still 1-down.
"That was the difference," said Bartolacci, 57, of those two holes. "He didn't make a whole lot of mistakes. There weren't a lot of openings."
Added Schlachter, "The match could've gone either way. I was fortunate to have won."
On No. 15 (par 3, 176 yards), Schlachter made a two-putt par from 20 feet and Bartolacci failed to get up-and-down from the left fringe leaving his par chance a half rotation short.
Schlachter closed the deal on No. 17 (par 3, 130 yards) when he hit a 9-iron to 15 feet and made the birdie try.
Amateur
Final
1. Arnie Cutrell, Greensburg, Pa., d. 7. Eric Williams, Honesdale, Pa., 5&4
Semifinals
1. Cutrell d. 5. Chip Lutz, Reading, Pa., 2&1
7. Williams d. 14. Tyler Brewington, Orangeville, Pa., 19 holes
Senior
Final
1. Paul Schlachter, Bridgeville, Pa., d. 6. Thomas Bartolacci, Jr., Washington Crossing, Pa., 3&1
Semifinals
1. Schlachter d. 12. Don Erickson, III, DuBois, Pa., 4&3
6. Bartolacci, Jr., d. 2. John Benson, Punxsutawney, Pa., 3&2
[ Back ]