*Scorecards
*Day Two results
Justin Smith emerges from Open field to take title
OAKMONT, Pa.–Justin Smith, a mini-tour professional from Franklin, Pa., finished at even par for 54 holes to emerge from a congested leaderboard and take the 93rd Open Championship on Wednesday at Oakmont CC (par 71, 6,946 yards). Smith, 27, a four-year veteran of the Hooters Tour, posted an impressive final-round 3-under-par 68 on a day when the golf course presented substantial challenges to earn the victory and the $10,000 winner's check. Stu Ingraham of Harrisburg, Pa., a professional at MGOLF Driving Range and Learning Center in Newtown Square, Pa., finished in second place two strokes behind. Two-time defending Open champion, amateur Michael Van Sickle from Wexford, Pa. and Treesdale G&CC, also carded a final-round 68 to jump up from 16th into a tie for third.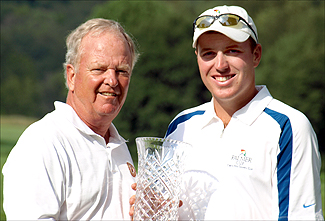 Ray Mott (left), Pennsylvania Golf Association President,
presents Mike Van Sickle of Treesdale G&CC
with the low amateur trophy.
Second-round leaders Robert McClellan, a professional from Butler CC and Butler, Pa., and Robert Rohanna, an amateur from Waynesburg, Pa. and Nemacolin Woodlands Resort, each struggled at various times. They finished tied for third and tied for fifth, respectively.
"I kind of had a feeling going into today, with the harder playing conditions, anything under par would give me some sort of a chance," said Smith, who has won three times on the Hooters Tour, the last time coming in 2007. "I also knew, though, that I would need some help as well."
Smith started the final round in the third from last group at 3 over for the tournament and five shots behind the leaders after carding rounds of 77 and 68.
However, as the players ahead of him on the leaderboard slowly began to drop back one-by-one, Smith seemed to excel. He made eight pars and one birdie on the front nine to make the turn at 2-over par. Smith carded a three on No. 7 (par 4, 479 yards) when he knocked a 7-iron on from 182 yards to 10 feet and made the downhill birdie putt. At that point, he trailed only three players. McClellan led at 1-under par. Smith continued to grind away on the back nine and made birdies on No. 12 (par 5, 562 yards) and No. 13 (par 3, 183 yards). On the 12th, he knocked a wedge from 70 yards to 10 feet and, on the 13th, he lasered a 6-iron to eight feet just short of the hole and made the straight up hill putt. Smith carded a hiccup on No. 16 (par 3, 211 yards) when he three putted from the left side of the green and 40 feet away for a bogey but even so was tied for the lead at that point with Tyler Brewington, a touring professional from Orangeville, Pa., at 1-over par. However, that wasn't the case for long. Smith launched a driver to 40 yards short and right of the flag on No. 17 (par 4, 313 yards) and then lofted a near perfect lob wedge to a foot. For the final few rolls, the chip looked like it was going in for an eagle two. Brewington bogeyed No. 14 and Ingraham, his next nearest competitor, double bogeyed 15 soon after, leaving Smith alone at the top of the leaderboard at even par.
A perfect drive and a 6-iron from 188 yards left Smith with 15 feet remaining behind the hole. His birdie chance rolled just over the left edge but no matter.
"Especially after the first round this is special," said Smith who opened with a 77 but followed that up with a second-round 68. "I came out here and I didn't play that bad in the first round but I didn't hit many fairways. I kept grinding. I didn't make a double bogey all week. To me that's one of my kind of things, to minimize the damage. You can get bogeys back. Doubles are hard."
Van Sickle was looking to become the first player in Pennsylvania Golf Association history to win three consecutive Open titles, but, nonetheless, turned in an impressive showing in defense of his title.
"It would have been great to come in and put myself in a position to win on the last day but I didn't quite finish off my rounds the first two days," said Van Sickle, 22, who graduated from Marquette University this spring. "I kind of knew if I played my behind off and came it with something like 64 I would have a chance. I just couldn't keep the momentum going on the back nine."
Van Sickle opened his final 18 holes in style, making the turn in 4-under 32 after birdies on Nos. 4 (par 5, 609 yards), 5 (par 4, 382 yards), 6 (par 3, 168 yards) and 9.
The highlight of those four birdies was a 60-foot two on the difficult sixth. A bogey on No. 10 (par 4, 462 yards) slowed his push before a double bogey on No. 13 (par 3, 183 yards) derailed it. He sent a 5-iron long and hit a poor ensuing flop shot. However, Van Sickle continued to fight and birdied No. 17 (par 4, 313 yards) and No. 18 (par 4, 430 yards) to finish as the low amateur.
| | | | | | |
| --- | --- | --- | --- | --- | --- |
| Name | City, State | Rnd 1 | Rnd 2 | Rnd 3 | Total |
| Justin Smith | Franklin, PA | 77 | 68 | 68 | 213 |
| Stuart Ingraham | Harrisburg, PA | 67 | 74 | 74 | 215 |
| (a) Mike Van Sickle | Wexford, PA | 75 | 74 | 68 | 217 |
| Robert McClellan | Butler, PA | 73 | 67 | 77 | 217 |
| (a) Christopher W. Ault | Yardley, PA | 76 | 75 | 67 | 218 |
| (a) Robert T. Rohanna | Waynesburg, PA | 74 | 66 | 78 | 218 |
| Tyler Brewington | Orangeville, PA | 73 | 69 | 76 | 218 |
| Bobby MacWhinnie | Pittsburgh, PA | 74 | 73 | 72 | 219 |
| (a) Brian Belden, Jr. | Emmaus, PA | 78 | 72 | 69 | 219 |
| Gregory Pieczynski | Kingston, PA | 72 | 74 | 73 | 219 |
| (a) Nathan Sutherland | Wyomissing, PA | 74 | 70 | 75 | 219 |
| (a) Travis J. Howe | Osceola, PA | 75 | 74 | 70 | 219 |
| Travis W. Deibert | Doylestown, PA | 76 | 72 | 71 | 219 |
| Blaine Peffley | Lebanon, PA | 76 | 71 | 75 | 222 |
| (a) Brandon Detweiler | Akron, PA | 71 | 80 | 71 | 222 |
| (a) James Kania, Jr. | Haverford, PA | 80 | 71 | 71 | 222 |
| Jarred Texter | Millersville, PA | 75 | 70 | 77 | 222 |
| Kevin Shields | Pittsburgh, PA | 74 | 73 | 75 | 222 |
| (a) Sean R. Knapp | Oakmont, PA | 77 | 72 | 73 | 222 |
| Bob Ford | Oakmont, PA | 78 | 70 | 75 | 223 |
| Bob Friend | Pittsburgh, PA | 76 | 72 | 76 | 224 |
| Brandon Knaub | Loganville, PA | 76 | 73 | 75 | 224 |
| (a) Erik B. Bertrand | Pittsburgh, PA | 77 | 75 | 72 | 224 |
| John Aber | Pittsburgh, PA | 77 | 74 | 73 | 224 |
| Matt Schall | Williamsport, PA | 75 | 75 | 75 | 225 |
| Rich Steinmetz | Gilbertsville, PA | 73 | 74 | 78 | 225 |
| (a) Arnie Cutrell | Greensburg, PA | 77 | 74 | 75 | 226 |
| (a) Gregor A. Orlando | Erie, PA | 75 | 75 | 76 | 226 |
| Jon Rusk | Washington Crossing, PA | 73 | 78 | 75 | 226 |
| (a) Robert L. Robertson | Philadelphia, PA | 75 | 75 | 76 | 226 |
| Clint A. Deibert | Doylestown, PA | 79 | 71 | 77 | 227 |
| (a) David DeNunzio | Jeannette, PA | 74 | 76 | 77 | 227 |
| George J. Forster | Villanova, PA | 74 | 76 | 77 | 227 |
| Roy Vucinich | Moon Twp, PA | 76 | 77 | 74 | 227 |
| Stephen Arnold | Langhorne, PA | 76 | 77 | 74 | 227 |
| Vince Covello | Haverford, PA | 73 | 80 | 75 | 228 |
| (a) Adam Hofmann | Pittsburgh, PA | 76 | 74 | 79 | 229 |
| (a) Artie Fink, Jr. | Altoona, PA | 75 | 76 | 78 | 229 |
| (a) Jeffrey A. Varga | Monroeville, PA | 79 | 72 | 78 | 229 |
| John E. Pillar, Sr. | Hawley, PA | 74 | 79 | 77 | 230 |
| (a) Austin C . Romeo | Erie, PA | 79 | 73 | 79 | 231 |
| Chad A. Bricker | Waynesboro, PA | 76 | 73 | 82 | 231 |
| Gordon Vietmeier | Pittsburgh, PA | 78 | 75 | 80 | 233 |
| (a) Cole Willcox | Berwyn, PA | 81 | 72 | 81 | 234 |
| Michael W. Molino | Shavertown, PA | 72 | 77 | 86 | 235 |
[ Back ]