Johnson Captures Middle-Amateur Championship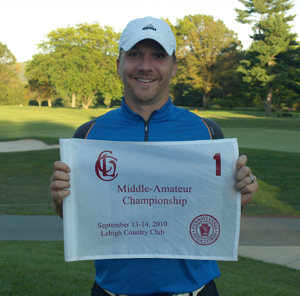 Brian Johnson won the 17th Middle-Amateur
Championship by 3 shots
Allentown, PA - Brian Johnson, of Allentown Municipal Golf Course, started the final round one shot back of the leader, Byron Whitman, of Golden Oaks Golf Club. Whitman posted a opening round score of 2-under-par, 68, while Johnson and Chris Smedley, of Hartefeld National, posted rounds of 69. Jeff Frazier, of Carlisle Country Club, Gregor Meyer, of Pittsburgh Field Club, and P. Chet Walsh, of Philadelphia Country Club, all carded rounds of even-par on the first day of the 17th Middle-Amateur Championship.
The lead didn't last long, as Johnson birdied the first 2 holes on Tuesday, while Whitman was 1-over-par for the opening holes.
Roger Johnson, Brian's father, was his caddie for the event. The elder Johnson got his son into the sport at five-years-old.
"He is just one of those individuals that knows just what to tell me at just the right time," said Brian.
Johnson bogeyed holes 4 and 5, but recovered with a great birdie on the 533 yard, par 5, 6th hole. Johnson finished the front nine at even-par (1-under-par total), while Whitman posted a 3-over-par, 38 (1-over-par total). Jeff Frazier played some steady golf, with two bogeys and two birdies to make the turn at even-par for the tournament.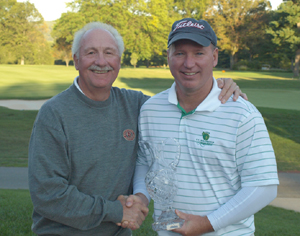 Jeff Frazier is presented the second place trophy
from King Knox, Executive Committee Member
Craig Kliewer, of Meadia Heights Golf Club, was 7-shots back of the leader going into the final round. He posted a front nine score of even-par after birdying the 415 yard, par 4, 9th hole. He caught fire on the back nine and made birdies on holes 13, 14, and 17 to post the low round, by 2 shots, on the final day. His score of 68 (143 total) was good enough for a tie for second.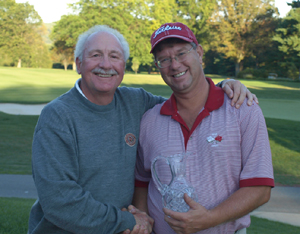 Craig Kliewer is presented the second place trophy
Frazier hung in there to put some pressure on the leader and stood at even-par for the tournament through 33 holes, but struggled through the final 3 to finish in a tie with Kliewer for second place at 3-over-par, 143.
Johnson was unfazed and made tremendous par saves when he needed to. On the difficult, up-hill 369-yard, par 4, 14th hole, he blocked his drive, and was left with a long approach up the tree line.
"In the first round, I hit my irons as crisp and sound as I have in 6 years. I was just so confident over the ball, and just knew that I could hit the shot."
He hit a solid shot, just over the front hole location and made a stock two-putt to keep the round going. Trouble came at the 175 yard, par 3, 16th hole where he chose to hit "a hard 8-iron instead of an easy 7, and I just hit it fat." He ended up in the front bunker and was unable to get up-and-down.
Walking to the 17th tee was the first time he really knew where he stood, with regard to the rest of the field. He looked at the leader board and saw that he still had a lead but Jeff Frazier was two groups ahead and standing in the 18th fairway. "My dad could tell how I was feeling and just reiterated, 'fairways and greens' and to 'finish the race'."
Johnson did just that. He hit a long drive on the 416 yard, par 4, 17th and had a wedge in to the green and hit another gem of a drive on the 438 yard, par 4, 18th hole. His approach landed in the middle-right of the green, hole high, and two-putted to victory.
"I'm really looking forward to riding this success into the 2011 season. I haven't had the time or opportunity in the past couple of years, but I'm planning on putting together a schedule for next year."
Johnson has been given some great advice over the past few years. He met Robin McCool, Saucon Valley Country Club member, at some Lehigh Valley Golf Association events, and McCool was gracious enough to give him some insight. McCool recently qualified for his 15th USGA Championship and is one of the most decorated amateur golfers the state has to offer.
TEAM COMPETITION:
The competition was played concurrently with the individual championship on a "best 2 scores of 3 per day" basis. Allentown Municipal GC was victorious and was represented by: Brian Johnson (69-71), Jason Wilson (75-74), and Mathew Wearing (82-79), for a team total of 289. In second place was the team from Moselem Springs GC, who was represented by: Gregg Angelillo (76-78), Tom Soares (73-81), and Chris Storck (71-74) for a team total of 296.
HIGHLIGHTS:
Two Hole-In-One's were made on the 175 yard, par 3, 16th hole. Alex Urrea, of The Club at Nevillewood, made an ace in the first round, and Dan Brown, of Pine Meadows Golf Complex, holed an ace in the second round.
Lehigh Country Club, measuring 6,554 yards, played very tough over both days of competition. The course was in impeccable shape considering the tough weather conditions all season. LCC is celebrating their 100th anniversary this year. Special thanks to Wayne Phillips, Golf Professional, Zen Mikulsi, General Manager, and John Chassard, Greens Superintendant, and all of their staff for a job well done!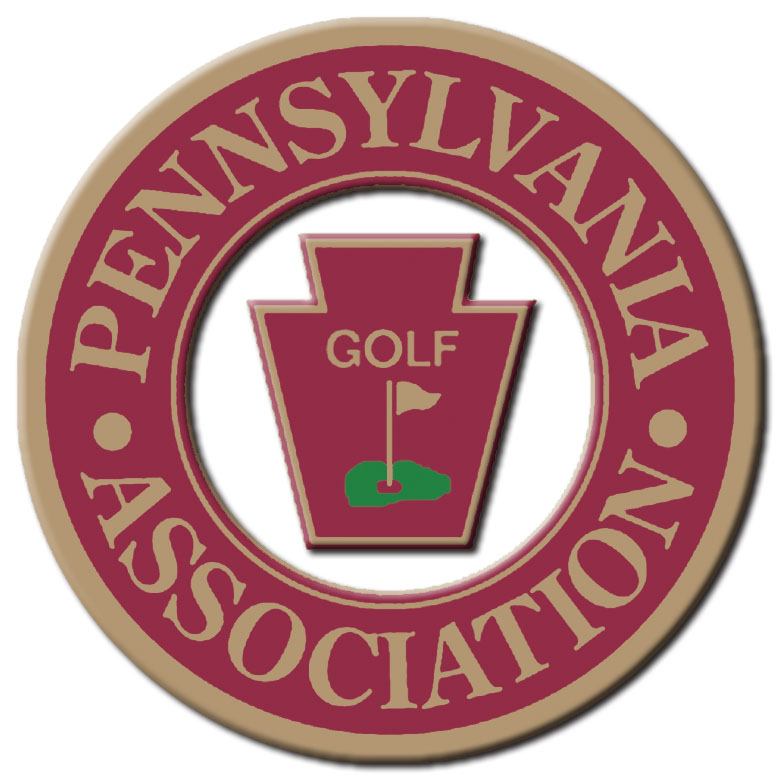 [ Back ]