First & Second Round Scorecards
Rohanna takes 94th Open Championship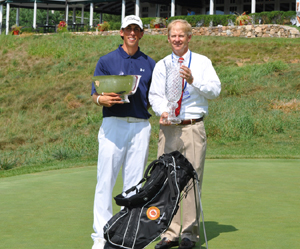 Robert Rohanna is awarded the Arnold Palmer trophy,
1st place crystal, and an Ogio Vaporlite golf bag, courtesy of Ogio
MALVERN, Pa.–A methodical Robert Rohanna, a mini-tour professional from Waynesburg, Pa., who entered the third and final round with a two-stroke lead, kept a comfortable distance between himself and his pursuers all day on Wednesday en route to the 94th Open Championship title at Applebrook GC (par 71, 6,815 yards). Rohanna posted a final-round of even-par 71 to finish three shots clear of runner-up Blaine Peffley of Lebanon, Pa. Zak Drescher of Landisville, Pa., who played in the final grouping with Peffley and Rohanna, posted a closing 72 to finish as the low amateur.
It was Rohanna's first professional victory. He left the amateur ranks this past January.
"It feels good," said a subdued Rohanna, 24, who plays out of Nemacolin Woodlands Resort. "All in all I'm pretty happy. I didn't have to make too many birdies. I just played easy golf and kept the course in front of me."
Rohanna entered the third round at 12-under par and Peffley at 10 under. Drescher started at 9 under.
True to his game plan, Rohanna played rock steady from the get go, and made the turn at 13 under after the first nine holes. He had two birdies, a bogey and six pars, while his playing partners, who were also his closest competitors, failed to get anything going. Peffley, who matched a Rohanna birdie on No. 1 (par 5, 522 yards) took a triple-bogey 7 on No. 4 (par 4, 418 yards) after his 7-iron second shot from the right fescue flew the green and was never found. Peffley birdied No. 6 (par 4, 396 yards), but a spotty short game on the next three holes resulted in three subsequent bogeys and a 3-over 39 front.
Drescher, maybe a touch nervous playing in the final pairing, opened with three bogeys and two birdies before finishing with four pars.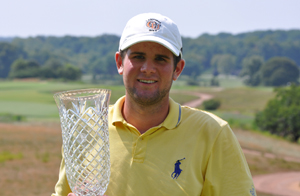 When the group made the turn, Rohanna held a five-shot lead.
"He was in the driver's seat the whole way around," said Drescher, 21, a senior at Campbell University.
Peffley, 25, who plays on the Hooters Tour and conditionally on the Nationwide Tour, did make things interesting early on the back nine with an eagle, birdie start. He dropped a 2-iron from 230 yards to 10 feet on No. 10 (par 5, 573 yards) and knocked a pitching wedge to the same distance on No. 11 (par 3, 121 yards). In that stretch, Rohanna caught two bunkers on No. 10 for bogey and registered a par on 11 to see his advantage trimmed to two.
However, Peffley pulled driver and found the right fescue off the tee on No. 12 (par 4, 370 yards) leading to an eventual bogey as Rohanna knocked a 2-iron, wedge to 12 feet for an easy par. On the tough 13th (par 4, 453 yards), Rohanna hit the best shot of his short professional career when he launched a 9-iron from 140 yards to four feet and made the ensuing birdie. Peffley salvaged a solid, and really pretty good, par after finding the right fairway bunker but in essence, the tournament was over.
"Yes, I really do," said Peffley, when asked if he thought that stretch was the turning point of the round and tournament. "I felt like I had the momentum going. I hit my line again on No. 12 and I had a terrible result. I needed a miracle the rest of the way."
Said Rohanna, "I was hitting a little cut all day and on No. 10 I aimed it right at the bunker and tried to play a little cut off of it and it went straight into the bunker. You have to give Blaine credit. He went eagle, birdie and I went bogey, par. I got it going after that, though. The birdie on 13 was pretty big. It was a good yardage. It was a nice smooth 9-iron and I stuffed it to four feet. I didn't make a one-putt until 13 today and I hit every green but one. It was a wearing on me a little bit."
Rohanna earned $10,000 for the victory. Peffley received $6,000.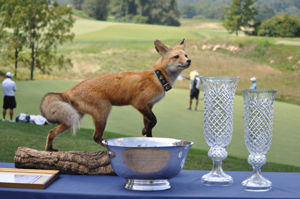 The Arnold Palmer trophy along side the
Applebrook Golf Club mascot
Rohanna, a former Penn State University standout, has played in only two tournaments, including this one, since the beginning of July due to a tendon injury in his left wrist. He said he'll play a light schedule until September.
"This will definitely give me some confidence," said Rohanna. "I'm looking forward to keeping it going."
Special thanks to David McNabb, Golf Professional, Bill Phillips, Club House Manager, Jared Viarengo, General Manager and Head Greens Superintendant, and their staffs for making the 2010 Open Championship one to remember!
| | | | | | | |
| --- | --- | --- | --- | --- | --- | --- |
| Name | City | Rnd 1 | Rnd 2 | Rnd 3 | Total | Prize |
| Robert T. Rohanna | Waynesburg, PA | 67 | 63 | 71 | 201 | $10,000.00 |
| Blaine E. Peffley | Lebanon, PA | 67 | 65 | 72 | 204 | $6,000.00 |
| (a) Zak Drescher | Landisville, PA | 69 | 64 | 72 | 205 | |
| (a) Andrew J. Mason | Huntingdon Valley, PA | 68 | 68 | 71 | 207 | |
| Billy Stewart | Devon, PA | 68 | 70 | 69 | 207 | $4,000.00 |
| Daniel Konieczny | Mt. Pleasant, PA | 70 | 70 | 67 | 207 | $4,000.00 |
| Kevin J. Busteed | Peckville, PA | 67 | 71 | 70 | 208 | $3,000.00 |
| Eric Kennedy | Haverford, PA | 69 | 67 | 73 | 209 | $2,450.00 |
| John E. Pillar, Sr. | Hawley, PA | 71 | 67 | 71 | 209 | $2,450.00 |
| Brian Kelly | Lewisburg, PA | 73 | 69 | 68 | 210 | $1,837.50 |
| Dan Thompson | Johnstown, PA | 70 | 70 | 70 | 210 | $1,837.50 |
| John Spina | Schwenksville, PA | 69 | 69 | 72 | 210 | $1,837.50 |
| Mike Larkin | Gibsonia, PA | 69 | 69 | 72 | 210 | $1,837.50 |
| (a) Travis J. Howe | Osceola, PA | 75 | 66 | 69 | 210 | |
| Bob Friend | Pittsburgh, PA | 71 | 69 | 71 | 211 | $1,235.00 |
| Jon Rusk | Yardley, PA | 69 | 73 | 69 | 211 | $1,235.00 |
| (a) Matt Moot | Johnstown, PA | 68 | 70 | 73 | 211 | |
| (a) Nathan Sutherland | Wyomissing, PA | 67 | 68 | 76 | 211 | |
| Scott E. Hunter | Collegeville, PA | 68 | 71 | 72 | 211 | $1,235.00 |
| David S. Patronik | Erie, PA | 70 | 70 | 72 | 212 | $882.50 |
| Gregory Pieczynski | Kingston, PA | 70 | 68 | 74 | 212 | $882.50 |
| (a) Kyle T. Davis | Kennett Square, PA | 70 | 68 | 74 | 212 | |
| (a) Tucker Koch | Malvern, PA | 70 | 70 | 72 | 212 | |
| Brandon Knaub | Seven Valleys, PA | 71 | 72 | 70 | 213 | $665.00 |
| Hugh P. Reilly | Willow Grove, PA | 70 | 70 | 73 | 213 | $665.00 |
| (a) Michael Heller | Wapwallopen, PA | 72 | 70 | 71 | 213 | |
| (a) Brandon Dalinka | Newtown, PA | 72 | 71 | 71 | 214 | |
| George J. Forster | Villanova, PA | 73 | 70 | 71 | 214 | $460.00 |
| (a) Gregor A. Orlando | Erie, PA | 70 | 73 | 71 | 214 | |
| (a) James Kania, Jr. | Haverford, PA | 71 | 70 | 73 | 214 | |
| Kevin Shields | Pittsburgh, PA | 71 | 71 | 72 | 214 | $460.00 |
| (a) Nicholas Reach | Moscow, PA | 74 | 67 | 73 | 214 | |
| Roy Vucinich | Moon Twp, PA | 71 | 68 | 75 | 214 | $460.00 |
| Chad A. Bricker | Waynesboro, PA | 68 | 74 | 73 | 215 | $346.67 |
| Terry Hertzog | Lititz, PA | 73 | 68 | 74 | 215 | $346.67 |
| Travis W. Deibert | Doylestown, PA | 71 | 70 | 74 | 215 | $346.67 |
| Adam R. Condello | West Chester, PA | 72 | 71 | 73 | 216 | $276.67 |
| John Aber | Pittsburgh, PA | 70 | 71 | 75 | 216 | $276.67 |
| (a) John Popeck | Washington, PA | 72 | 71 | 73 | 216 | |
| Robert D. Shuey | Mechanicsburg, PA | 73 | 70 | 73 | 216 | $276.67 |
| (a) Andrew K. Kay | Pittsford, NY | 71 | 71 | 75 | 217 | |
| David McNabb | Newark, DE | 68 | 75 | 75 | 218 | $240.00 |
| Joe Boros | Saxonburg, PA | 69 | 71 | 78 | 218 | $240.00 |
| (a) Robert L. Robertson | Philadelphia, PA | 70 | 72 | 78 | 220 | |
| (a) C.G. Mercatoris | Brookville, PA | 72 | 70 | 79 | 221 | |
| John D. Allen | Media, PA | 69 | 74 | 78 | 221 | $220.00 |
| (a) David DeNunzio | Jeannette, PA | 71 | 70 | 84 | 225 | |
* (a) denotes amateur
[ Back ]