Cutrell Wins Art Wall in One-Hole Playoff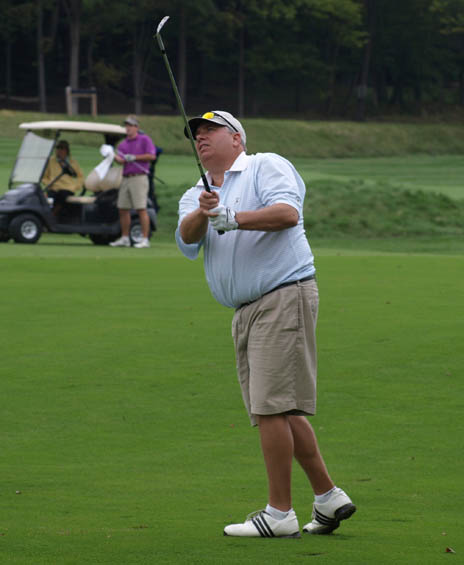 Arnie Cutrell hits this approach shot on the 15th
BEDFORD, PA; Arnie Cutrell needed one extra hole to secure the 7th Art Wall, Jr. Memorial at Bedford Springs Resort. Pete Moran, Edgemont Country Club, held the first round lead but was defeated by the eventual champion on the 18th hole. Moran posted a first round score of 3-under-par, 69, which included 5 birdies. Three of those birdies came on par 5's. Bedford Springs is known for it's long par 5's and distinctive par 3's. You must be in position on this golf course to score. The top of the leaderboard was obviously able to do that on a wet, long golf course.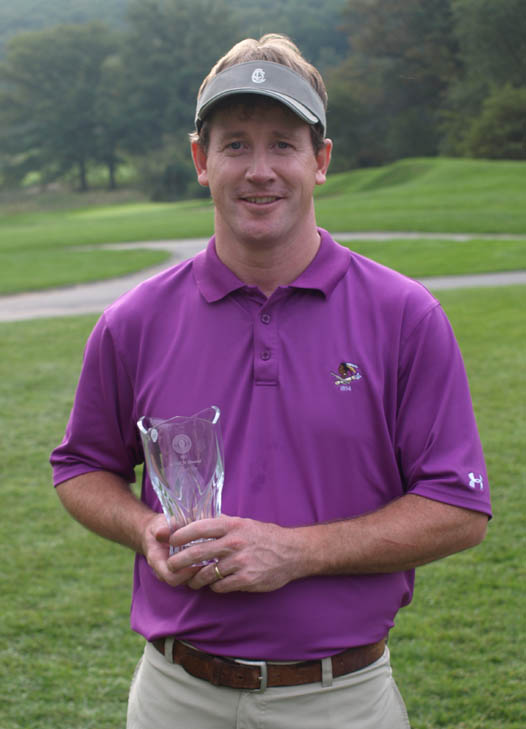 Pete Moran
Cutrell began the second round in third place with his first round score of 1-under-par, 71. He was able to duplicate that round by rolling in 4 birdies in the second round. It wasn't looking good early in his round after carding a double bogey on the 577 yard, par 5, 3rd hole, and following that up with a bogey on the 4th hole, nicknamed "The Volcano". The fourth hole is a 200 yard, par 3, up hill to a knoll that looks like a volcano. The green has two tiers and is gaurded by five bunkers. From that point on, Cutrell played some great golf with 3 birdies and no bogeys over the home stretch.
Arnie Cutrell is awarded the top prize from
Association President, Pete Richter
John Logue, Bedford Springs, was the lone competitor in the field to call himself a club member of the host facility. He made his way around the course with ease, and really only made a couple bad shots to leave the door open for the winner. His first round, even-par, 72, round was good enough to be in the hunt. His seven birdies over two days really propelled him to a 3rd place finish and just two shots out of a playoff spot.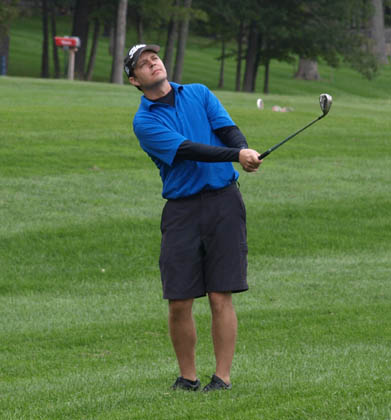 John Logue hits this approach on #15
Gary Van Sickle, Treesdale Golf & Country Club, was the early leader in the club house after posting a 2-under-par, 70, in the second round. His score of one-over-par, 145, was good enough to take low Senior honors (55 - 64 years of age). Matching Van Sickle for the low round of the day was Mike Vassil, Country Club of Scranton, and 2009 Art Wall Champion, who also won in a one-hole playoff.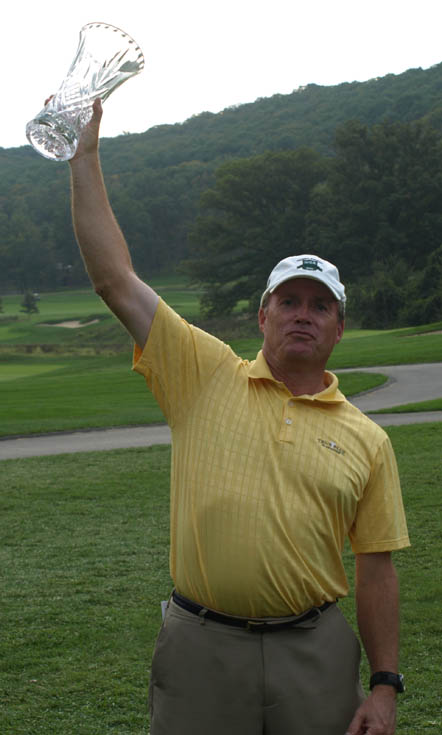 Gary Van Sickle hoists the Senior Flight Trophy
Dan Brown, Pine Meadows Golf Complex, posted back-to-back rounds of one-over-par, 73's, to finish in a tie for 5th, but it would not have been as memorable without his hole-in-one on the 124 yard, par 3, 10th hole.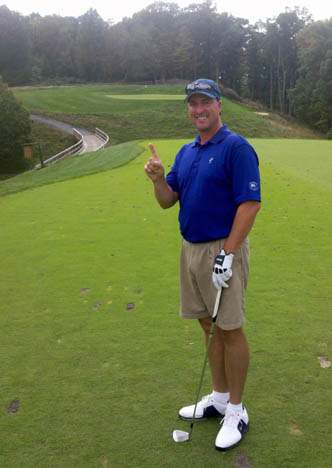 John Benson, Punxsutawney Country Club, finished tied with Brown for 5th place, but also took home the Team Championship honors for the event with his fellow club members Frank Fairman, and Don Erickson. Their total of 4-over-par, 292, was good enough to win by one shot over Edgemont Country Club's Peter Moran and Michael Quinn.
John Benson (right), Frank Fairman (center), Don Erickson
SUPER-SENIOR FLIGHT
Lee Lykens, Clearfield-Curwensville Country Club, used a fantastic first round 2-under-par score of 70, and a 6-shot lead to propel himself into the winner's circle against the over 65 years old Super-Senior Flight competitors. He was able to post 6 birdies for the tournament and run away with the title by 5 shots over George Anderson, The Club at Shadow Lakes. Anderson was able to put some pressure on the leader on the outward nine, closing the gap to 2 shots, but bogeys on the 11th and 15th holes did not help the cause.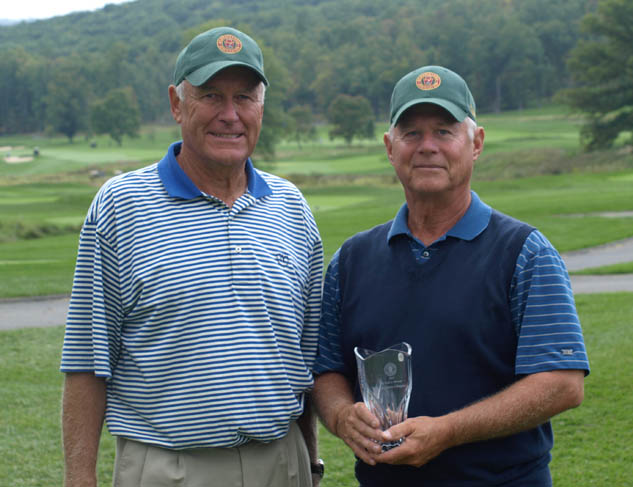 Lee Lykens (right) and George Anderson
A special "Thank you" to the staff at Bedford Springs Resort for their attention to detail and exceptional service. Ron Leporati, Head Golf Professional, and Dave Swartzel, Golf Course Superintendant, run a tight ship and were able to produce a fantastic venue for our 7th Annual Art Wall, Jr. Memorial.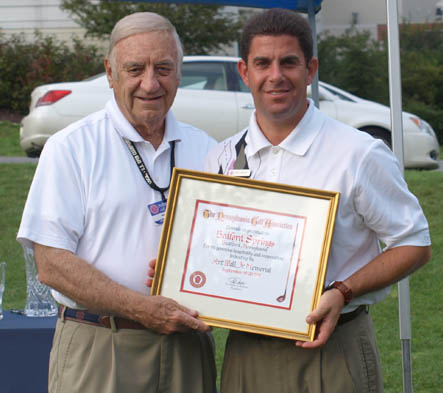 Ron Leporati accepts a gift from Association President
Pete Richter
[ Back ]