Junior Scorecards ; Junior-Junior Scorecards
Matthews Outduels Herr to Capture 62nd Junior Championship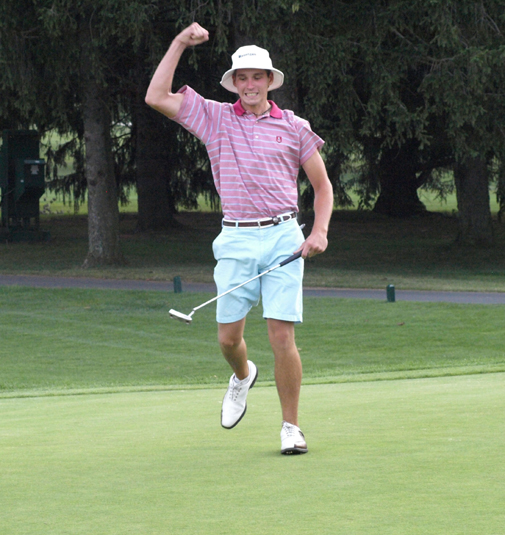 Brandon Matthews after rolling in the winning putt
Hershey, PA – It took 19 holes Tuesday at Hershey Country Club, to decide the 62nd Pennsylvania Junior Champion. After surviving the heat, the toppled trees, and a playoff, Brandon Matthews would claim the 2012 Junior Champion title.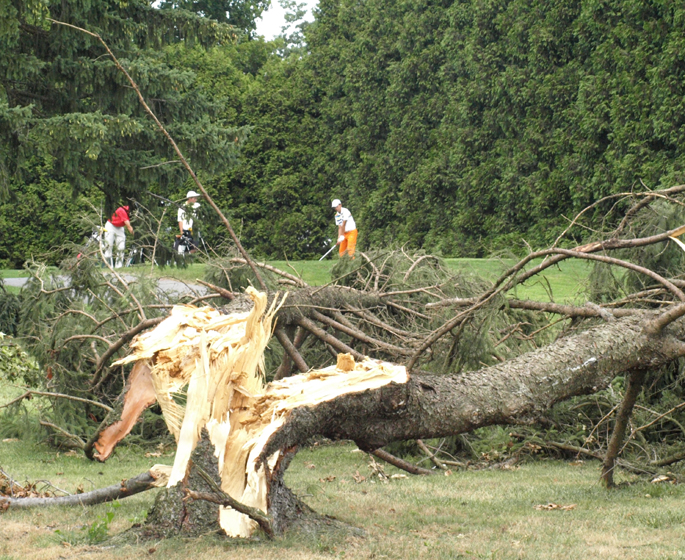 70-100 trees were down throughout the course
Matthews, of Fox Hill Country Club, started his final round four shots back of first round leader Zach Herr. Matthews started his front nine off with a 343 yard drive to set himself up for an easy iron shot into the 1st green.
"I had the same thing yesterday (Monday's first round)" Matthews said, "but I ended up with a bogey."
Matthews would put his iron shot 30-feet right of the hole and set himself up to two-putt for a birdie. After a setback on the 3rd (par 4, 421-yards), Matthews would go on a tear and birdie the next three holes and turn at 3–under, 33.
Zach Herr, of Jericho National Golf Club, started his second round similar to Matthews. Herr crushed his tee shot over the water and trees to within 150-yards of the green. After a seven minute delay to water the green Herr placed his iron shot to the right of the hole and would two-putt for birdie.
Herr would play the remainder of his front nine steadily and end with three straight pars to turn a 2–under, 34, and head to the back nine with a 3 shot lead over Matthews.
Matthews, however, played the first five holes on his back nine, 4–under and would be the outright leader at 7–under heading to the 16thtee. An iron shot on the 170-yard par 3, left him to the right of the hole again, but with a makeable birdie putt. The Hershey Country Club greens would claim another putt however, and force him to settle with par.
On 17, Matthews would blast his driver down the middle of the fairway and leave himself a 9-iron shot to the green. He would chunk his 9-iron and see it roll off the front of the green and also see a chance at a birdie disappear. His wedge shot would then flop ten feet away from the hole and give him a gut wrenching putt to save par. Matthews would step up to his putt and calmly stroke it into the hole and go to the final hole with a one shot lead over Herr.
Herr would have plenty of chances on his back nine to pull even with Matthews, including a 15-foot downhill eagle putt on the 14th (par 5, 540-yards). Herr would see his opportunity roll past the hole and settle for birdie and a one shot deficit.
Heading into his final hole of the tournament Matthews needed to make par to put all the pressure on Herr to birdie and force a playoff. Matthews blocked his shot right and found his ball in the rough with some trees in his way. His wedge shot would fly the green and land just in the rough. With the gallery watching intently, Matthews' left his chip 15 feet short. His par putt grazed the lip of the hole and left him with a 4 foot come back putt, that he rolled in confidently to tie Herr at 6-under.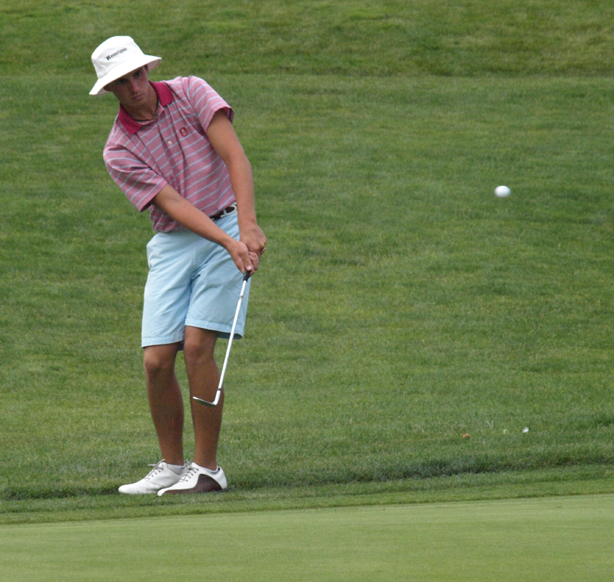 Brandon Matthews' chip from behind the 18th green
On the tee box of the 18th, Herr would get word that he was now tied with Matthews and need a birdie to win his first Junior Championship. A crushed tee shot down the right side of the fairway, and a smooth approach that flew just over the flag. All that lay between Herr and the Championship was a 30-foot downhill putt. Not fazed at all, Herr found time to joke with a tournament official saying, "if I make this putt you have to jump in the water." Herr's double-breaking birdie putt rolled down the hill and within millimeters of the bottom of the cup, but would somehow stay out. A tap in meant that the two competitors would head back to the 18th, the most difficult hole of the tournament (statistically playing almost a stroke over par).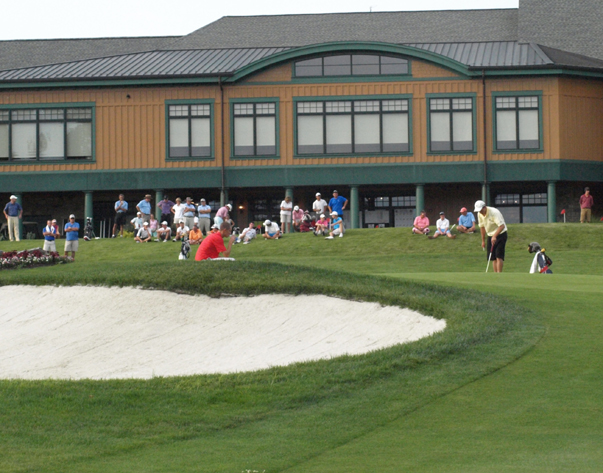 Zach Herr is watched intently by the gallery behind 18
Going head to head with each other was not anything new for Matthews and Herr.
"Never done this before, have we." Matthews said sarcastically.
Both would step up to their tee shots and rip them down the middle of the fairway with Matthews' rolling 15-yards further than Herr's. Herr's iron shot into the green would gain a large applause from the gallery and leave him with a 15-foot up hill birdie putt and put the pressure squarely on Matthews' shoulders. Forced to make a wedge shot again Matthews would not be outdone and dropped his shot just outside of Herr's shot, hole high left.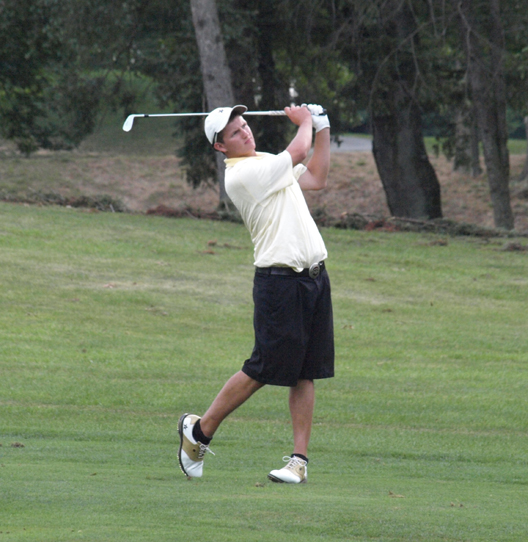 Zach Herr's approach to the 18th in the playoff
Matthews walked up to the green, looked at his line, and laughed.
"All day I had putts that were two inches left" Matthews said, "I just looked at my caddie and laughed at our line."
Matthews stroked his putt beautifully and rolled it into the hole for a birdie and pumped his fist with excitement. Herr would be left with a tough little 15-footer for birdie and to force a second playoff hole.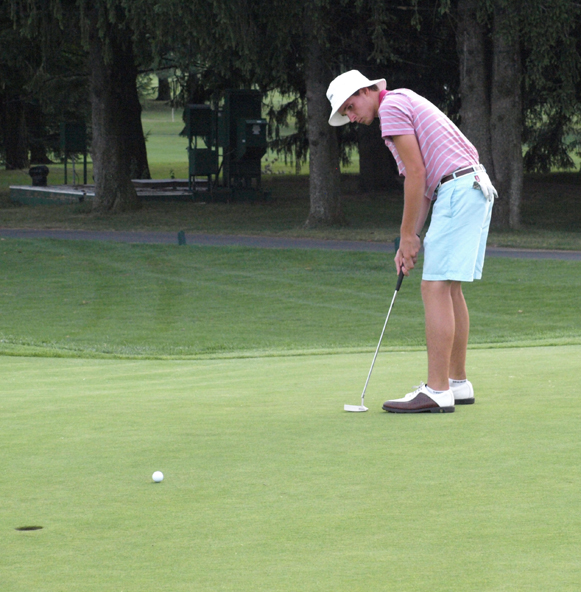 The winning putt from Brandon Matthews
Like year's past Herr would see his title chances fade away as his birdie putt rolled past the hole and gave Matthews the 62nd Junior Championship title.
JUNIOR TEAM CHAMPIONSHIP
The Junior Team Championship is contested concurrently with the Junior Championship. Players are able to compete along with other members from the same club in a best 3 scores of 4, per day, competition (teams may compete with only 3 players).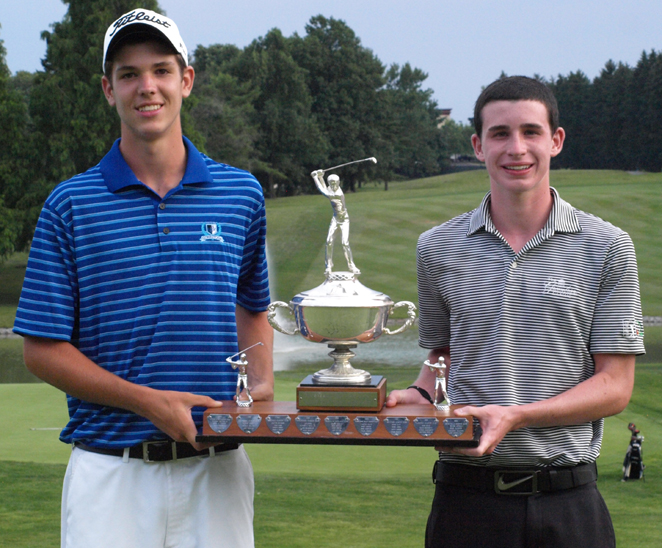 Craig Hornberger (left) and Marc Oliveri, Jr.
The team from Lancaster Country Club put together 3 great scores each day to win the Junior Team Championship. The team consisted of Craig Hornberger (74,74), Colin Deery (84,79), Marc Oliveri, Jr. (74,69), and Walker Kirk (77,82).
JUNIOR-JUNIOR CHAMPIONSHIP (13 & Under)
Not to be overshadowed by their older competitors, the Junior-Junior Championship was just as riveting. Coming into the final round Michael Cestone III was tied with Mark Goetz at 75, with Jason Li one shot back at 76.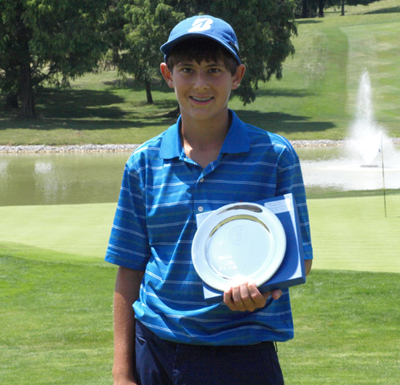 Michael Cestone
Cestone and Li would play a consistent front nine and each would turn a 3–over, 39. Heading to the back nine, Cestone, from the Country Club of Scranton, would play his first five holes with five straight pars before carding two bogeys on 15 & 16. Li, of Diamond Run Golf Club, would struggle on his back nine and card four bogey's and one birdie, to end his championship hopes with a 153.
Cestone played the 18th like a champion and stroked his par putt in from 10-feet and celebrated with a fist pump and an echoing, "yeah." Cestone would capture the Junior-Junior Championship with a two shot lead over Li, with a 151.
[ Back ]