Jack Wallace Wins the 19th Middle-Amateur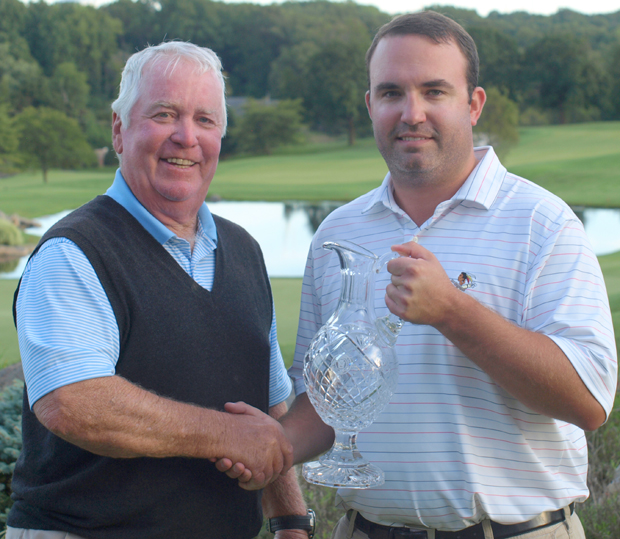 Wallace survived a late push from Jeff Frazier and David Brown to take the Championship
Lafayette Hill, PA; Chris Ault, from Yardley, PA, held a two-shot lead going into the final round of the 19th Middle-Amateur Championship at The ACE Club. At a venue that he normally strives on; the course did not return the favor in the second round. A three-putt bogey on the 2nd hole, while Wallace, Vonderheid, and Timby birdied, was not what Ault was looking for.
Wallace, Philadelphia Cricket Club, gave a shot back on the 169-yard, par 3, fourth hole, but was able to right the ship with birdies on holes 7 (407-yard, par 4) and 12 (194-yard, par 3). He held a 4-shot lead with four holes to play.
"I really thought the course set up well for my game. It is a ball striker's course and I thought it could play into my favor," said Wallace.
Jack Wallace on the 1st Tee
David Brown, St. Clair Country Club, posted an early two-round score of 143, 1-under-par, after a final round score of 70. That number would hold the clubhouse lead until the final group finished.
However, it was not a clean get-away for Wallace. A bogey on the 16th hole (534-yard, par 5) and an errant drive on 17 (380-yard, par 4) into the fescue, left Wallace with some decisions to make. He ended up declaring his ball unplayable, dropped outside of the gnarly grass and walk away with a bogey.
"I knew where I stood at that point," mentioned Wallace. "David Brown had just posted 1-under, and Jeff (Frazier) and Chris (Ault) were at even-par, so I just wanted to make bogey and move on to the 18th."
Standing on the 18th tee (563-yard, par 5) with a two-shot lead, Wallace pulled his drive left into the tall oak trees, but had a shot to the fairway.
Frazier, meanwhile, was just plodding along, and would seem to move up the leaderboard late, with birdies on 16 and 17 to pull within two shots. He was able to lay up his approach at the end of the fairway and would have 60 yards to the flag.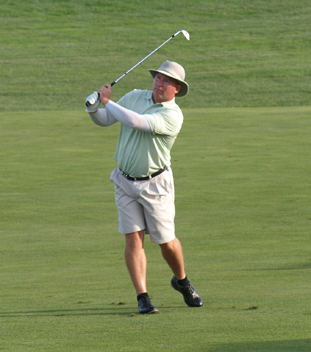 Jeff Frazier hits his approach to the 18th green
Ault found his tee ball in the rough and tried to reach the green in two. His shot would not come out of the long rough as he had planned and it ended up in the hazard.
Wallace then had 180-yards to the hazard, but would have to navigate an overhanging limb. He decided to try to punch a 7-iron down the fairway. It came out hot and came to rest three yards from the water, in the rough. It was a nervous moment for the leader, until he heard that it was just short.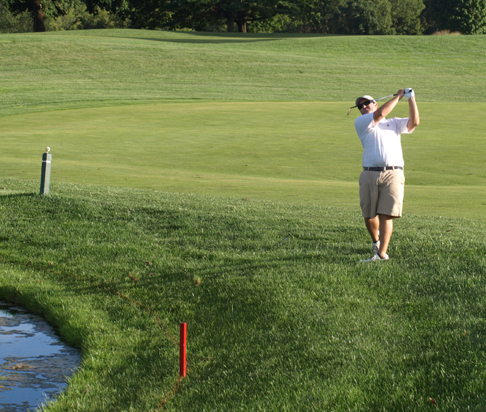 Jack Wallace hits his approach to the 18th green
Frazier and Ault would play their approaches towards the flag, with Frazier leaving his shot below the hole, twelve feet away. Wallace would play conservatively towards the middle of the green and just missed catching the slope that would have taken his ball straight to the hole.
Wallace was left with a 30-foot downhill birdie try to solidify his name on the Max Banzhaf Trophy. The speed of his putt was judged very well and he had a 3 footer remaining.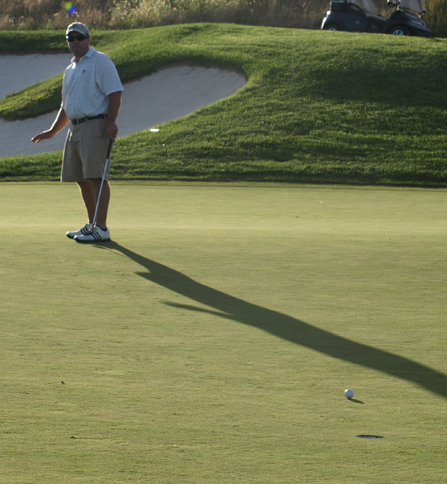 Jack Wallace had this 30 footer on the 18th green
Instead of marking and waiting for his fellow competitors to putt, Wallace decided to finish.
"I was just really focused on the speed of the first putt. I was confident that I could get it within 3 or 4 feet. Then, once I did that, I just wanted to get it over with, so that I wouldn't be stuck there thinking over the last putt."
His putt slid by the hole and he was forced to tap in for bogey, leaving the perverbial door wide open for Frazier to sink his birdie putt and force a playoff.
It was not to be for Frazier, as his putt would miss on the low side and he would tap in to finish in a tie for second with David Brown.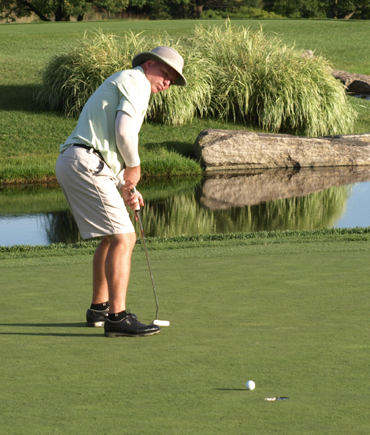 Jeff Frazier's birdie try slides by the hole
Ault finished the day with six bogeys, one double bogey, and three birdies, to finish in a tie for fourth in his first appearance in the Middle-Amateur Championship.
For Wallace, this would be his first State Title and he adds his hardware to the trophy case at Philadelphia Cricket Club next to John Brennan's Golf Association of Philadelphia 2012 Middle-Amateur trophy.
"This is definitely the biggest win of my career and I'm really looking forward to using the exemptions in the next few years."
Congratulations to the team from Carlisle Country Club, Jeff Frazier and Clayton Davidson, who won the Team Competetion (Best 2 scores of 3 per day).
Thank you to The ACE Club and all of their staff for hosting the 19th Middle-Amateur Championship. Next year's event will be held at The Club at Nevillewood on Monday-Tuesday, September 16-17, 2013.
[ Back ]