Local knowledge helps Reilly claim State Junior Championship
Champion Jake Reilly poses with Vice-President Jim Parsons
Hershey, Pa. – The Pennsylvania Golf Association Junior Boys' Championship was conducted concurrently with the Pennsylvania Women's State Golf Association Junior Girls' Championship on Monday and Tuesday, June 30 and July 1 at the Hershey Country Club's East Course. The event was sponsored by the Allegheny Health Network. On the boys side, Jake Reilly, Hershey Country Club, took home the champions hardware by shooting rounds of 66-70 for a 6-under-par total of 136. That was good enough to best Runner-Up Gus Minkin, Out Door Country Club, by three strokes. In the girls division, Samantha Staudt, Applecross Country Club, and Kaitlyn Lees, Philadelphia Country Club, needed extra holes to decide the champion. Each player returned a total of +18 160 in regulation. On the first playoff hole, Staudt took advantage of a strong drive and fine second shot on the way to a routine par to claim first place.
Firing six birdies (and only one bogey) during his opening round, Reilly posted a 5-under 66 on the Par-71, 6,743 yard setup. Keeping his foot on the gas pedal, he gathered four more birdies in the second round to reach 8-under-par for the tournament before a slight hiccup with bogeys on holes 15 and 16. Ultimately, Reilly was able to right the ship and hold off a late charge by Minkin. Minkin played his final nine holes in 3-under-par 32 to apply late pressure and keep things interesting.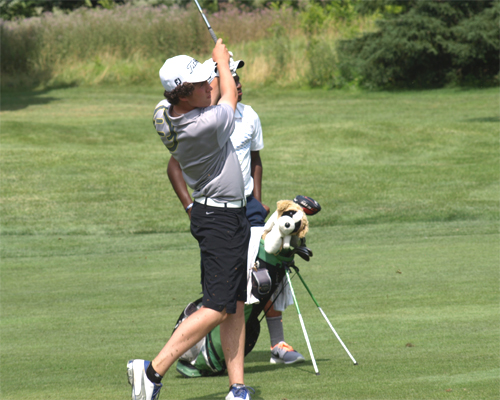 Gus Minkin hits an approach shot en route to a final nine 32
Defending champion Michael Hoare of Carlisle Country Club rounded out the top three with scores of 68-76.
The Team portion of the championship, the format of best three of four scores each day, was won by Out Door Country Club as Minkin, Nicholas Geiman, and Connor Bacha posted a combined +20 total of 446.
The East Course certainly held up its end of the bargain as players were greeted with a challenging test of golf. Golf Course superintendent Mark Malasavage had the track in championship condition despite the hot weather.
Girls Recap
Staudt pars first playoff hole to win Junior Girls' Gold
Samantha Staudt and Kaitlyn Lees
In a competitive field of junior girls, an unlikely candidate made a charge to take the clubhouse lead. Kaitlyn Lees of Philadelphia Country Club was in 12th place as the play on day two started. After a tough 4-over-par through four holes start, Lees proceed to go even par through the next 14 holes to post a 75 and capture the early lead.
Samantha Staudt, Applecross Country Club, was very steady on day one, making thirteen pars en route to a solid 77. In the sweltering heat of day two, Staudt was not as sharp as day one, but did just enough to force a playoff, finishing with an 83 and a 160 two day total.
With lightning coming into the picture, the girls had to wait about thirty minutes before heading out to hole 18 to begin the playoff. After solid drives by both girls, Samantha was able to put her approach over the water and on the green to about twenty feet. Kaitlyn did not hit the green, making an up-and-down all but necessary. Kaitlyn was unable to make the par save while Samantha two-putted for the Championship.
It has to be mentioned that Haley Goodling of Lebanon Country Club made three birdies to shoot a sterling 73 on day two and charged up the leader board and finished in a tie for 3rd place with Annika Vandayar of Penn Oaks Golf Club.
The Jr./Jr. girls championship was won by Lauren Jones, Merion Golf Club, with a score of +19 169. Finishing in second was her sister, Amanda Jones.
Jr./Jr. Boys Recap
Engle successfully defends Jr./Jr. Crown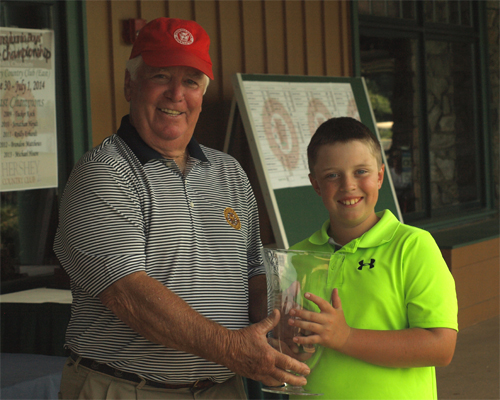 Garrett Engle receives the Jr./Jr. trophy from President Jim Callaghan
Garrett Engle of Colonial Golf & Country Club took the Junior-Junior Boy's Division at this week's Junior Boy's & Girl's Championship presented by the Allegheny Health Network. Engle fired a 1-over-par 67 in the first round, which included six birdies, and three in a row on the 6th, 7th and 8th holes. In his second round, Engle shot a 6-over-par 72 which gave him a six stroke victory over Jake Calamaro of Rolling Green Golf Club.
Calamaro shot impressive rounds of 71 and 74 to give him a 13-over par total of 145. Calamaro birdied the 4th hole to shoot a 2-over-par front nine, which was the low nine of the day. Calamaro continued his steady play on his closing nine to finish one ahead of Irem Country Club's Logan M. Paczewski.
Paczewski also played consistently throughout the tournament, firing a 1-over par 34 on the back nine of his opening round. Paczewski followed up his 1st round 72 with a 74 on day two and finished one behind Jake Calamaro with a two-round total of 146.
Following the top three were Andrew Wallace of Green Valley Country Club (148), Thomas Gaudette of Pocono Farms (150), Tiger Hubbard of Hill Crest Crountry Club (154), Jack Murray of Stonewall (158), Eddie L. Jones IV of Merion Golf Club (190), and David Fuhrer II of Pittsburgh Field Club (203).
We would first and foremost like to thank Superintendant Mark Malasavage and his staff for their efforts to keep the course in superb shape. Also, special recognition goes to General Manager Ned Graff, Golf Professionals Sara Muldon and Bob Kreider, and the entire staff and membership of Hershey Country Club for their dedication and outstanding service. Special thanks also go to our corporate partner, Allegheny Health Network.
[ Back ]