Jackson, Heflin Take Junior Boys and Girls Crowns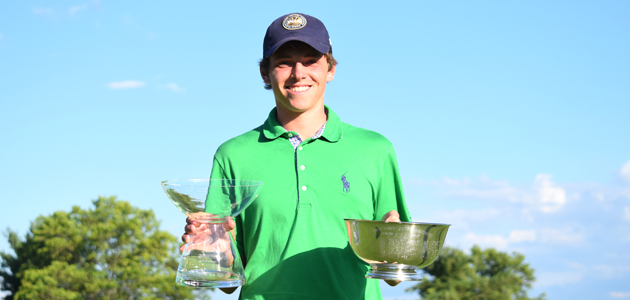 Palmer Jackson, Hannastown Golf Club
HERSHEY, Pa. - Playing in the final pairing of the afternoon in the Pennsylvania Junior Boys' Championship at Hershey Country Club's East Course, Hannastown Golf Club's Palmer Jackson and Christopher Tanabe of Sewickley Heights Golf Club were tied for the lead at 1-under par. Fortunately for Jackson, he was up to the task, sinking a par putt on the hole to win the championship, which was presented by LECOM and hosted by PinnacleHealth. Jackson edged out both Tanabe and White Manor Country Club's Cole Berger, who each finished at even par for the 36-hole event. The drama was equally present on the girls' side, as Rylie Heflin of Hartefeld National drained a very tough par putt on her last hole of the day to win by one stroke and claim the title.
For Jackson, it was a great feeling after a near-miss in 2016 in the event.
"I knew the course very well from previous years," said the 16-year old Jackson, who was playing in the event for the third consecutive year, including a third-place finish in 2016. "I just wanted to be around the lead in the second round and I was fortunate to be able to hold on."
Jackson is the first golfer from Hannastown GC to capture the prestigious title, and he did it in style, firing a 34 on the back nine of the final round to complete the comeback over Tanabe, whose opening round 68 was the low round of the championship. For Jackson, a key was the final trio of holes.
"Going into 16, 17 and 18, there are definitely birdies to be made," Jackson said. "But there are also big numbers to be made, so I knew par was a good score."
That statement was proven true by Tanabe's wild last three holes. Tanabe double bogeyed the par-3 16th hole after his tee shot was left of the green, and he had a tough downhill chip that came up short. From there, a three-putt looked like it might end his chances at the title. But he bounced right back on No. 17. Tanabe's approach shot nearly went in, as it landed right at the hole, bounced past, then spun back and clanged off of the flagstick, setting up an easy birdie. But just as soon as he'd clawed back to the top of the leaderboard, Tanabe hit his approach on No. 18 into the front left bunker. Facing a 20-foot par putt to get up and down, he could not convert, setting the stage for Jackson's par to win the title.
For Berger, it was a frustrating end to his fourth run at the championship. He made a nice birdie on No. 15 to get to 1-under for the championship, setting up those key last three holes. However, he could not convert birdie putts on No. 16 (15 feet) and No. 17 (20 feet). And then on the final hole, Berger's tee shot went right and he couldn't get up and down for par.
"Coming down the stretch, I definitely knew I had a chance," Berger said. "I had my opportunities on 16 and 17 but just couldn't get the putts to fall."
Tanabe battled throughout the final round, "I knew that I was going to be under pressure and I was going to make mistakes, so my game plan coming into the day was to let every bad shot or hole go. I believe I did pretty well coming back from a three putt on my second hole with a birdie, and I birdied the 17th hole after a double bogey. On 18, I hit a big hook left, which was a poor angle into the pin and I just couldn't get it up and down out of the bunker to force a playoff. I'm happy with how hard I fought, but Palmer is a phenomenal player and deserved the win. I learned a lot about my game while being in contention the whole tournament, and I hope to utilize this new experience to help close tournaments in the future."
As usual with the championship, the field was extremely complimentary of Hershey CC, which was hosting the event for the 10th consecutive year.
"It's a great place for a championship like this," Berger said. "The course is really tough, the greens are hard, and you have to hit the ball straight to score well."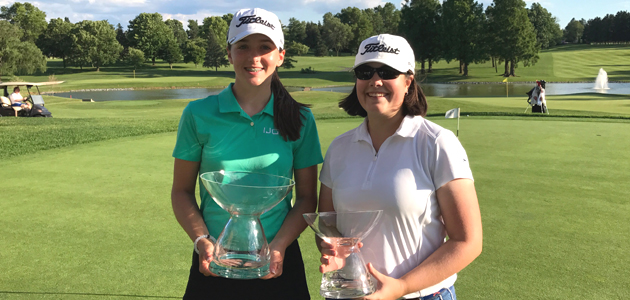 Rylie Heflin, Hartefeld National, and Lauren Freyvogel, Treesdale Golf & CC
In the Junior Girls' division, Heflin and the two golfers she played with in the second round battled all afternoon for supremacy. Starting on the back nine in round two, first round leader Jennifer Cleary of Applecross Country Club birdied No. 12 for the second day in a row. But she bogeyed five holes in a row to fall out of the lead. However, Cleary impressively rallied to post another birdie on the par-3 second hole. But another bogey on the par-3 eighth hole proved to be her undoing. Treesdale Golf & Country Club's Lauren Freyvogel, meanwhile, fought off an early bogey with consecutive birdies at No. 12 and No. 13. After seven straight pars, Freyvogel then bogeyed the third and fourth hole. But another birdie on No. 5 moved her back into the lead. However, it wasn't to be, as she bogeyed the final three holes of the round to finish at 147 (+5).
For the eventual champion, it was a slow start to round two. After a bogey on her second hole of the day, No. 11, Heflin fell even further behind with another pair of bogeys on No. 17 and No. 18. But the championship rally began on the next hole, as Heflin birdied the par-5 first hole. She followed that up with another birdie on No. 2 before dropping a shot on the third hole. A string of five straight pars then set up her heroics on No. 9, where her approach shot was off the green and she had a tough downhill chip facing her, knowing she was just one shot ahead. But she poured her par putt right in the center of the cup, securing her par and winning the title.
"I felt comfortable down the stretch," Heflin said. "as the round went on, I knew where I stood and what I needed to do to win, and things just went well from there."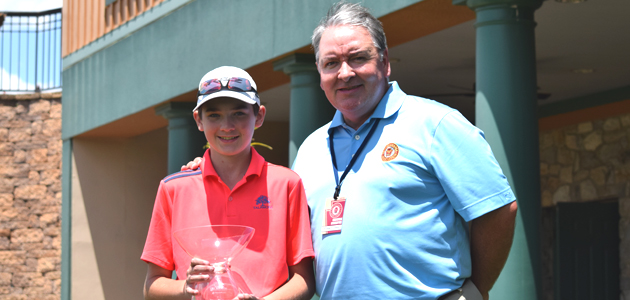 Darren Nolan, Talamore Country Club, poses with President Doug Gregor
In the Junior-Junior Boys' division on the Spring Creek course, Talamore Country Club's Darren Nolan cruised to a seven-shot victory with rounds of 69-74 to finish at 11-over par, winning by seven shots over Oakmont Country Club's David Fuhrer, II, and Carlisle Country Club's James Ulsh. Bryce Fazio of Huntingdon Valley Country Club finished in fourth place.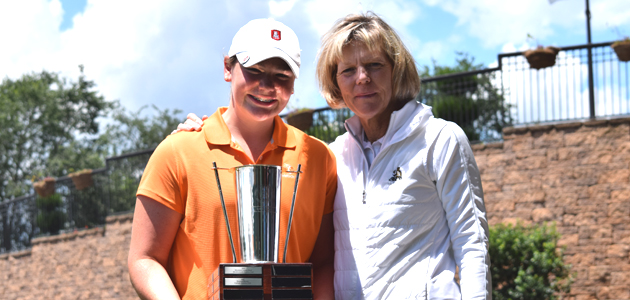 Molly Gregor, Huntingdon Valley Country Club, poses with PSWGA President Annie Vanzant
For the Junior-Junior Girls' title at Spring Creek, it was Molly Gregor of Huntingdon Valley Country Club who emerged victorious, firing a two-round total of 168 to defeat Carlisle CC's Paige Richter and Chambersburg CC's Hannah Barrett.
The Association also simultaneously runs a Team Competition, using individual scores of golfers from the same club. The winner of that competion for the boys was the team from Wildwood Golf Club (Justin Griffith, Ryan Dougherty, Tanner Grzegorczyk). For the girls, the winning team was Applecross Country Club (Cleary, June Kim, Grace Hickey).
The Pennsylvania Golf Association would like to thank the staff and membership of Hershey Country Club for their support and hospitality during the event.
[ Back ]