Semifinal Matches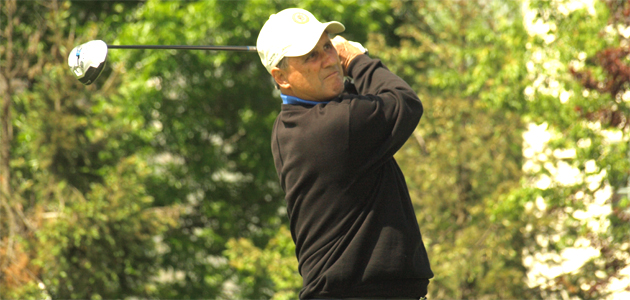 Paul Schlachter, The Club at Nevillewood, defeated John Rodney, Diamond Run Golf Club, to reach the finals
Phoenixville, Pa. – Day two of the rain delayed 8th Senior Match Play Championship began in bizarre fashion on Saturday morning at RiverCrest Golf Club & Preserve. Chip Lutz, LedgeRock Golf Club, advanced to the finals via forfeit, as Roc Irey, Lookaway Golf Club, drove from Furlong, Pa. and pulled into the parking lot only to realize he had forgotten his clubs at home. "I was so concerned about getting all of my turkey hunting gear together that I forgot to grab my golf clubs that I had set out to dry in the garage," said Irey.
"This is a first for me, to advance to a final by way of forfeit. It's too bad Roc had to scratch, we would have had a fun match," said Lutz.
On the other side of the bracket, Paul Schlachter, The Club at Nevillewood, faced off against John Rodney, Diamond Run Golf Club. Both players made par on the par 4, 325 yard, No. 1, and then Schlachter poured in a birdie on No. 2 (par 5, 500 yards) to take an early advantage. Rodney then made double-bogey on No. 3 (par 3, 165 yards) and Schlachter's bogey was good enough for a 2-up lead. The opponents both made nice birdies on No. 5 (par 3, 151 yards) as Schlachter drilled a 20-footer from behind the hole that was fortunate to catch the center of the cup. Rodney then stepped up and coolly brushed in his 12-footer for the halve. A Schlachter bogey on No. 8 (par 4, 403 yards) opened the door for Rodney to take advantage of an uncharacteristic mistake. Rodney then built some momentum with a birdie on the drivable No. 9 (par 4, 315 yards) to pull within one of Schlachter. That momentum came to a screeching halt with a bit of bad luck on No. 10 (par 4, 396 yards). Rodney's good drive just barely clipped an overhanging tree branch and fell straight down into the hazard and he was forced to punch out of a nasty lie. Schlachter reached the green in regulation, but was faced with an 80-foot uphill putt to reach the top-level of the putting surface. He executed the key two-putt to regain a 2-up lead. Schlachter played steady golf the rest of the way, as Rodney was unable to produce birdies to get back into the match. A clinching birdie by Schlachter on No. 14 (par 4, 411 yards) punched his ticket to face Lutz in the finals, as he defeated Rodney by a 5&4 margin.
"It was a good match, and I fortunately got off to a good start and built an early cushion. I think what it came down to is that I just got up-and-down a couple more times than him. John and I have played a good amount of golf together. I remember playing with him when he won the 2011 Pennsylvania State Senior Amateur at Edgewood Country Club in Pittsburgh, so we're familiar and we know it's always going to be a good match," said Schlachter.
Super-Senior Finals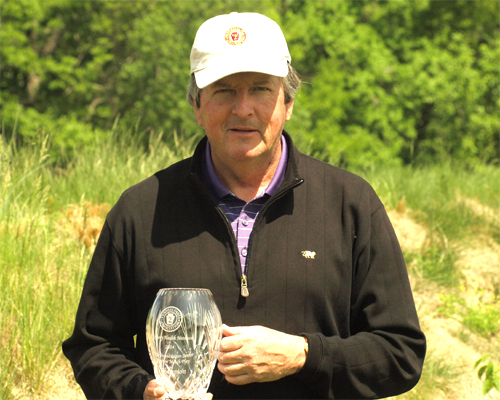 Bill Lawler, Fox Hill Country Club, took on Phil Saylor, Sunnehanna Country Club, in the finals of the Super-Senior Division in the 8th Senior Match Play at RiverCrest Golf Club & Preserve. Lawler used a hot start with three birdies in the first four holes to take a 3-up lead and never looked back, eventually closing out the match on the 15th hole, 5&3 to claim another Senior Championship early in the 2014 season. Lawler is also the recent champion of the Golf Association of Philadelphia's Warner Cup (Super-Senior Division), which was held at Talamore Country Club in Ambler, Pa.
"It was kind of a shocking start. I birdie No. 1, No. 3, and No. 4 and I'm 3-up. I'm not very experienced in match play, I prefer stroke play. I know Phil is a very good player, so I just tried to play medal play out there and do my best to make pars. There were a couple crazy shots, like on No. 10 I hit a really good second shot to the top shelf, then I look up and it's rolling back down the hill for an 80ft putt back up the at it. After No. 10, I just played steady golf and made a bunch of pars," said Lawler, as he summarized the match.
On No. 1 (par 4, 316 yards) Lawler knocked a pitching wedge to eight feet and cleaned up the putt to go 1-up over Saylor, a Johnstown, Pa. native. On No. 3, both players played superb shots into the par 3, 143 yard hole. When they reached the green, Saylor's ball came to rest about 15 feet behind the hole, while Lawler's 7-iron approach was just inches from the cup. After conceding Lawler's birdie, Saylor's putt caught a lot of hole, but it lipped out and Lawler had a 2-up advantage. Lawler threw another birdie at Saylor on No. 4 (par 5, 494 yards) as he stroked in a 15-footer to go 3-up, and Saylor was unable to battle back. Lawler used steady play down the stretch to eventually claim the Super-Senior crystal by a margin of 5&3.
Senior Division Finals
Paul Schlachter, The Club at Nevillewood, knew he had his hands full in the final match against Chip Lutz, LedgeRock Golf Club. In what was a well-played match from start to finish, Schlachter could not overcome the seven-birdie onslaught that Lutz produced in just 16 holes. That is not to say that Schlachter didn't give Lutz a run for his money.
Schlachter came out of the gates swinging as he knocked a wedge tight on No. 1 (par 4, 325 yards) and made the putt to take an early 1-up lead. Lutz quickly answered with a birdie on No. 2, as his 3-wood second shot came to rest just over the green and he was able to get up-and-down to go All Square. Lutz then flashed a little short-game magic by chipping in on No. 3 (par 3, 165 yards) from just short and left of the green. Schlachter missed his birdie putt and Lutz held the 1-up edge. After halving No. 4 with pars, Lutz got back into red figures by hitting a little 8-rion into No. 5 (par 3, 151 yards) to about 18 feet and rolled in the putt to go 2-up after Schlachter knocked his birdie effort a few feet past the hole. Lutz found a bit of trouble on No. 6 (par 4, 366 yards) when his drive nestled under the lip of a left-side fairway bunker. He played a decent shot just short of the putting surface, but failed to get up-and-down as Schlachter played the hole perfectly and made a routine par for the win and pull within one. Schlachter then returned the favor by making bogey on No. 8 (par 4, 403 yards) after a wayward drive opened the door for Lutz to make a routine par and regain the 2-up advantage. On No. 9 (par 4, 315 yards), both players showcased their talents for the growing gallery of RiverCrest members as each laid up to a comfortable distance and played tidy wedge shots to within 10 feet. Lutz was just barely away, and proceeded to drain his birdie putt. Schlachter, on a more difficult angle, stepped up and rolled it in on top for the halve to stay just 2-down at the turn.
Schlachter knew he needed to make something happen, and he answered the call by hitting a fantastic approach to about 8 feet below the hole on the difficult No. 10 (par 4, 396 yards). Lutz missed the green hole-high to the right, and was unable to get up-and-down and conceded his opponents three as he found himself just 1-up heading to No. 11 (par 4, 340 yards) with the momentum of the match shifting. Both players made routine pars to halve the 11th. On the downhill No. 12 (par 4, 357 yards), Schlachter laid well back in the fairway and played his approach to about 15 feet left of the hole. Lutz, with 130 yards in, hit the shot of the day with a pitching wedge to just inches for the conceded birdie. Schlachter missed his birdie for the tie. The momentum went back to Lutz with a 2-up lead.
"I felt that was a big moment in the match, it was the highlight of the day for me. I was a little in between clubs there and settled on the pitching wedge and was able to execute the proper shot and got lucky that it ended up so close," said Lutz.
Both players found the green in regulation on No. 13 (par 3, 163 yards) and made routine pars to halve the hole. Lutz then took advantage again on No. 14, (par 4, 411 yards) as Schlachter's approach shot was all over the flag, but ended up a foot over the green in a difficult lie. Lutz hit a perfect drive down the middle and was left with another 8-iron approach that settled just three feet from the hole. Schlachter played a delicate chip-shot down the hill, then narrowly missed his par putt and conceded Lutz's short birdie. On No. 15, (par 4 395 yards) both players played fine approaches to birdie-range and narrowly missed, making pars to halve the hole and put Lutz dormie.
Lutz would provide one more highlight for the gallery on No. 16 (par 5, 542 yards) as he laid up to 70 yards for his third shot. He played a little lob wedge to within three feet for yet another birdie. Schlachter was short of the green in three shots and rolled his birdie putt past the hole and then conceded the match to Lutz.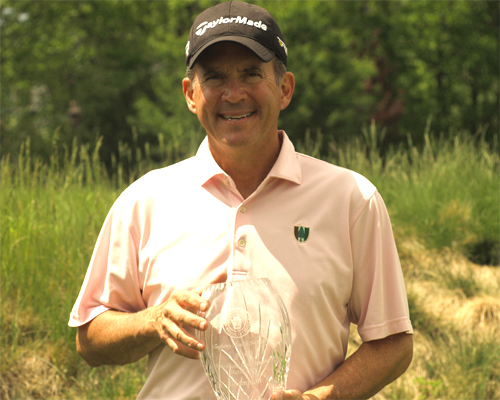 Chip Lutz, LedgeRock Golf Club, poses with the champion crystal
When asked to sum up his play and the event, Schlachter said, "I can't say enough about the golf course, it was an absolute treat to play. The conditions were perfect and it was impressive of the staff to whip the course back into shape after the heavy rain on Friday. I got off to a good start in the final, but you can't give him anything, he's too good. It's always nice to play against Chip, to a point, as he is no doubt in the top 3 in the world in senior amateur golf."
Special thanks go out to the membership and staff at RiverCrest Golf Club & Preserve for hosting the 8th Senior Match Play sponsored by the Allegheny Health Network.
[ Back ]