Bacha Claims 2018 Junior Boys' Championship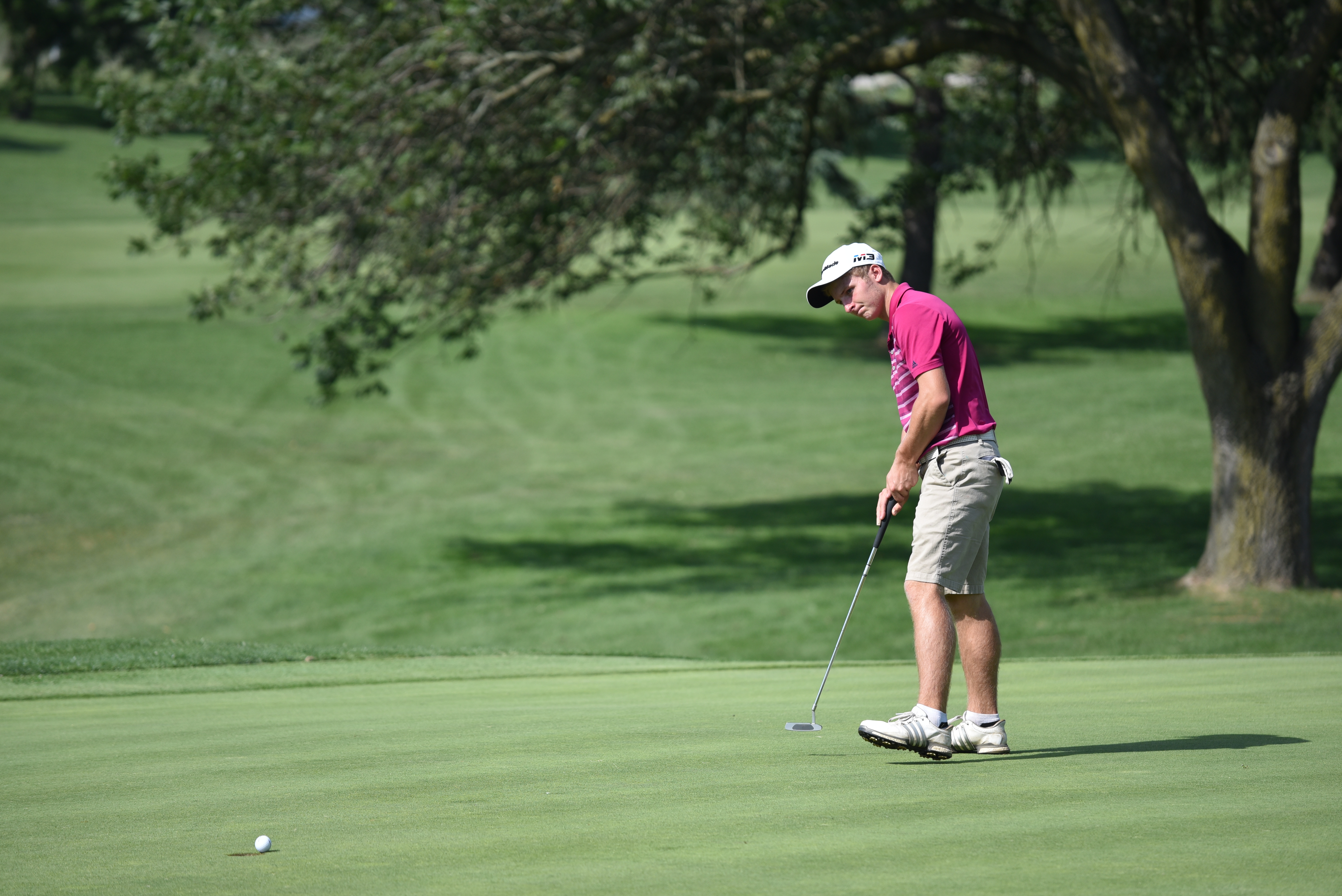 HERSHEY, Pa. - Throughout the final round of the Junior Boys' Championship, Carson Bacha faced numerous challenges. And he didn't flinch once.
Time after time, he answered the call even in the most uncertain of situations to claim the sweetest trophy he has won to date.
Bacha used his incredible short game and mental fortitude to claim the Pennsylvania Golf Association's Junior Boys' Championship at Hershey Country Club's East Course (par 71, 6,743 yards) after carding consecutive even-par 71s.
The event was presented by LECOM and hosted by UPMC Pinnacle.
"It means a lot to be the Pennsylvania State Junior Champion," said Bacha. "I've played in this the last two years and I didn't play too well. It is the biggest Junior event we have in Pennsylvania and it brings in a really strong field. I am really happy to get the win after such a mental grind."
PAGA Individual Member Joshua Ryan and Talamore Country Club's Patrick Sheehan shared second place with a two-day total of 144. Sheehan shot a final round of 68, the lowest score of the week.
Bacha trailed overnight leader, Patrick Isztwan of Huntingdon Valley Country Club, by just one shot. But the position was one that the newly-minted 16-year-old relishes.
"If I could have picked a position to be in it would be one-shot back of the lead," said Bacha, of York, Pa., a rising junior at Central York High School. "I am a player who loves to come from behind and put my foot down. Being able to push my opponents and then roll with it. I was excited to get the day started."
He started with a birdie on No. 1 (par 5, 478 yards) after splashing his third shot from the left greenside bunker to three feet. But Bacha gave that shot back after failing to get up-and-down from the front greenside bunker on No. 2 (par 3, 193 yards).
From there, Bacha played the remaining holes in even par (two birdies and two bogeys) to win. But not without some speed bumps.
After making a clutch 10-footer for birdie on No. 11 (par 4, 420 yards), Bacha's chances to win were surely tested on No. 12 (par 4, 414 yards).
Another drive in the left rough resulted in a search party to find his tee shot. But where his ball ended up wasn't ideal.
His ball ended up settling in a depression caused by a previously-removed tree. After calling in a rules official, it was determined he wasn't entitled to relief. He then hacked it out to 30 yards short of the green and then chipped to an unsatisfactory 15 feet.
"Mentally, I assumed I wasn't going to get relief so not getting relief didn't hurt my outlook," said Bacha. "I just knew I had to make par somehow."
He would roll in another clutch 15-footer to keep the momentum going. And from there he would make all pars until he reached his next mental hurdle.
After trying to hit a soft 7-iron on the 16th (par 3, 170 yards), Bacha didn't get through it; he hung it out to the right, catching the right water hazard.
But after taking his drop, he hit his chip to tap-in range for bogey. Although he lost a shot, he remained two shots ahead of Ryan, who had just double-bogeyed No. 17, and Sheehan, who was in the clubhouse at 2 over.
But once again, Bacha's driver let him down on No. 17 (par 4, 379 yards). After hitting it right into a tree grove, he punched a 4-iron to the back left area of the green and was able to salvage another par.
After looking at the leaderboard on No. 18, Bacha knew what he needed to do.
"My thought process did change for a little and I thought I should hit a 3-iron off the tee," said Bacha, of Out Door Country Club. "I figured I had some room to work with and I just pushed it off the tee a little bit but I wasn't in trouble."
He hit his gap wedge from 140 yards in the right rough to 40 feet and two-putted for the win.
His support system was filled with joy when the final putt rolled in. His mom Kerri and father Kevin were in attendance and he had his friends Coley Bagwell and George Drivas caddie for him the last two days.
Bacha said both of his friends knew nothing about golf. Overall, he was complimentary of his entire group of family, friends and coaches.
"Having a friend on the bag really settles you down," said Bacha. "It takes all of the nerves away. You are walking along with a friend who has no idea about golf so it makes the round funnier and more enjoyable. It's so much tougher to get mad when you have a friend on the bag.
"I wouldn't be anywhere without the support I have gotten from my family and friends. They keep me calm on the golf course and they help keep me moving forward."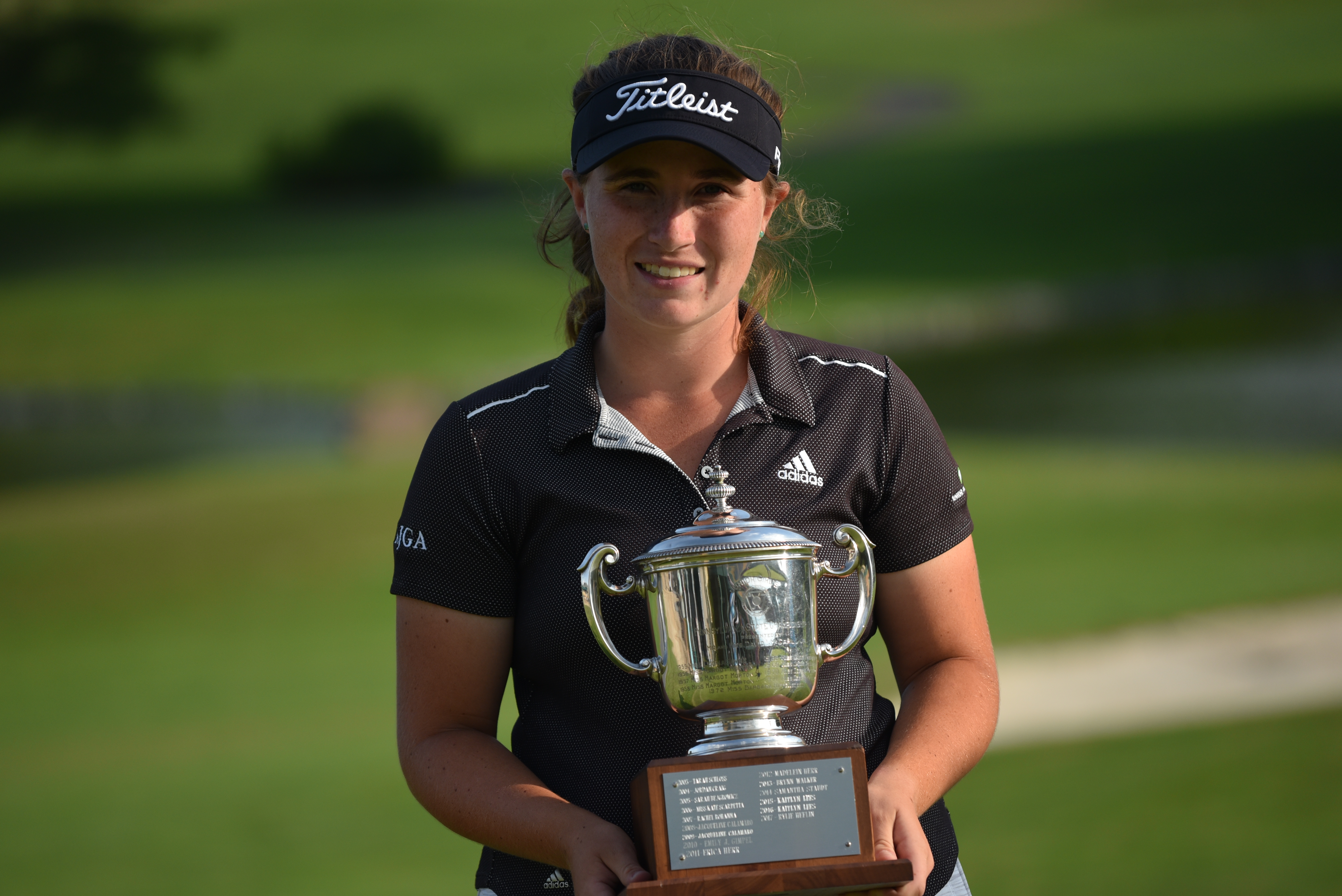 In the Junior Girls' Division, Kaitlyn Lees claimed her third Pennsylvania Junior Girls' Championship in the last four years also at Hershey's East Course (par 71, 5,707 yards).
She carded consecutive 73s to win by two shots over defending champion Rylie Heflin of Hartefeld National.
"When I started playing in this tournament five years ago, I was a runner-up in my first one of these," said Lees, 18, of Bryn Mawr, Pa. "That was such a huge confidence boost for me. I really enjoyed coming back here because the course is always great and so is the competition. To be able to close out one final time means a lot to me."
After feeling as if she was out of it after bogeying No. 2 (par 3, 118 yards), Lees caught a hot streak and went birdie-eagle on Nos. 5 (par 4, 323 yards) and 6 (par 5, 461 yards).
She struck her 54-degree wedge from 80 yards to two feet on No. 5 and hit a 4-hybrid from 174 yards on No. 6 to 10 feet and curled in the putt.
She approached her final hole with a command of the lead and was able to close it out, but not without a little stress.
"I made it harder on myself finishing up," said Lees, an incoming freshman at Dartmouth College and Philadelphia Country Club member. "I hit it into the water hazard on No. 9 (par 4, 359 yards) but I knew that if I made bogey I could win. I won once in a playoff and two coming from behind. This gives me a lot of momentum heading to Dartmouth. I am looking forward to more tournaments."
In the Junior-Junior Boys' division on the nine-hole Spring Creek course (par 66, 4,250 yards) Benjamin Saggers, of the Philadelphia Junior Tour, erased a seven-shot deficit to finish at 10-over-par after rounds of 77-65, winning by three shots over Bent Creek Country Club's Andrew Bilson.
"It feels really good to win this tournament," said Saggers, 13, of West Chester, Pa. "Especially since I came from behind. "Coming into the day I wanted to play well and see what happened. I wanted to keep plugging along and get the win and I did."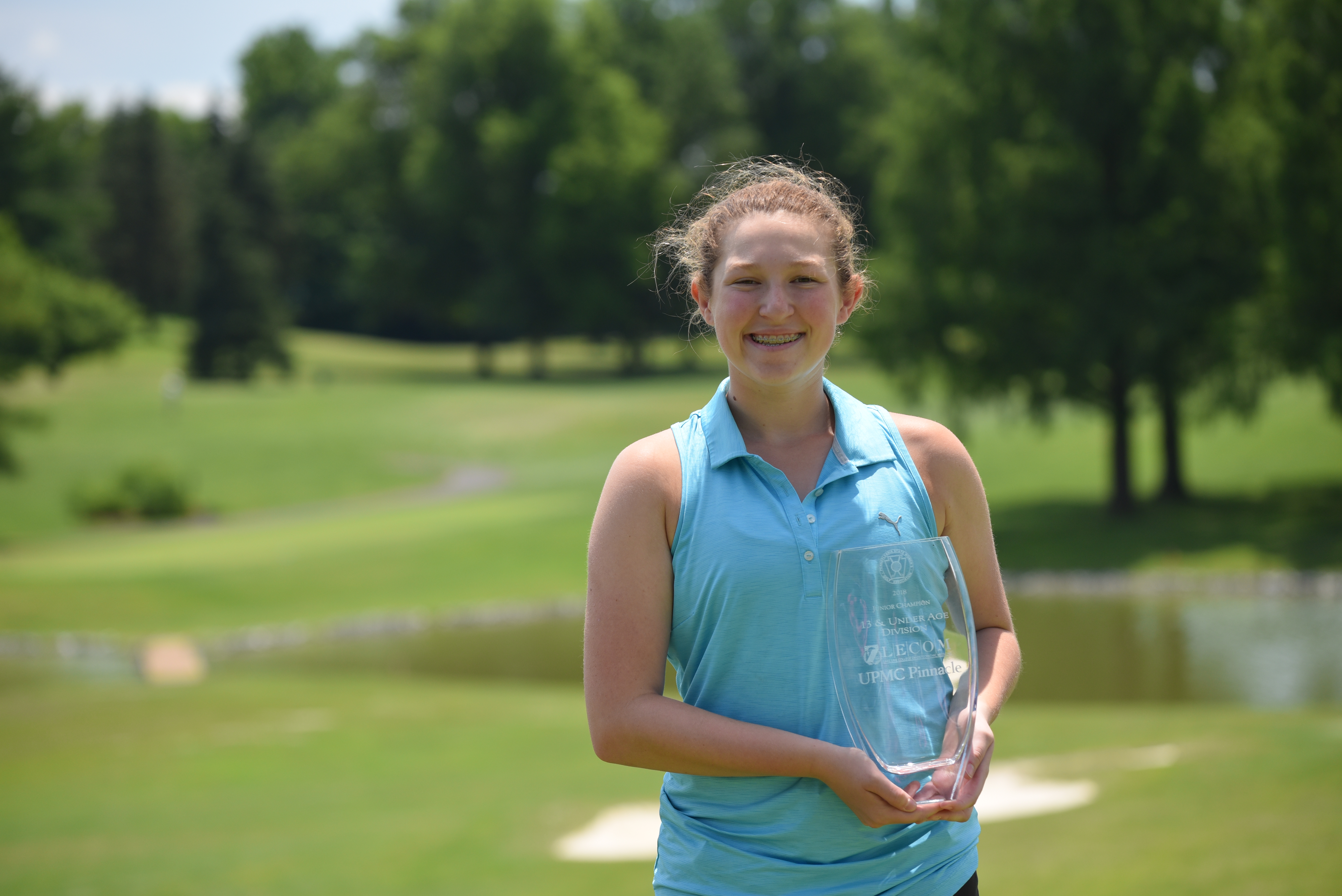 For the Junior-Junior Girls' title at Spring Creek, it was Megan Adelman of Bala Golf Club who took home the title after carding a two-round total of 137 to defeat Chambersburg Country Club's Hannah Barrett and McCall Golf & Country Club's Libby Flaisher.
"It's amazing," said Adelman, 13, Bryn Mawr, Pa. "I never thought I would ever win this tournament. I gave it my all out there. So it feels really good."
Simultaneously, the Association runs a Team Competition, using individual scores of golfers from the same club. The winner for the boys was the team from Huntingdon Valley Country Club (Patrick and Brian Isztwan as well as Frankie Gregor). In the Girls' division, the winning team was defending champion Applecross Country Club (Jennifer Cleary and Liddie McCook).
The Pennsylvania Golf Association would like to thank the staff and membership of Hershey Country Club for their support and hospitality during the event.