Nathan Smith captures record sixth R. Jay Sigel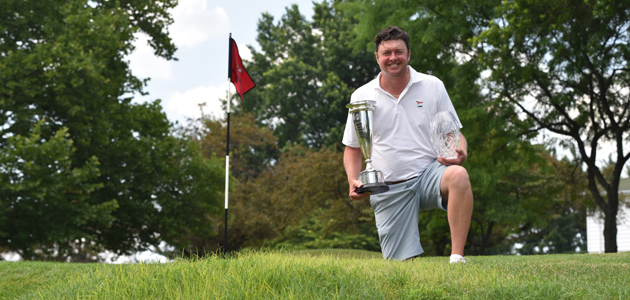 ORWIGSBURG, Pa. – Nathan Smith has accomplished almost everything that an Amateur could ever hope to accomplish in golf.
He has played in four Masters Tournaments (2004, 2010, 2011, 2013) as a result of his four U.S. Middle-Amateur Victories (2003, 2009, 2010 and 2012).
He won the 2002 Pennsylvania State Amateur, the prestigious Sunnehanna Amateur in 2011 and four consecutive Western Pennsylvania Amateur Championships (2007-2010). He along with Todd White claimed the inaugural U.S. Amateur Four-Ball at The Olympic Club in San Francisco, just to name a few.
Smith put on a tremendous ball-striking display to claim the 15th R. Jay Sigel Match Play Championship presented by LECOM at Schuylkill Country Club (par 72, 6,818 yards) in a 3&2 victory over Aronimink Golf Club's Max Siegfried.
With what he has accomplished, Smith could pack it in and call it a career. But instead, he just keeps on ticking.
"It is not easy," said Smith about how he keeps going after what he has done. "I love to play and I love to practice. Wherever my game is at I will travel and I love to compete. Sometimes it is tough when you have done some great things to try and gear yourself up for events. I enjoy trying to improve no matter what level I am playing on."
Smith hit 14 of 16 greens and 8 of 11 fairways, a ball-striking clinic that signifies the type of player he is, consistent and precise all the way through his bag.
With the victory, Smith now has six triumphs in the event (2009, 2011, 2013, 2015, 2017 and 2018), joining Arnold Cutrell (2005, 2006) as the only person to win #TheSigel in consecutive years.
"I thought it would be really special to go back-to-back," said Smith, 39, of Allison Park, Pa. "The consistency I have had means a lot to me because this game is not easy."
To get his sixth, he had to get past a gritty Siegfried who took the early advantage with a birdie on No. 3 (par 5, 498 yards) after stuffing his 54-degree wedge from 100 yards to three feet.
After a stretch of equal scoring from both Smith and Siegfried, the match kicked into gear on No. 12 (par 4, 312 yards). After Smith hit his drive just short of the green in the fairway and Siegfried was short sided in the right rough for his second, Smith had a four-footer for birdie and Siegfried had a 40-foot chip.
Siegfried chipped in and Smith was forced to make his putt to remain, 1-up. And like he had all week, he converted.
But the match ultimately fell into Smith's hands for good with a Seve Ballesteros-esque escape from the right trees on No. 13 (par 4, 417 yards).
"The shot of the day for me was on No. 13," said Smith, of Pinecrest Country Club. "I was in the right trees and had to punch it out. It was a rough lie and I had to chip it underneath to a green with what seems like 100 tiers in it. To scoot it up to about seven feet from there was easily the best shot I hit all day."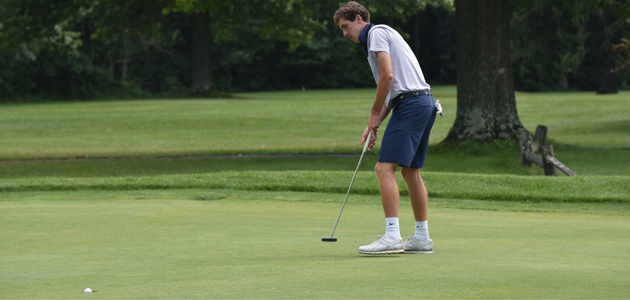 Aronimink's Max Siegfried was looking to become the first Aronimink member to claim The Sigel, the same club that the tournament's namesake has inhabited for more than 40 years.
Siegfried mustered a response by birdieing No. 14 (par 5, 490 yards) by draining a 15-footer to cut the deficit to one, but Smith would win the next two holes to seal the deal.
"It was pretty up and down," said Siegfried. "I didn't really expect anything to happen to me like it did today. My ball striking just wasn't good at all. It was hard to believe some of the shots I hit. But then I chipped in on No. 12, which had me confused. I felt like I could have been much better. It was a weird ending to the week.
"The first few holes of the match I was going along well but when I got to the back nine I played some of the worst golf I had all week. It sucks to come up this short and not give him my best."
When Smith picked up the trophy once again, you would have thought he won The Masters. He takes such pride in each tournament he plays in and the people they honor. You wonder whether someone will say the same about winning a trophy named after him one day.
"When the Pennsylvania Golf Association created this event in 2004, I wanted to play in it because it is named after Jay Sigel," said Smith. "Any amateur that plays the game aspires to be him. He has been nice to me over the years and I am lucky to feel like I can call him a friend. Anything that has his name on it is something I wanted to be a part of."
Semifinals
Nathan Smith v. Chris Cerminaro
Smith used a 3-under-par back nine charge to outlast Chris Cerminaro of Glenmaura National Golf Club, 3&2.
Smith used a laser-like 7-iron to 10 feet on No. 11 (par 3, 183 yards), a two-putt birdie on No. 14, and a conceded birdie on No. 16 (par 3, 138 yards) to get past a stingy Cerminaro.
The turning point in the match came on No. 9 (par 4, 367 yards). Cerminaro had a 15-footer for birdie and Smith had a tricky downhill five-footer for par after racing his birdie putt by.
Cerminaro left his putt short right in the heart and Smith converted his putt. Cerminaro said he felt he needed that putt to turn the tide in his favor and have a chance on the back nine.
"Nathan just beat me," said Cerminaro, 21, of Carbondale, Pa. "I played some extremely solid golf. A couple of putts that I was making earlier in the week I was leaving a couple of rotations short. But that's golf. I am not disappointed at all with the week. It was a great success for me to get here and hopefully I can use this as a stepping stone."
Max Siegfried v. William Smith
William Smith had been starting slow all week and then turning on the gas on the back nine.
After falling 3-down through 11, Smith won the next three holes as a result of two conceded birdies and a three-putt bogey by Siegfried on No. 14.
But Siegfried showed great mettle and won No. 15 (par 4, 456 yards) after stuffing a 9-iron to a foot from 145 yards.
But the turning point came on No. 16 when both players found the left greenside bunker. With Siegfried in for a bogey, Smith hit a beautiful bunker shot to three feet using the contours of the green perfectly. A sure par, then the unthinkable happened.
"I missed that short three-footer for par on No. 16 to win the hole and I didn't even get it to the hole," said Smith, of Chambersburg Country Club. "That's the only shot I want back."
Siegfried would win No. 18 to win, 2-up. But for Smith, the week will be one he will always remember.
"For me, there was something about the back nine this week that just clicked," said Smith, 49, of Newville, Pa. "I made another run but unfortunately I was just a little short. All in all, I am happy that I played well on the back. It was a great week here at Schuylkill."
The Pennsylvania Golf Association would like to thank the staff and membership of Schuylkill Country Club for their support and hospitality during the event and to LECOM for their partnership.