Connor Schmidt Wins 105th Amateur at Sunnehanna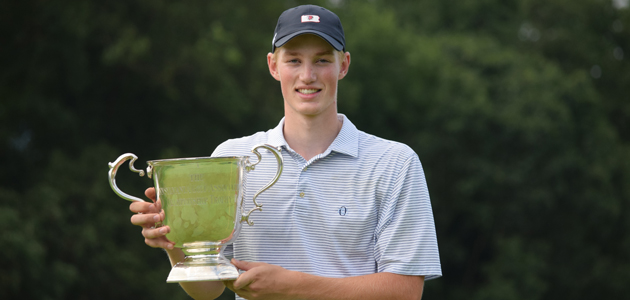 Connor Schmidt closed in 65 to win the 105th Amateur at Sunnehanna Country Club
JOHNSTOWN, Pa. - It took a putt making a 360 degree turn for Connor Schmidt's chances in the 105th Pennsylvania Amateur Championship to do a 180. A lackluster start to his third round saw a pair of bogeys and a single birdie on the card as he moved to the ninth hole at Sunnehanna Country Club. But after a 6-iron left him 10 feet for birdie on the 617-yard par 5, Schmidt knew he had a chance. His putt then did a full circle around the hole before falling for the birdie that started a stretch of six red numbers in an eight-hole span, and Schmidt held on to card a 65 for the round and a 7-under par 203 to win the championship, which is presented by LECOM.
"That was the turning point," said Schmidt, a rising junior on the Drexel Dragons golf team and member of Nemacolin Country Club. "I got it going after that."
The next hole, a 155-yard par 3, saw the 20-year old strike a 9-iron for another 10-foot birdie. He nearly eagled the 11th hole but settled for the tap-in and a third straight birdie. Four in a row wasn't to be as his putt on the 12th didn't fall. But the momentum picked back up with two more birdies on No. 13 and No. 14. On 13, Schmidt's approach came to just under six feet and he rolled it in. Then on 14, the eventual champ knocked it close again.
"That was probably my best swing of the day," Schmidt said of his 5-iron approach on the 14th. "I hit it to 12 feet behind the flag, right up the hill, and made the putt."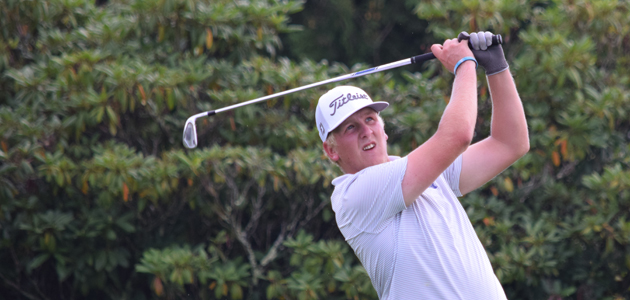 Anthony Sebastianelli fired a tournament low 64 in round two to join the final group en route to Runner-Up honors
Standing on the 15th tee, he was tied for the lead with Huntsville Golf Club's Anthony Sebastianelli, who was two groups behind Schmidt on the golf course. Then Mother Nature made her presence known. The championship had already seen multiple weather delays, and as Schmidt looked out at the 595-yard par 5, the wind started whipping and rain coming down. In milder conditions on Tuesday, Schmidt was able to hit his tee shot over the hill in the fairway, but with the conditions worsening on Wednesday, he wasn't even close to that distance. He then tried to hit 3-wood over the bunker but flared it right into the fescue.
Luckily he was able to find the ball and hacked it out before a great chip left him with a short putt to save par. That clutch par save kept him in contention as he went to the par-3 16th hole. His 8-iron from 175 yards was excellent, leaving him eight feet below the hole.
"Most of the putts I made on the back nine were right to left," Schmidt said. "I was seeing the lines really well because of that, and this was another one. I rolled it dead center with the perfect speed."
That birdie moved Schmidt to 7-under par for the championship, but Sebastianelli still had a chance. The recent alum of Central Connecticut State's golf program had finished his weather-delayed second round earlier Wednesday morning and had moved into a tie for the lead with Hannastown Golf Club's Brady Pevarnik. Early bogeys on No. 2 and No. 4 dropped him back to 4-under par for the championship, but Sebastianelli rallied with birdies on No. 9 and No. 13 to get back to even par for the day and 6-under overall, tied with Schmidt at the time.
But Schmidt's birdie on No. 16 put him back ahead, and he was able to safely par both of the final two holes. Just as Schmidt was making par to finish his round on the 18th, Sebastianelli bogeyed No. 17. That meant that he was two strokes back heading into the final hole. An eagle wasn't in the cards, though Sebastianelli converted a par to finish in solo second place at 5-under par 205.
Three golfers finished in a tie for third place at 3-under par 207. That included Pevarnik, solo leader after round one and co-leader after round two. Also at -3 was two-time champion Nathan Smith of Pinecrest Country Club and Windber Country Club's Daniel Thompson. Smith was the only golfer in the championship to card a score under par each day, as he posted three consecutive 69s.
For Schmidt, while it is his first Pennsylvania Amateur title, the win marked his second consecutive year winning a Pennsylvania Golf Association championship, as he teamed with Michael Cook to win the Four-Ball Championship in 2017 at Moselem Springs Country Club.
Schmidt is the second golfer to win the event at the legendary Sunnehanna Country Club, as Oakmont's Fred Paine, Jr. won the event in 1955. The Pennsylvania Golf Association would like to thank the staff and membership of Sunnehanna CC for the hospitality shown all week, and LECOM for the sponsorship of the championship.