Tanabe Takes State Am at Aronimink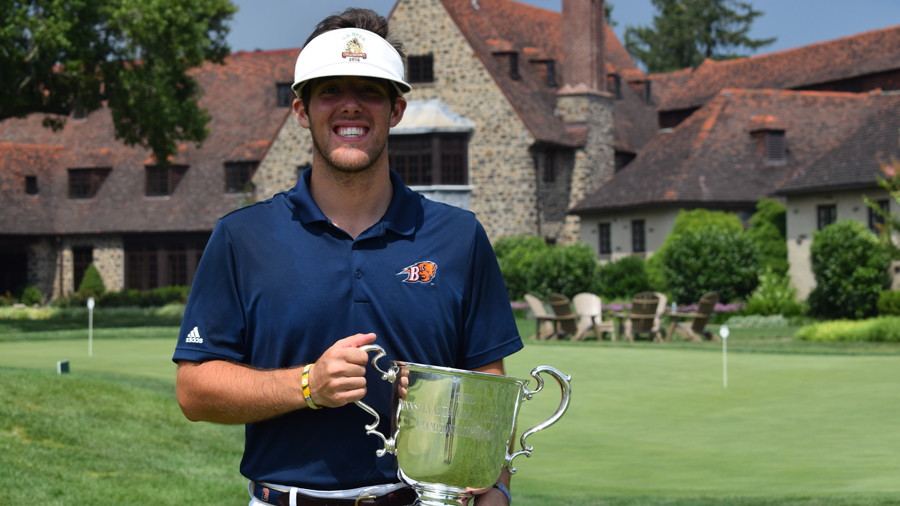 NEWTOWN SQUARE, Pa. – The front nine at Aronimink Golf Club has been the key to Christopher Tanabe's success this week during the 106th Pennsylvania Amateur, presented by LECOM. With a three-shot edge heading into Wednesday's final round, Tanabe again took advantage of the first nine holes, posting a 2-under par 33 on his way to a final round 71 and a three-round score of 205 (-5), good enough to claim the championship.
"I was able to set myself up in good positions on the front nine today and took advantage of it," Tanabe said. "I just wanted to hit fairways, hit greens and give myself a good look for birdie and I was able to do so for the most part."
Sewickley Heights Golf Club's Tanabe feasted on the front in all three rounds, and Wednesday he got off to another quick start. While not as impressive as Tuesday's opening hole-out from the fairway, he did make birdie on the opening hole from 15 feet to push his advantage to four shots. After dropping a shot on the par-4 fourth hole, he then bounced back to birdie both No. 6 and No. 7.
On 6, he flushed his approach to about four feet and sank the putt for birdie. He followed that up with another excellent approach on the seventh, leaving him six feet to the hole. After that putt fell, the Bucknell University golfer was at 8-under par for the championship.
Tanabe had an impressive par save on No. 8 from six feet, and then made a routine par on the ninth to take a five-shot lead into the back nine. For the third day in a row, his putter led to his success.
"When you're putting well, it takes so much pressure off of your ball-striking," said Tanabe, who became the first golfer to win the Pennsylvania Amateur at Aronimink since the 1941 edition was captured by Steve Kovach.
While Tanabe played the front nine in 11-under par for the championship, the back nine was a different story, as he was 3-over par on that side in the first two rounds. But as champions do, Tanabe rose to the occasion despite a bogey on the tenth. He followed that with five straight pars before stepping to the tee on the 556-yard par 5 16th.
The hole had been tough for Tanabe the first two days, as he made par on Monday and then bogey on Tuesday there. But with a chance to extend his lead on the last par-5 on the golf course, he hit a nice drive and then put his second just short of the left greenside bunker. From there, he pitched to about four feet and rolled in the birdie putt, moving him to 8-under par overall.
"I felt like I was in a good spot after I made that putt," Tanabe said.
On 17, Tanabe ran into trouble after missing the green. His coronation was delayed as lightning hit the area and an 87-minute delay ensued. When play resumed at 2:02 p.m., Tanabe returned to 17 and ended up making double bogey, reducing his lead to three as he headed to the final hole. He followed that with a nice drive and hit his approach on the green, making his victory inevitable. He ended up tapping in for bogey on the closing 18th to clinch his victory.
A key to the victory, according to Tanabe, was the advice from his Aronimink club caddie, Griff.
"He's a great guy and an awesome caddie," Tanabe said. "He knows what he's doing out there and it shows."
Finishing tied for second place at 3-under par were PAGA Individual Member Kyle Vance and LedgeRock Golf Club's Nate Menon. Vance fired a 2-under 68 in the final round. The Kansas State University golfer made a good run before a late bogey on No. 16 combined with Tanabe's birdie there minutes later sealed his fate.
"I came here to win," said Vance. "But I played well and consistent all week so I'm happy with that."
For Menon, who plays golf at Stanford University, things didn't go the way he planned. But playing with Tanabe, he knew that a comeback would be tough.
"I was never really able to put much pressure on him," Menon said of Tanabe. "I didn't play my best golf today, but second place is still pretty solid."
Defending champion Connor Schmidt of Nemacolin Country Club and Drexel University improved for the third straight day, following up rounds of 71 and 70 with a final round of 67 to finish at 2-under overall, good enough for a tie for fourth place.
Tied with Schmidt at 2-under was 15-year old Garrett Engle of Country Club of Harrisburg, who made four birdies on his way to a final round score of 69.
Equaling Schmidt for the low round of the day was Spring Ford Country Club's Ryan Tall, who fired a 67 despite a closing bogey. Tall had five birdies in his round, including three in a row starting on No. 3.
The Pennsylvania Golf Association would like to thank the staff and membership of Aronimink Golf Club for the hospitality shown during the championship. Special thanks to LECOM for sponsorship of the event.