Logue Lays Claim to Open Title at Waynesborough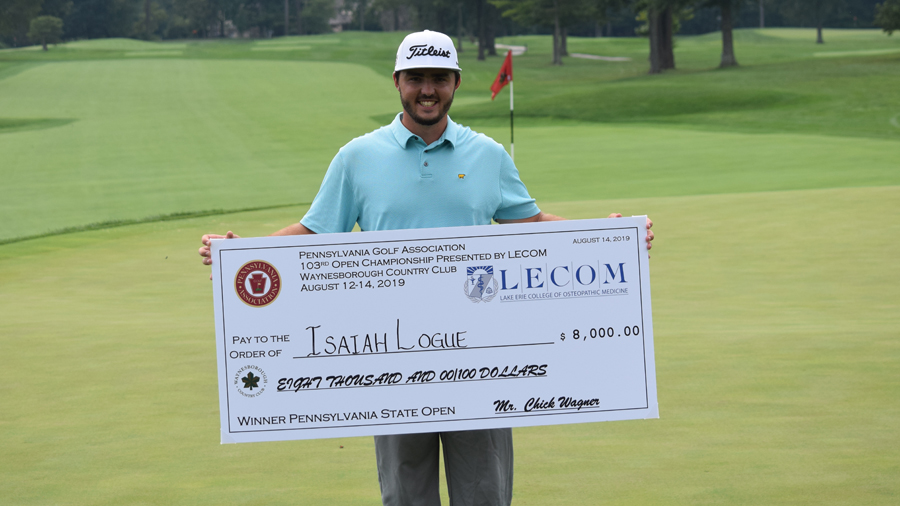 PAOLI, Pa. – With just six holes remaining in a rainy and wet final round of the 103rd Pennsylvania Open at Waynesborough Country Club, Isaiah Logue was trailing fellow professional and playing partner Brian Bergstol by one shot. But after Logue hit an improbable flop shot for a birdie on the 13th hole and Bergstol found water off the tee on No. 14, the roles had reversed, and Logue held on to finish at 205 (-8) and claim a three-shot victory in the championship, which was presented by LECOM.
"When I got to positions on the course where I needed to pull off a shot and make sure it was a quality shot, I was able to do that," the 23-year old Logue said.
Never was that more evident than on the 435-yard par-4 13th hole, where Logue's tee shot landed on some dirt, and with the ball partially covered with mud, his 9-iron approach flew 30 yards over the green. Trying to limit the damage, he hit a flop shot that felt good but he couldn't see the outcome. Seconds later, he heard the applause of the spectators nearby, as the ball rolled into the hole, giving him a crucial birdie that he used as the turning point.
"I was just looking to salvage bogey there," the Fairfield, Pa. resident stated. "Thankfully we had some rain this morning so the area I landed the ball in was pretty soft and after I hit the shot, I knew it was going to be pretty good."
That birdie put both players at 8-under par, and unfortunately for Bergstol, his tee shot on the par-3 14th hole found the water. After hitting from the drop zone to the green, his 15-footer for bogey just missed and he settled for a double-bogey five. That gave Logue a two-shot cushion that he would not relinquish, as he made pars on the final five holes to win his second Pennsylvania Golf Association championship.
Logue won the Pennsylvania Amateur in 2015 at Country Club of Scranton and is now the seventh player to win both the Pennsylvania Open and Pennsylvania Amateur, joining Frank Fuhrer, III, John Guenther, Jr., Steve Kovach, Andrew Mason, R. Jay Sigel and Mike Van Sickle. Logue's win earned him the $8000 top prize, his largest check in a professional event thus far in his budding career.
"It feels incredible," Logue said. "It was hard fought all the way through. Brian played very well. Props to him for not just handing it over."
Bergstol, of Bangor, Pa., started strong, rolling in a long birdie putt on No. 1 and then adding back to back birdies on No. 7 and No. 8 to go out in 32. He added another birdie on the par-4 11th hole before the double bogey on No. 14. He finished with a round of 70, his third consecutive round under par. Bergstol and Logue were the only players in the championship under par each round. For his efforts, Bergstol claimed the second place prize of $5000.
Finishing in third place was professional J.D. Dornes of Lancaster, Pa., who was 4-under par on the front nine before cooling off a bit on the back. He posted a 67 today and finished at 209 (-4) for the event. Tying Dornes for third was first round leader Cole Willcox of nearby Malvern. Willcox, a former professional awaiting reinstatement as an amateur, fired a 1-under par 70 today.
A group of five golfers tied for fifth place at 212 (-1), including the event's low amateur, Brian Isztwan of Huntingdon Valley. Joining Isztwan at that number were professionals Craig Hornberger, Christopher Crawford, Anthony Sebastianelli and Alex Blickle.
Of the 43 players to make the cut, 32 were professionals.
The Pennsylvania Golf Association would like to thank the staff and membership of Waynesborough Country Club for the hospitality shown during the week. Also, special thanks to LECOM for sponsorship of the championship.