Brown, Delcher Claim Senior Am Titles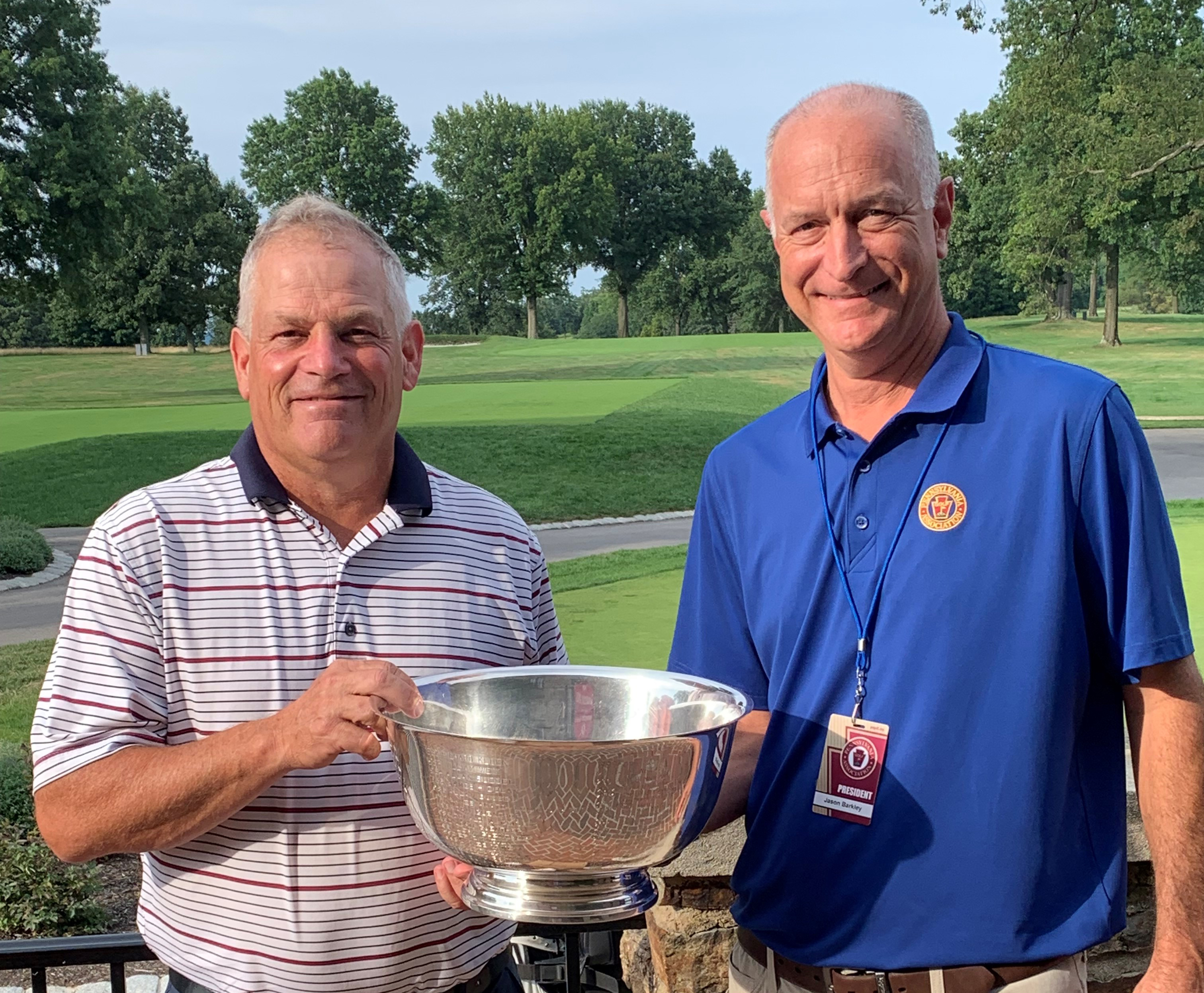 YORK, Pa. - This year, it was David Brown's turn. After finishing as the runner-up in the 2017 and 2019 Pennsylvania Senior Amateur championships, Brown turned the table in 2021. He shot matching rounds of 69 to finish at 138 (-6) to win the 62nd Senior Amateur at Country Club of York, presented by DICK'S Sporting Goods. Brown finished four shots clear of good friend and commonwealth golf legend Sean Knapp to win the title.
The tournament was conducted despite a big storm that hit the club last week, knocking down more than 70 trees. Club staff worked extremely hard to get the course back to its typical championship conditions.
Beginning the round with a three-shot edge over Knapp and Jeff Frazier, Brown came back from an opening bogey to play the next 11 holes in 1-under par. After a bogey on the par-4 13th, he pulled away from the field with birdies on four of his last five holes to claim the crown.
For the second consecutive round, a run on birdies was crucial to Brown's success. In Monday's first round, it was on holes 2 through 4. Tuesday saw him accomplish the feat on the 14th through 16th holes on the challenging Donald Ross layout, plus an additional birdie on No. 18 to finish in style.
Hannastown Golf Club's Knapp played bogey-free golf on Tuesday, with birdies on the 4th and 12th holes. The latter, combined with Brown's bogey on No. 13, cut the margin to just one shot between the playing partners. The 2018 and 2019 Senior Am champ, Knapp made his run but couldn't convert any birdies to cut into the margin any more as he finished at 142 (-2).
The win was another state title for Brown, who can now add the Senior Amateur to his growing list of accomplishments. Brown and Knapp teamed up to win the 2020 Senior Four-Ball Championship. Brown also won the Senior Match Play in 2017 and 2021 and the Senior division of the Art Wall, Jr. Memorial in 2016.
P. Chet Walsh of Philadelphia Country Club came in third at 147 (+3) after a solid 72 in round two. Frazier, of Carlisle Country Club, tied for fourth with Oakmont Country Club's Richard Berglund at 4-over par 148. Defending champ Chris Fieger, Sr. of Philadelphia Publinks was sixth at 5-over par.
In the Super-Senior division, Sandy Run Country Club's Duke Delcher, who fired a 1-under par 71 on Tuesday, won with a 36-hole score of 144 (E). He held off first round co-leader Brian Rothaus of Five Ponds Golf Club by two strokes.
Delcher was the only Super-Senior competitor to shoot a round under par in the event, and was one of three players in the entire field, along with Brown and Knapp, to accomplish that. It didn't look like that round was going to come to fruition after his start, as he bogeyed the first two holes. But after that, it was a stellar day for Delcher, as he birdied holes 9 and 10 and added another on the par-4 13th as he won his first Pennsylvania Golf Association championship.
Rothaus shot even par on the front nine on Tuesday, but a couple of back nine bogeys ended his run at the title. The other players tied with Rothaus after Monday's opening round, Don Erickson, III, and Don Donatoni, also played well on the front side before falling back a bit on the back.
Tom Hyland of Moselem Springs Golf Club tied for third at 147 (+3) with Whitemarsh Valley Country Club's Frank Polizzi and Erickson, of Indiana Country Club.
The Pennsylvania Golf Association would like to thank the staff and membership of Country Club of York for the hospitality shown during the championship. Thanks as well to DICK'S Sporting Goods for sponsorship of the event.