Frazier, Erickson Claim Senior Match Play Wins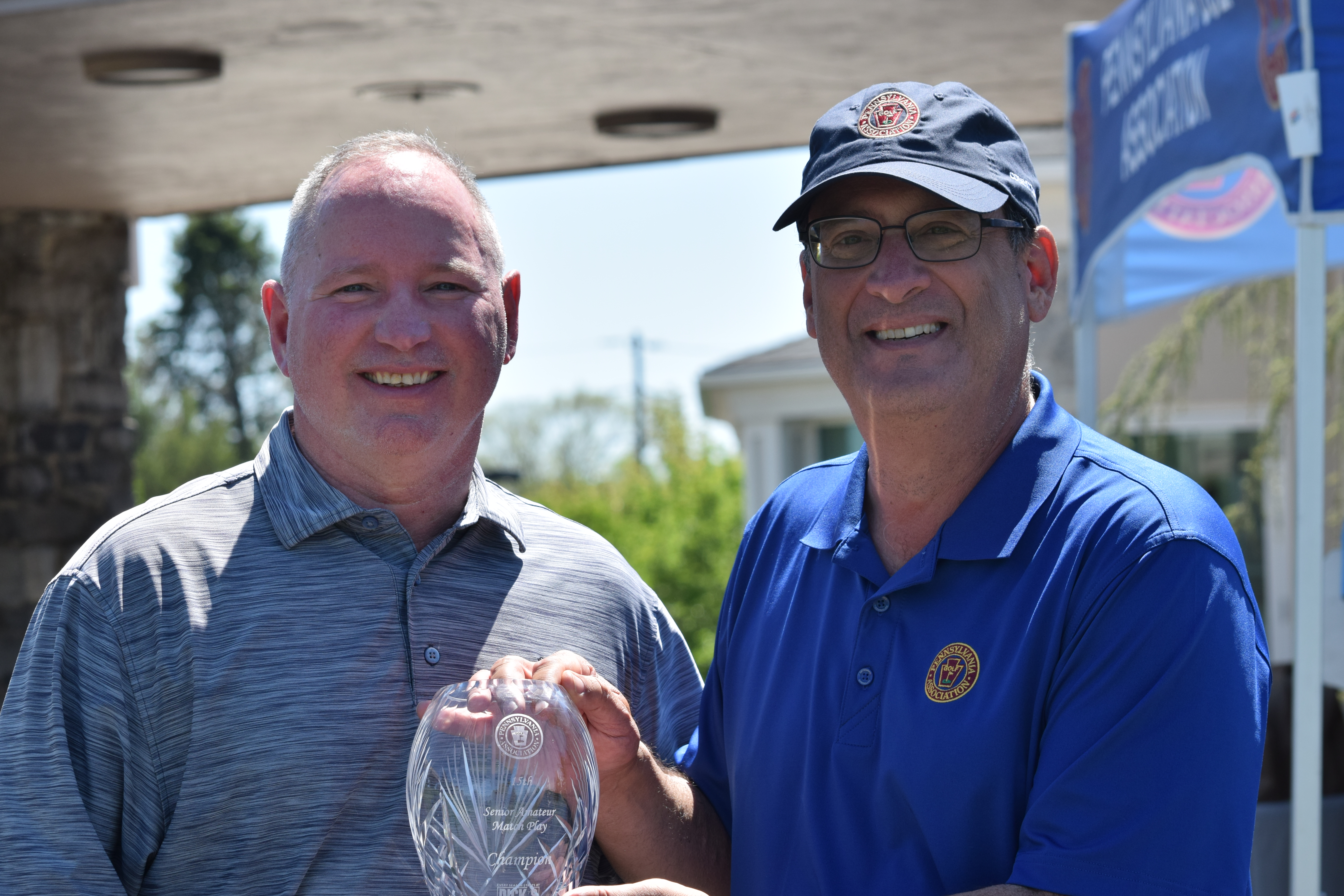 CARLISLE, Pa. - Jeff Frazier is a member at Carlisle Country Club. Don Erickson won the Dressler Memorial Championship there in 2016. And when it came down to it, the local knowledge and past success came in handy at the 15th Pennsylvania Men's Senior Match Play, as Frazier and Erickson captured the Senior and Super-Senior titles, respectively, in the championship, which was presented by DICK'S Sporting Goods.
Frazier won his first PAGA individual event in style, besting Chris Fieger, Sr., 5 and 3, in Tuesday afternoon's championship match after winning his semifinal match Tuesday morning over Dan Brown, 7 and 6. In the first two matches on Monday, he defeated Tracey Smith and Bob Crnjarich.
"It feels awesome to win my first individual title," Frazier said. "I didn't make a lot of mistakes out there. I made a lot of putts yesterday and today and just played solid."
Frazier said that the biggest advantage he had as a member was on the putting surfaces at CCC.
"It was definitely an advantage on specific putts," said Frazier. "The greens here are not Oakmont-like, but they're deceptive and tricky."
In the championship match against Fieger, Frazier quickly jumped ahead by winning four of the first five holes.
"He was tough," Frazier said of Fieger. "I was fortunate to get out to that early lead and then I just tried to make him make something happen.
Fieger reduced the lead to 3-up on a pair of occasions but could get no closer. Frazier closed out the match on the par-5 15th to lock up his first PAGA individual championship.
In the Super-Senior division, Erickson defended his title and also claimed his second victory at Carlisle.
Erickson's path to the title began with an opening round bye, before he topped Vince Zachetti in the quarterfinals, Frank Polizzi in the semifinals and Vince Scarpetta, Jr. in the championship match.
"This was the first tournament I've played in a long time with no aches and pains," said Erickson, of Indiana Country Club, I just had to redevelop a new swing around the aches and pains before, so this has been really good."
And to top it off, Erickson turns 70 on Wednesday, so the win served as an early birthday gift.
"This is a pretty good birthday present!" said Erickson.
After winning the Dressler six years ago, he was able to remember the holes from CCC for his return trip this week. But with a bye in the opening round, he had to come in cold as opposed to the golfers who had survived stroke play qualifying and had played multiple rounds on the course this week.
"I was a little apprehensive about that," said Erickson. "But I hit the ball good. I don't think I missed too many fairways. I hit it with authority and I had nice irons in the holes."
The bye came in handy when the final match started, as Erickson had played less golf than his opponent, Scarpetta.
"I think Vince was just out of gas," said Erickson.
Erickson claimed six of the first eight holes in the final match and was able to close it out and clinch the victory when the two golfers traded pars on the 13th hole, giving him the 6 and 5 margin of victory.
Frazier finished as runner-up last year to David Brown of St. Clair Country Club, who fell in the first round of match play to Scott Christie of West Shore Club this year. Erickson, meanwhile, continues a string of repeat winners in the Super-Senior side, as Dave DeNezza won from 2015-2017 and then Don Donatoni won in 2018 and 2019.
The Pennsylvania Golf Association would like to thank the staff and membership of Carlisle Country Club for the hospitality shown in hosting the event. Thanks as well to DICK'S Sporting Goods for sponsorship of the event.