Junior Girls Round 1: Dunigan takes a two-stroke lead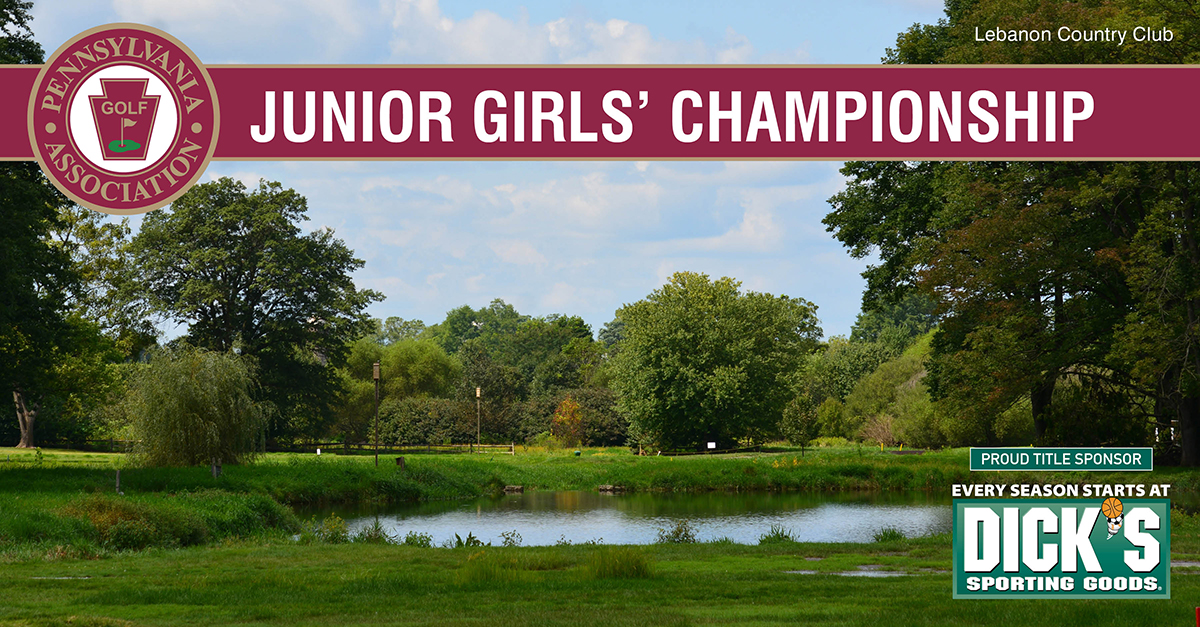 LEBANON, Pa. - Mary Dunigan has played in the Pennsylvania Golf Association Junior Girls' Championship, which was presented by DICK's Sporting Goods, two times before. She had experience with Lebanon Country Club before, but she remembered that she had struggled on the back nine before.
But on Monday, Dunigan conquered the back nine as she climbed up the leaderboards. In the final five holes, she recorded three birdies including a thrilling one on the 17th hole. Her plan was just to keep the ball on the greens and generate two-putts.
"One putt on 17 magically went in!" Dunigan said. "It was from 25 feet, not super long. But longer than I normally make them."
Along with her amazing putts, Dunigan was happy with how she did off the tee. With her solid driver, she was able to hit a lot of greens in regulation. Dunigan also felt that similar to hole 17, she did a good job of getting herself out of trouble and she credited a solid approach game today. While Dunigan holds a two-stroke lead going into tomorrow, there are multiple golfers that aren't far behind.
Going into Monday at Lebanon, Lihini Ranaweera was concerned about her score and her position on the leaderboard in many of the tournaments she played in. But in the first round of the event, Ranaweera didn't think about that and focused on ways to relax herself while playing.
"I think today I just wanted to have some fun and enjoy the course," Ranaweera said. "Relaxing helped me."
It certainly did as Ranaweera finished in a two-way tie for second place with Hannah Rabb of Bucknell Golf Club. Ranaweera and Rabb both finished 71s during the first day of competition. Ranaweera felt that her driver was the strongest aspect of her game. It didn't always go the farthest, but it was very accurate.
With her driver, Ranaweera notched four birdies. But it was on the ninth hole, a par three, where she was proudest of her performance. Off the tee, she hit the ball into the bunker. But Ranaweera responded with an up-and-down from the sand to make a par.
Rabb was the first player in the tournament to finish with a first round score under par. She immediately jumped out to a strong start on the front nine with four birdies in the first six holes. On the last three holes of the front nine, Rabb went even, resulting in a 33.
"I hit a lot of my iron shots close on the front nine," Rabb said. "So it gave me a lot of easy birdie putts from three feet."
But on the back nine, Rabb had only birdie and three bogies. Rabb finished the back two over par with a 38, completing the first day with her 71. Those few bumps in the road didn't deter Rabb, however.
"Those bogeys happened because of a missed green, a chip and two putts," Rabb said. "So I was able to recover from those pretty well."
The next closest players include Lindsey Powanda of Diamond Run Golf Club and Kayla Maletto of Moselem Springs Golf Club, who both finished with a 73.
The Pennsylvania Golf Association would like to thank the staff and membership of Lebanon Country Club for the hospitality shown in hosting the event. Thanks as well to DICK'S Sporting Goods for sponsorship of the event.