Junior Boys Round 1: Ryan and Turowski lead at Hershey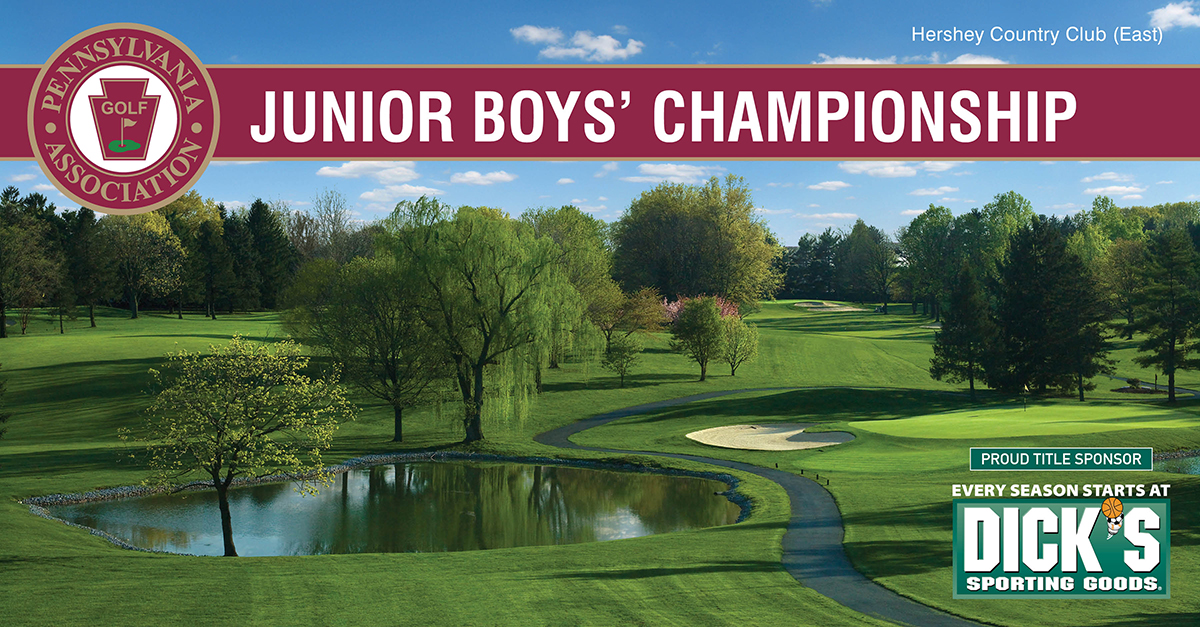 HERSHEY, Pa. - Joshua Ryan came into Monday on a hot streak. Ryan dominated in the Golf Association of Philadelphia's Junior Boys' Championship, winning four straight matches in match play format at Bala Golf Club to win that event for the third consecutive year. In the opening round of the Pennsylvania Golf Association Junior Boys' Championship, which was presented by DICK'S Sporting Goods, Ryan once again excelled, finishing with a 67 to put him tied for first.
Ryan, whose home course is The 1912 Club, faced some "torrential rain" early on, but powered through. He felt he could get aggressive with the softer greens at Hershey Country Club (East Course). But in both tournaments, Ryan credited his strong iron game as his biggest factor for notching six birdies. This was crucial for him since he bogeyed two holes.
"My iron play has been really solid," Ryan said. "I've been hitting a lot of greens…sometimes you miss the fairway but I was hitting it well enough that I could judge the number so I could get out with a par."
But Ryan wasn't alone at the top of the leaderboard. Nicholas Turowski of Hannastown Golf Club also finished with a 67 in the first round. After shooting a 35 on the front nine, Turowski caught fire on the back nine, recording three birdies to finish with a 32.
Turowski's plan heading into tomorrow as a leader is a "bogey-free" round. It may be achievable considering his dominant approach play and putting. Turowski hit 16 greens in regulation thanks to long drives that resulted in only wedge shots. He complimented that by recording zero three-putts on the greens.
"I made a pretty big putt on No. 2 and that got me into my round," Turowski said.
Fellow junior golfers Logan Paczewski and Hunter Stetson also completed the first round with strong scores, both recording 68s. Stetson, hailing from Aronimink Golf Club, finished with six birdies and three bogeys on the day to record a front nine score of 35 and a back nine score of 33.
Like Stetson, Paczewski had some ups and downs throughout his first round at Hershey, a course he is familiar with. There were multiple times throughout the round where Paczewski bogeyed and then responded with birdie.
Paczewski credited a routine to calm himself after a bad hole. He would take his hat off and then wipe his forehead with a towel as a way to calm down and reset. Even on those holes that he settled for a five, Paczewski was still pleased with his ability to respond.
"I felt like I could have gone a little bit lower than I did. I just got a couple of bad breaks," Paczewski said. "It was a good positioning round for tomorrow."
Paczewski, who plays his golf at Huntsville Golf Club, felt very happy about his putting on the greens at Hershey CC. He needed his putting to keep himself on pace. Paczewski nailed a 40-foot putt to maintain a par on the final hole of his round.
"The greens are a little softer today," Paczewski said. "So it made it a little easier because normally here the ball bounces everywhere when it's firm and tomorrow I'm sure I'll get firmer."
The Pennsylvania Golf Association would like to thank the staff and membership of Hershey Country Club for the hospitality shown in hosting the event. Thanks as well to DICK'S Sporting Goods for sponsorship of the event.