Dunigan wins Pennsylvania Girls Junior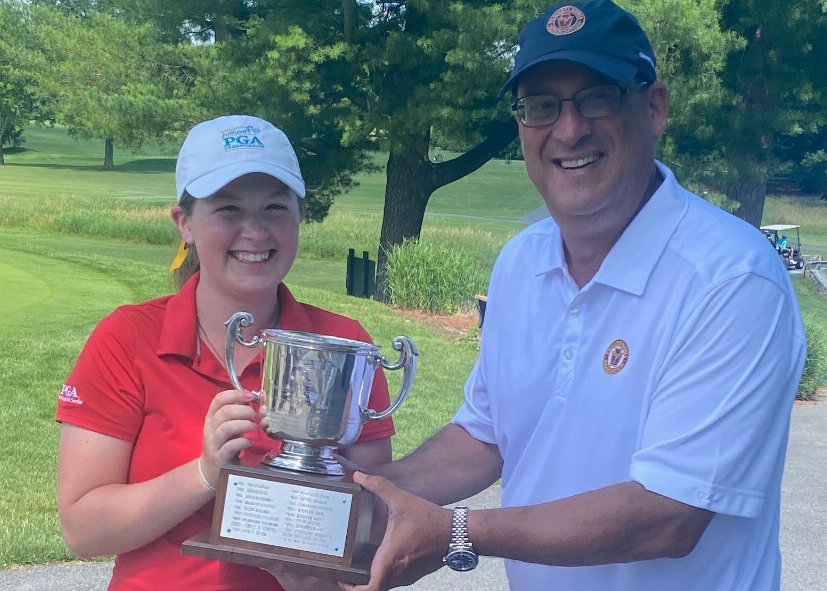 LEBANON, Pa. - Mary Dunigan already had a two-stroke lead heading into Tuesday. She was able to create this lead after a clutch birdie putt on the 17th hole, which was a par four at Lebanon Country Club. It helped her jump out ahead of players like Hannah Rabb and Lihini Ranaweera, who both shot 71 on Monday. In the final round of Junior Girls' Championship, which was presented by DICK's Sporting Goods, all Dunigan had to do was play her game since the rest of the field shot above par. And she did exactly that.
"I'm stunned honestly," Dunigan said. "I never really thought I was going to win this tournament because it was such a big deal!"
Going into the tournament, Dunigan, whose home course is at Kennett Square Golf & Country Club right outside of Philadelphia, felt that she could play her game at Lebanon because of how well she was playing in the prior weeks. She also had much experience playing in the Junior Girls' before 2022. In Dunigan's mind, this experience made this year's championship much different. Still, there were doubts in her mind since she remembered how challenging the back nine at Lebanon Country Club could be.
But the success Dunigan had today and yesterday came from her putting. Yesterday, it helped her grow her lead. Today, putting helped Dunigan maintain the lead. With her solid putting, Dunigan secured three birdies throughout the final round. On the back nine, Dunigan didn't have any three-putts. The consistency of her putting made Dunigan the most proud. Any putt that was within 10 feet, she made.
"The putting was definitely a huge deal for me," Dunigan said.
Along with her birdies, Dunigan had a steady round with a lot of pars. Dunigan went even through the first four holes, which featured a bogey on hole No. 1 and a birdie on hole No. 4. After that, she scored pars on the remaining holes of the front nine. In the final three holes of her round, she already had a three-stroke lead over Rabb, who finished the tournament with an even 144 over two days. On the back nine, Dunigan steadied herself and had a par on each of the final three holes to finish with an overall winning score of 141.
While Dunigan shot better on Monday, she honestly felt that today's round was better. After she won her first Junior championship, Dunigan couldn't help but reminisce about the previous Girls' Junior Championships that eventually helped her get to this moment.
"When I was younger, all these good people would win it and I just didn't think I would get to that level," Dunigan said. "So I'm really proud of myself for getting there."
The Pennsylvania Golf Association would like to thank the staff and membership of Lebanon Country Club for the hospitality shown in hosting the event. Thanks as well to DICK'S Sporting Goods for sponsorship of the event.