Paczewski wins Pennsylvania Boys Junior
HERSHEY, Pa. - Logan Paczewski felt that he had a couple "bad breaks" with three bogies on the back nine in round one. Still, he thought he set himself up well for the second day of the tournament at Hershey Country Club (East Course). After a first day that saw him record seven birdies and finish with a 68, Paczewski dominated on Tuesday. The junior golfer carded a 67, which brought his total to 135 (7-under par) to win the Junior Boys' Championship, which was presented by DICK'S Sporting Goods.
Paczewski's final score ended up being four strokes better than the next-best golfers, Nick Ciccoca of Aronimink Golf Club and Nicholas Turowski of Hannastown Golf Club.
"It feels absolutely awesome," Paczewski said. "I've never been in the position to close a tournament out."
Paczewski, who plays his golf at Huntsville Golf Club which is not too far from Scranton, described Monday as a "good positioning round." He ended up playing with fellow top scorers Tuesday could be described as his winning round.
Paczewski credited his solid performance throughout the tournament on his putting. On Monday, he nailed a 40-foot putt to save a par. Today, he was just as pleased with his play on the greens of Hershey Country Club.
"I've been struggling with the putter a little bit here and there," Paczewski said. "But this week it really was solid and I'm really happy that it was."
His front nine started out with bang after he birdied hole No. 1, a par five. Paczewski would have two more birdies and six pars in eight remaining holes of the front. This resulted in Paczewski scoring a front nine score of 33. It was the same score he got on Monday and tied him with Breckin Taylor and Rocco Salvitti for the lowest score on the front nine.
But Paczewski started the back nine even stronger than the front. Immediately, he hit the ball onto the fairway and now was looking for a good approach shot. Instead, he sunk the second shot for an eagle, the only one among the leaders.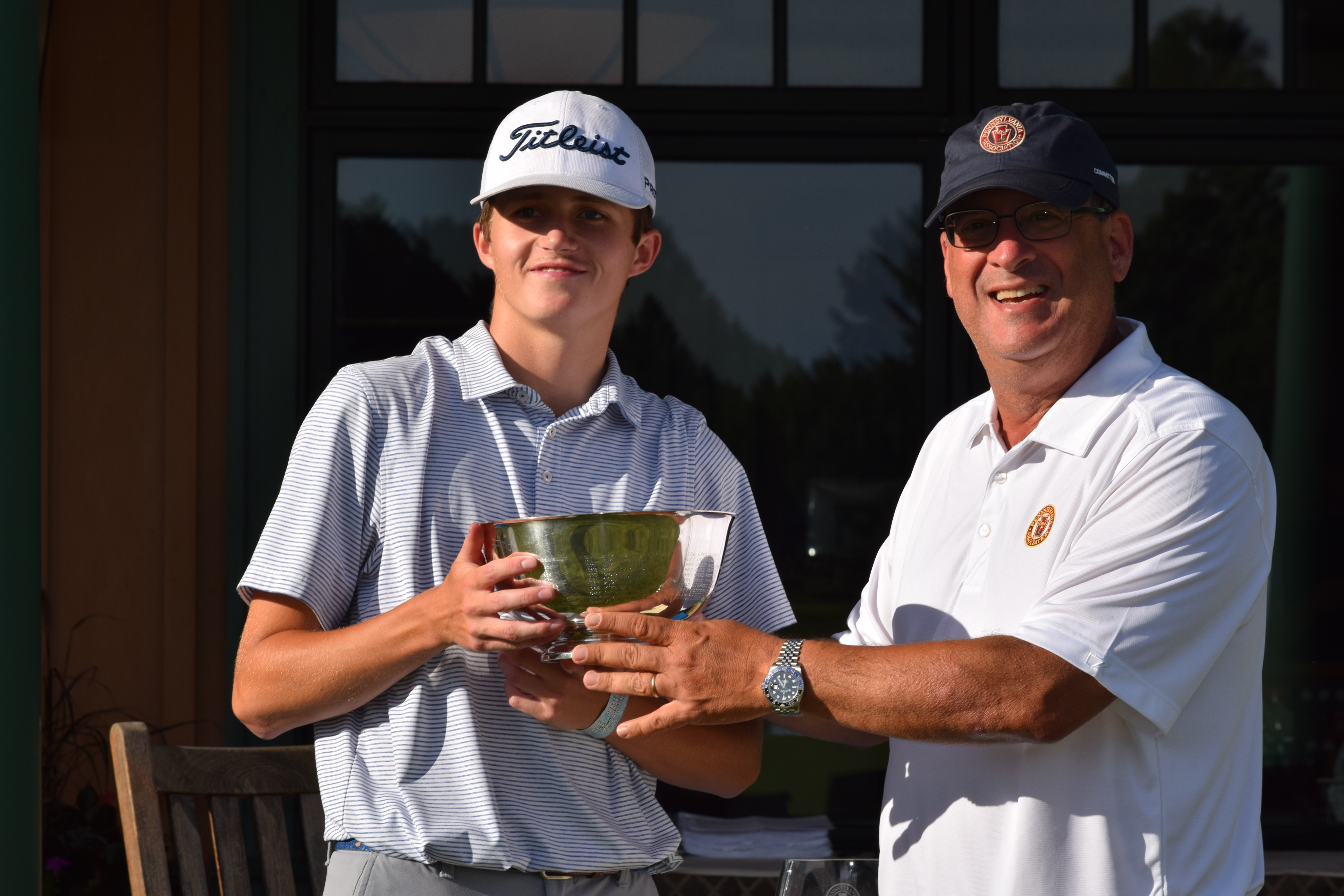 "I was honestly thinking don't go long. (There was) a back pin and you don't want to go along there at all," Paczewski said. "I had a 110(-yard shot) in there but it's been a missed number for me all year. I stepped up there, executed really well, trusted my swing and (the ball) just flew right at it and it went in."
On the rest of the back nine, Paczewski excelled. He had four more pars and a birdie on hole No. 14. Even with a bogey on the 17th hole, Paczewski closed out with a par to secure his first-ever victory at the Junior Boys' Championship.
Paczewski, who will be heading to play college golf at Rutgers in the fall, just played in his last junior tournament, and he couldn't help but reflect on that.
"This is my last junior event," Paczewski said. "I'm really happy to just end it on a great mark."
The Pennsylvania Golf Association would like to thank the staff and membership of Hershey Country Club for the hospitality shown in hosting the event. Thanks as well to DICK'S Sporting Goods for sponsorship of the event.