Piatt and Patel tied in second day of Pennsylvania Amateur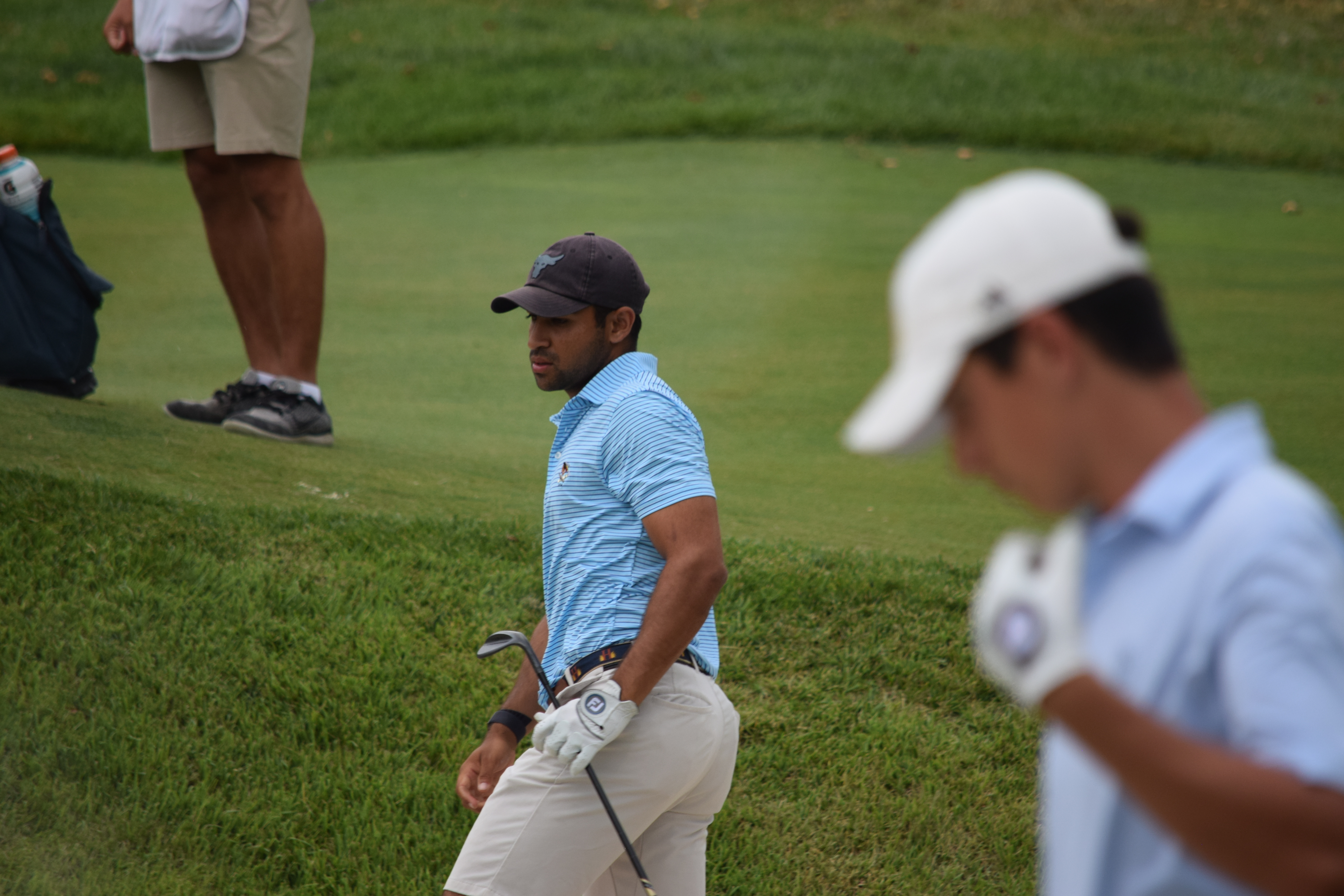 HAVERTOWN, Pa. - After 15 holes at Llanerch Country Club, Rij Patel was at even par through two days at the 109th Pennsylvania Amateur Championship, which was presented by DICK's Sporting Goods. But with three holes to go, Patel was about to pull one of the best stretches in the tournament so far.
On hole No. 16, Patel hit a big drive down the right side of the fairway, and then proceeded to a 7-iron shot less than three feet from the hole to secure a birdie. One hole later, Patel used his nine-iron on the par-3 to get the ball six feet from the hole. He then proceeded to nail the birdie putt. And on the final hole, Patel, like many golfers had done throughout the two days, smacked his shot right near the green. While the ball went in the bunker, Patel recovered with a sand shot that went seven feet from the hole. And for the third straight hole, Patel secured the birdie. This great stretch of play moved Patel into a tie for first place with Nathan Piatt of Oakmont Country Club at a total score of 137 (3-under par).
Patel, who plays golf at Country Club of York, felt that he took advantage of some of the holes with his driver. Multiple greens, like the 18th, are driveable for Patel.
"There's a few holes that you can just take a swing at it," Patel said. "You get it as close as you can to the green and just trusting my short games, I hit right up to the green."
While Patel felt he couldn't make any putts outside of 10 feet, he was clutch when the putts were shorter than that. But Patel wasn't alone in being content with solid ball striking and clutch putting.
Piatt has had to deal with multiple punch and recover shots as his ball was under the trees at Llanerch Country Club. But while Piatt thought his driver was going sideways at times, he felt his ball striking from his irons and wedges was really good. On hole No. 2, Piatt had a tree blocking a clear iron shot straight to the green. But Piatt hit a hard punch shot that rolled onto the green. From there, Piatt two-putted to save par.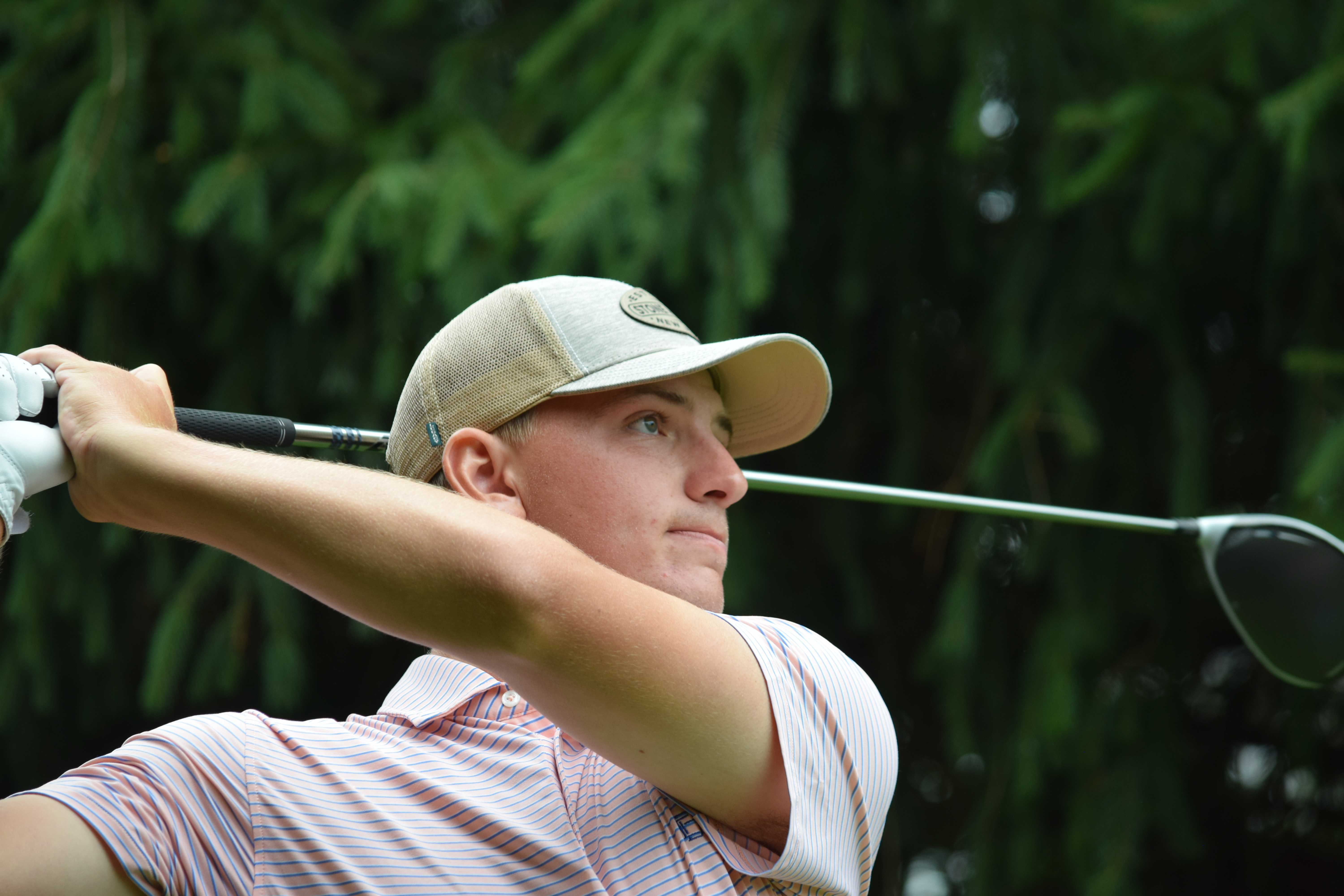 Piatt's ball striking ability elevated the Pittsburgh native to a tie at the top of the leaderboard at the This performance put him into the third round, where only 42 golfers made the cut.
"I've managed to put myself in play, and give myself a wedge. (It was) just a fight for an up-and-down," Piatt said.
Piatt's fight began with an initial struggle with a bogey on the 10th hole (his opening hole). But after that hole, Piatt notched two birdies and six pars the rest of the way to finish with a 34 (1-under par) on the back. On the front nine, Piatt recorded two more birdies, making up for one more bogey on hole No. 9. Piatt, who plays college golf at the University of Tampa, was able to finish many of those holes with putting he was happy with, despite the tough terrain.
"The greens are really tough here. They're super grainy, which we don't have a whole lot at home," Piatt said. "But I've been good and my pace has been really good."
Not far behind Piatt is Austin Barbin of the Philadelphia Publinks Golf Association. Barbin, who plays at Liberty University, had three birdies and three bogeys today to finish with an even score of 70. And after shooting 69 (1-under par) the day before, Barbin vaulted himself into third place. Similar to Piatt, Barbin was also pleased with his ball striking.
"I hit 16 greens (in regulation) today," Barbin said. "I really was patient … there's times where a lot of these pins were tucked. So a lot of times you got to kind of be disciplined."
Barbin ended up being the only player with a two-day score of 1-under par. In a tie for fifth place, PAGA Individual Member Jake Griffin and Brett Young of Nemacolin Country Club are at even par through the first two days of the tournament.
The Pennsylvania Golf Association would like to thank the staff and membership of Llanerch Country Club for the hospitality shown in hosting the event. Thanks as well to DICK'S Sporting Goods for sponsorship of the event.