Shipley Captures State Am at Llanerch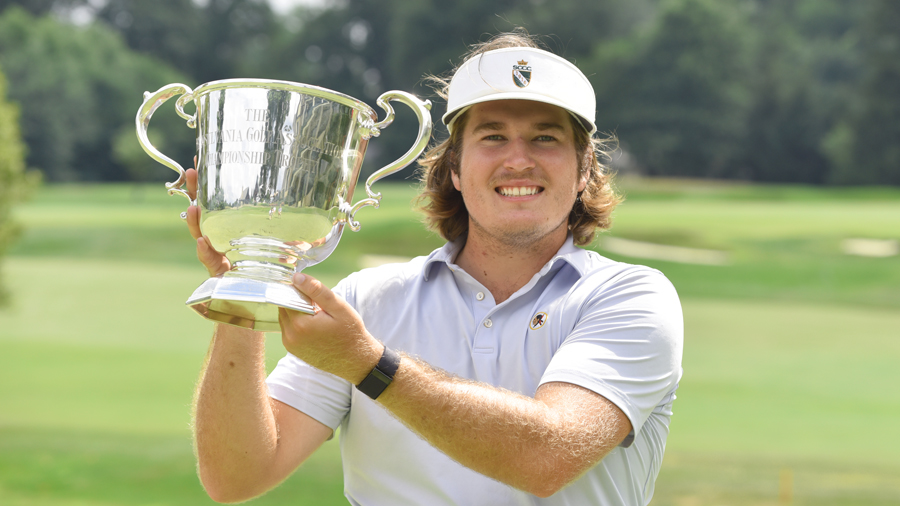 HAVERTOWN, Pa. - The Summer of Shipley continued as Neal Shipley rode a hot front 9 to a final round 67 and a 54-hole total of 208 (-2) for a victory in the 109th Pennsylvania Amateur at Llanerch Country Club, presented by DICK'S Sporting Goods. Shipley's first Pennsylvania Golf Association win followed his victory earlier this summer in the West Penn Open.
"It's awesome to win this," said Shipley, of St. Clair Country Club. "I've worked so hard this summer and the State Am is always circled on the calendar. I played pretty well all week and grinded my way through."
Shipley opened the tournament with a 68 after faltering a bit on Tuesday with 3-over par 73. But for Wednesday's final round, he caught fire early on his way to an opening nine score of 30 (-5). That included birdies on his opening hole and three of his first four. He birdied both par 3s on the front nine (No. 4 and No. 8) to move into a tie for the lead.
"If you shoot just 1-under par on the front nine here, you're probably getting ahead of the field," said Shipley. "So my mindset was just to keep making birdies because every birdie would help me make up strokes on the field."
The back nine saw steady, consistent play with the exception of a bogey on the par-3 12th hole. But then on the par-3 17th, another bogey combined with a birdie by Country Club of York's Rij Patel on the 15th meant there was a tie atop the leaderboard. Shipley's bogey came after he missed the green and was between a putt and a wedge and decided on the wedge, but he left it short and two-putted for bogey.
On the 18th, Shipley had hit 3-wood in the tournament's first two rounds. But he decided to use a 2-iron, thinking it was the safe play to set up an easier wedge approach. That decision was nearly disastrous, as his tee shot just stayed inbounds by about a foot on the right side of the hole. His pitch ended up just on the fringe about 20 feet away and he two-putted from there to post a 3-under par 67 for the round.
"I didn't really hit that tee shot very well at all," said Shipley. "But I hit a pretty good first putt to give myself a good look at par."
That began the waiting game as Patel was in the final group, which was on the 17th. Patel made par there. Then, like Shipley, his tee ball on the 298-yard 18th sailed right, but unfortunately for Patel, his ended up out of bounds on Llanerch's driving range which is adjacent to the hole. The former Harvard University golf standout eventually posted double bogey on the hole to finish tied for second with Oakmont Country Club's Nathan Piatt at even par 210. That gave Shipley the title. He was the only player to finish under par for the championship.
"This is a culmination of a lot of hard work for me this summer," said Shipley, who will be a grad transfer on the Ohio State golf team this fall. "I've really been working on my ball-striking. I've learned a lot from some fellow college golf competitors, and trying to emulate what they do, and they're all really good ball strikers."
Up next for Shipley is a Western Amateur qualifier before he will attempt to double up in PAGA events with the Pennsylvania Open at Longue Vue Club in two weeks. But first, he can relish his victory at the classic Alexander Findlay layout at Llanerch.
"This is a great golf course," Shipley said of Llanerch. "It's great visually and it's a really nice club."
Defending champ John Peters of Carlisle Country Club shot a 68 on Wednesday to finish tied for fourth at 1-over par. Peters battled back from an opening round 74 to post back-to-back red numbers (69 and 68) for the strong finish. Tied with Peters in fourth was Amani Dambrosio of Wildwood Golf Club, who shot even par 70 in the final round.
Matthew Mattare of Saucon Valley Country Club set the pace early, as he was 4-under in his first four holes, punctuated by a hole-in-one from 208 yards on No. 4. The ace was the third of Mattare's career, though his first in a major competitive event. The ball landed on the front edge and rolled to the middle-back hole location, though he and his playing partners didn't witness it. That confirmation came from Mattare's caddie, who watched it through the rangefinder and started the celebration. Mattare began the day at 6-over par and climbed back to 1-over before fading on the back nine and finishing at +6 for the championship.
In the Team Championship, consisting of the best 2 of 3 scores for clubmates over rounds 1 and 2, Oakmont Country Club's team of Piatt, Aidan Oehrle and Jimmy Meyers combined for a score of 278 (-2) to win the competition.
The Pennsylvania Golf Association would like to thank the staff and membership of Llanerch Country Club for the hospitality shown during the championship. Thanks as well to DICK'S Sporting Goods for sponsorship of the event.