Cox leads Amateur after first day at Lancaster Country Club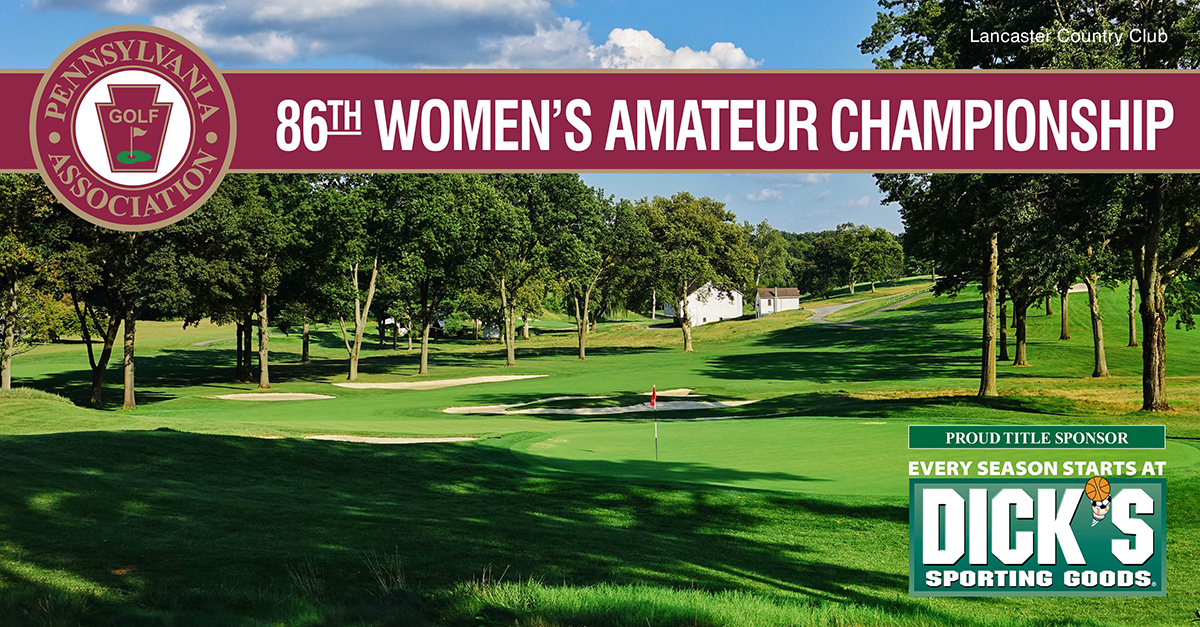 LANCASTER, Pa. - Lancaster Country Club reminded Michelle Cox of her home course, Lehigh Country Club. She felt that many of Lancaster's greens suited her vision even though she only played the course for the first time the day before. Playing on another William Flynn track like Lehigh helped her nail five birdie putts en route to a score of 72 (-2) and vaulted her into the lead after the first round of the 86th Pennsylvania Women's Amateur Championship, which was presented by DICK's Sporting Goods.
"I played yesterday and I really enjoyed it," said Cox, who is a rising sophomore golfer at Penn State. "So today I just followed suit."
But Cox isn't leading by a dominating stretch as Jade Gu of Yardley Country Club is two strokes behind. Gu, who will be a redshirt freshman for Purdue's women's golf team, had two bogeys in the first five holes on the front nine. Like Cox, Gu had only played Lancaster once before. But after her second bogey, she responded with remarkable approach shots and solid putts. On the sixth hole, she hit a shot with her 6-iron and the ball was three feet from the hole. Gu made the short putt for a birdie. Two holes later, she nailed a 30-foot putt for eagle on a par-5.
This took her to 1-under par for the round. And after a back nine where she had eight pars and one bogey, Gu finished second in the amateur division. She finished with an even par 74, tying her with Hartefeld National's Rylie Heflin, who plays golf at Duke University. Gu was pleased with her play on the front, but was a little upset she couldn't get a birdie on the back nine.
"I just struggled a bit with my putting," Gu said. "But everything else was pretty solid."
Cox, Gu and Heflin led in the Amateur division, one of four in the championship.
While the Amateur division has a tight miller, the Middle-Amateur division has one dominating leader. Katie Miller Gee, whose home course is Green Oaks Country Club, leads the division with a score of 76 (+2). Miller Gee, who is the defending champion of the Middle-Amateur and a 3-time Amateur champion, had eight pars and one double bogey on the front nine. Despite having two bogeys on the back, Miller Gee kept her score low with birdies on the 10th and 15th holes. The next closest golfer is Northampton Country Club's Katrin Wolfe with an 81 (+7).
In the Senior division, only one golfer finished at par or better. Karen Siegel, of Commonwealth National Golf Club, battled for her even par score of 74. Siegel had three bogeys on the day, with two coming on the front nine and one on the back nine. But Siegel bounced back with successive birdies on the 12th and 13th holes. Her other birdie came on the par-4 fourth hole. Including the birdies on 12 and 13, Siegel played her final eight holes in 2-under par.
Not too far behind Siegel, who won the 2nd Senior Women's Match Play tournament at Carlisle Country Club earlier this summer, are challengers Lisa McGill of Sunnybrook Golf Club and Noreen Mohler of Northampton Country Club. McGill, the event's defending champion in the division, notched four birdies on the back nine on her way to a solid 77 (3-over par). Meanwhile, Mohler responded from four bogeys on the front nine to shoot even par on the back for a score of 78.
In the Super-Senior division, Merion Golf Club's Liz Haines, co-champ of the division in 2020, rolled in three birdies (No. 7, No. 8, No. 11) on her way to an opening round 77 (+3). Barbara Pagana, who like Siegel won her respective match play division at Carlisle back in June, was one shot behind Haines for the day as she attempts to win the Super-Senior title for the third consecutive year, including her tie with Haines in 2020.
The Pennsylvania Golf Association would like to thank the staff and membership of Lancaster Country Club for the hospitality shown in hosting the event. Thanks as well to DICK'S Sporting Goods for sponsorship of the event.