Familiar Names Take Titles at Women's Am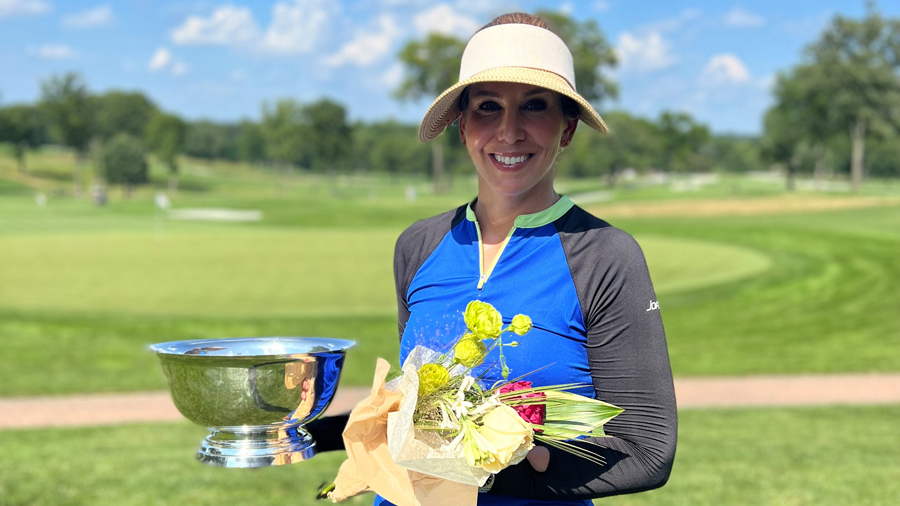 LANCASTER, Pa. - Another year, another double-digit victory for Katie Miller Gee. But this one had a different feel for the Green Oaks Country Club standout. Despite winning three Amateur titles and then the Middle-Amateur for the third consecutive year, this is Miller Gee's first as a mother. And that's what made her dominant showing at Lancaster Country Club even more special, as she posted a 7-under par 67 in round two on her way to a 36-hole score of 143 (-5) and a 16-stroke victory in the division at the championship, which was presented by DICK'S Sporting Goods.
"It kind of shows that you do need a lot of support. It takes a lot. It takes a village to raise a child and it takes a village to win a golf tournament," Miller Gee said. "I coach my high school's golf team now and for those girls to be able to see me compete after having a baby, it's kind of cool."
Miller Gee was already off to a strong start with three birdies on the front nine. And on LCC's back nine, she continued to shine, notching a remarkable five birdies on that side.
Despite the incredible round, Miller Gee felt like it was all so simple. The par 5s on the back side were reachable, leaving her a pair of easy birdie putts. On the par 3 17th hole, her tee shot, which she deemed "perfectly straight", was the result of solid mechanics.
"That was a really smooth, simple swing," Miller Gee said. And after a par on 18, she completed a round that gave her a double-digit win in the Middle-Amateur flight for the second straight year. Northampton Country Club's Katrin Wolfe came in second at 159 (+11).
McGill Repeats as Senior Champ
Meanwhile, the Senior division saw its winner bounce back from tough starts to eventually win the whole flight. Sunnybrook Golf Club's Lisa McGill scored a double bogey on the second hole in her final round. But she bounced back with a birdie and six pars in the front nine.
McGill, the defending champ, had a seven to start the back nine. But she recovered with two birdies to claw back and post a 36-hole score of 153 (+5) to win her fourth title in the Senior division. Karen Siegel, of Commonwealth National Golf Club, finished in second place, three strokes back. McGill also claimed the title in 2010, 2018 and 2021.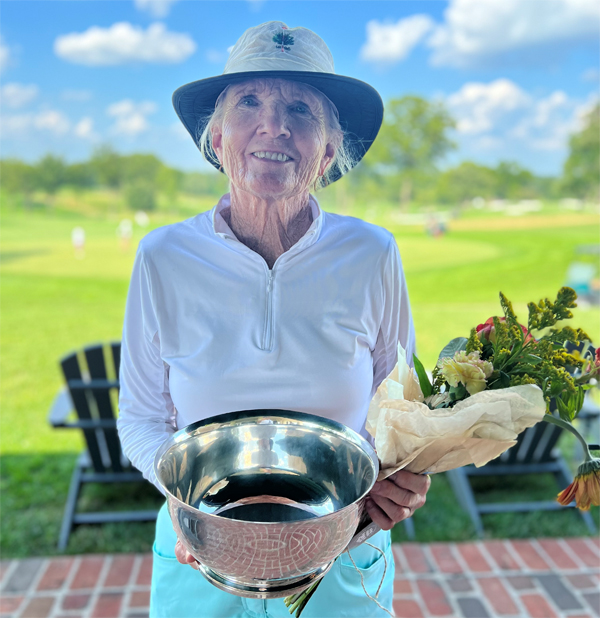 Haines Wins Another Super-Senior
The Super-Senior division also wrapped up with a familiar name on top. Merion Golf Club's Liz Haines captured another win in the event with her two-day total of 162 (+14), topping defending champ Barbara Pagana of Huntsville Golf Club by three shots. For Haines, it was her third win in four years in the Super-Senior realm.
It was a familiar leaderboard, with Haines and Pagana at the top. The 2018 championship was the last one that neither Haines nor Pagana won, including the 2020 edition where they shared the title.
Rogowicz Leads Amateur Division Heading into Final Round
The Amateur division still has one round remaining, as it is the only division with a 54-hole format. And now it has a new leader. At a difficult place like Lancaster CC, Jackie Rogowicz was really focused on keeping the ball in all the right places. And in Tuesday's second round, she did just that as she moved to the top of the Amateur division. Rogowicz, the 2019 champion of the event, felt that her putting needed to improve after the first day. She wanted to achieve this by keeping the ball below the pin on most holes, and she felt she did exactly that.
"I definitely putted it better than I did yesterday, which was nice," said Rogowicz, of Yardley Country Club. "It's just a hard golf course."
The Penn State golf team alum's putting came in handy on multiple holes on the front nine in order to vault her into the lead, starting with a birdie on the fourth hole. But on the last hole of the front, Rogowicz cemented her solid putting performance. On the par 5 ninth, reachable in two for a large portion of the Amateur field, she hit her second shot onto the center of the green. From there, she rolled in an eagle putt to move to 3-under for the round. Following this clutch putt, she had two more birdies on the back nine. This moved her total score to 149 (+1), two strokes ahead of current Nittany Lion Michelle Cox, who is at 151 (+3) after the first two rounds. Still, Rogowicz is prepared for a tougher challenge tomorrow, as the Amateurs are the lone division to return Wednesday in a 54-hole stroke play format.
"(The course) could play even tougher tomorrow," Rogowicz said. "So I just have (to focus on) staying patient, really patient."
The Pennsylvania Golf Association would like to thank the staff and membership of Lancaster Country Club for the hospitality shown in hosting the event. Thanks as well to DICK'S Sporting Goods for sponsorship of the event.