Blichar wins 63rd PA Senior Amateur with late-round heroics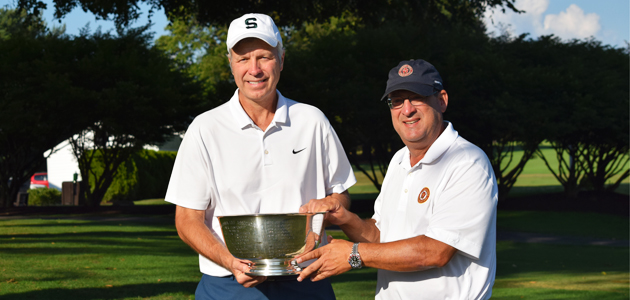 ORWIGSBURG, Pa. - David Blichar needed one final solid hole to push him to a victory at the 63rd Pennsylvania Senior Amateur, which was presented by DICK's Sporting Goods. Going into the 17th hole, Blichar was tied with Hannastown Golf Club's Sean Knapp, who had already finished the event with a 143 (-1).
In his mind, Blichar played the next par five perfectly. Off the tee, Blichar left himself a 4-hybrid on his second shot. With the 4-hybrid in hand, Blichar hit a shot that landed his ball three feet from the hole. He had a tap-in eagle putt to give him a two-stroke lead over Knapp.
"It was funny because I was talking to Perry (Landis) on (hole) 15. He's like, 'do you want to know where you are?'" Blichar said.
At that point, the Olde Homestead Golf Club club member knew even just a birdie would give him the lead. But an eagle and a subsequent par on the 18th hole secured the victory. Blichar remembers winning the 15th Art Wall, Jr. Memorial Championship at Country Club of Scranton in 2018, and now is "elated" from today's title win.
"There's the (oppurtunity to win a) state to win a state tournament," Blichar said. "(It's) the best field in the state at this age and it's the biggest win of my career by far."
Knapp improved three strokes from yesterday to finish second, while current Senior Match Play champion Jeff Frazier ended up in third place with 145 (+1).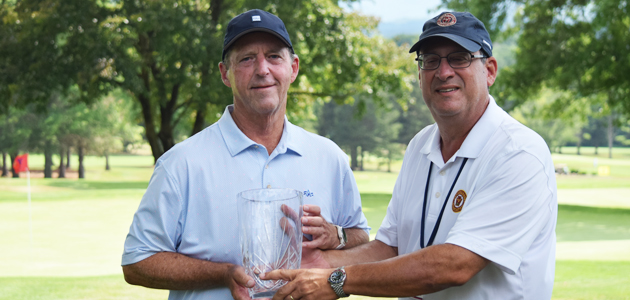 Delcher Repeats in Super-Senior
In the Super-Senior Divsion, there will be a repeat name inscribed on the trophy. For the second straight year, Duke Delcher's dominance of the Senior Amateur continued. While the Senior division had a wire-to-wire winner, the Super-Senior division saw much change, including a comeback win. On Monday, Delcher finished with a 38 (+2) on the back nine of Schuylkill Country Club as he recorded three bogeys and only one birdie. But Delcher, who plays golf at Sunnehanna Country Club, played much better on the back in the second round in order to defend his crown in the Super-Senior division.
Delcher, who was one-over par on the front nine at Schuylkill, started the back with an immediate birdie on hole No. 10, which is a par four. Delcher nailed a 10-footer on the green to secure the birdie.
And after back-to-back pars, Delcher notched another birdie on the 12th and his third and last birdie of the back nine on the next hole. On the remaining holes, Delcher recorded nothing but pars. It helped him take home the win in the Super-Senior division. Delcher finished This came despite trailing Applebrook Golf Club's Gary Daniels by four strokes.
"I played really well. I really did," Delcher said. "But I didn't get off to the start that I'd hoped to get off to. (I tried) to get a little pressure on Gary."
With solid driving throughout the back nine, Delcher was able to take hold of the repeat win. But the Sunnehanna golfer credits his improved iron game for his most recent success. He thanked a friend who gave him one small tip over a month ago and his iron shots have been playing well ever since.
"My iron game has really improved over the last month or so," Delcher said. "So that was the fun part (of today)."
The Pennsylvania Golf Association would like to thank the staff and membership of Schuylkill Country Club for the hospitality shown in hosting the event. Thanks as well to DICK'S Sporting Goods for sponsorship of the event.