Four golfers tie for the lead after Day 1 of 106th PA Open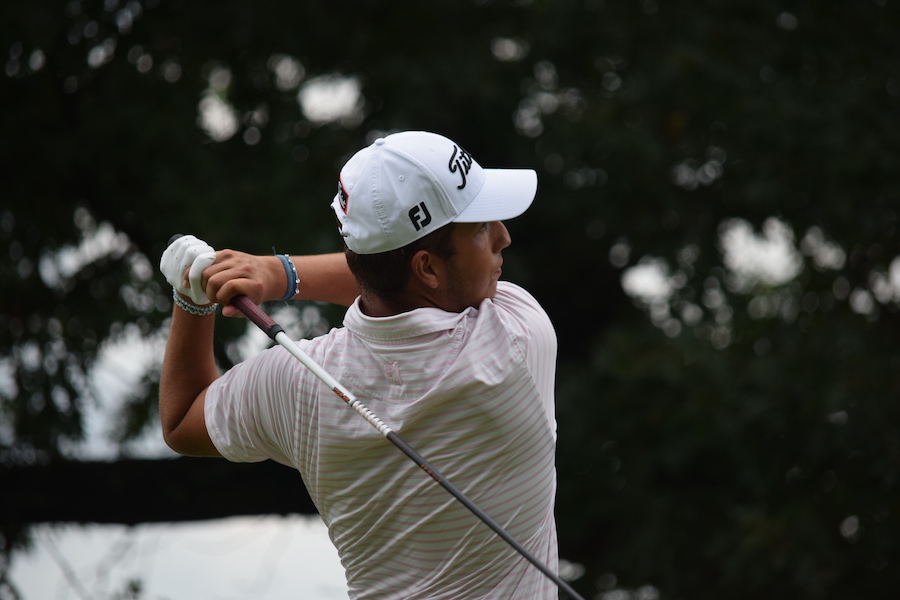 VERONA, Pa. - Tanner Grzegorczyk had just recently joined as a member at Longue Vue Club. As he has gotten acclimated to the course, he has loved it. But even with four inches of rain pouring down on the course before the 106th Pennsylvania Open Championship, which was presented by DICK's Sporting Goods, Grzegorczyk was surprised to see how fast the greens were running.
"I played out here Saturday morning after the rain and they were fine," Grzegorczyk said. "I was really surprised how good they are."
With Longue Vue's fast greens, Grzegorczyk used his putting to help him post a 66 (-4), which placed him a four-way tie for the lead at the Open. Grzegorczyk, with a putter that he swapped into his bag a few weeks ago, notched two birdies and seven pars on the front nine. To start the back, he came close to making a hole-in-one on the 10th hole (par 3) and proceeded to sink the 10-foot putt.
Three holes later, the Longue Vue member made a downhill slider to record his fourth and final birdie of the day. Grzegorczyk had pars on all of the remaining holes, crediting his play off the tee as well. He felt so strong in his game that Grzegorczyk couldn't point anything to improve on, only jokingly saying that he wished he could get every shot closer to the pin.
"My driver kept me in play the whole day, which is huge out here," Grzegorczyk said.
Tied atop the leaderboard with Grzegorczyk, Peter Bradbeer was pleased with his ball striking. The alumnus of the Bucknell's men's golf team had played at the course before when he took part in last year's US Amateur Championship but had a few holes where he recorded three putts. But thanks to his tee-to-green play, he notched six birdies despite also posting two bogeys.
"My ball striking has been good recently," Bradbeer said. "Tee-to-green (play) was fantastic."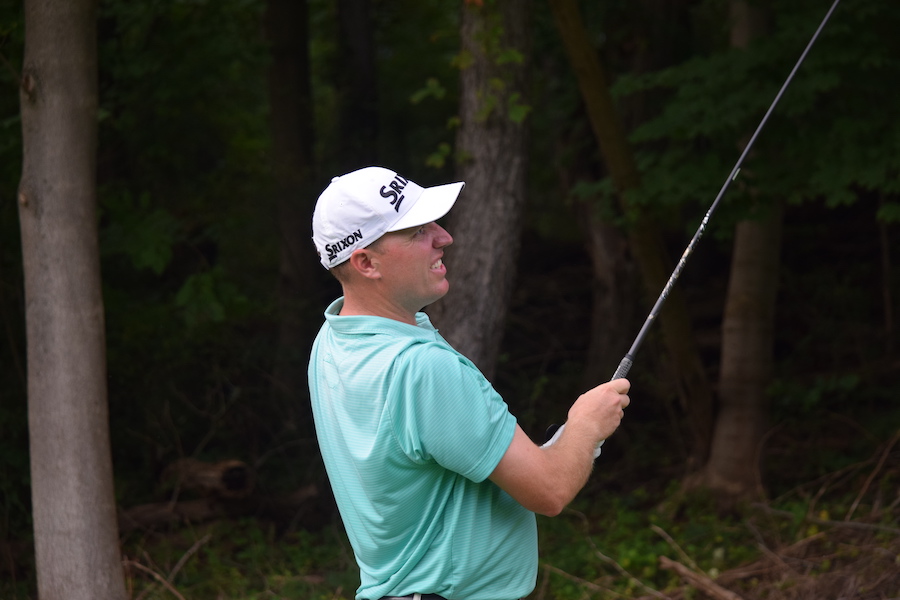 But the two morning golfers were not alone at the top as two afternoon players stuck through rain and a lightning delay to finish with 66s. Similar to Bradbeer, Mike Van Sickle of Wexford was also happy with his ball striking, specifically from his irons. While Van Sickle, who just drove 10 hours back from playing in the Canadian Tour's Quebec Open, started with a bogey on the ninth hole (the hole players started on if they didn't start on hole No. 1), he recovered on Longue Vue's back nine.
He recorded three birdies in the first four holes on the back, including two from par three's. On the 10th, Van Sickle hit a 9-iron tee shot 10 feet from the green and then nailed the ensuing putt. On hole No. 12, Van Sickle sunk another 10-footer for another birdie on a par three. For the day, Van Sickle was -3 on those par three's. Van Sickle felt great about an improved putting performance from over the weekend's tournament.
"It's funny because I just played (in) the Canada Tour event in Montreal, and just spent the entirety of yesterday missing 10 footers," Van Sickle said. "So it was nice to get some place to go in finally."
After that hot stretch to start the back, Van Sickle recorded eight straight pars and nailed two more birdies, recovering from the only bogey of his round.
Unlike Van Sickle, Karl Frisk of Spring Grove had to deal with a double bogey on the sixth hole. Fortunately, the sophomore golfer at USC Aiken had six birdies throughout the round to finish with the 66. Before the delay, Frisk was also fighting through the harsh winds for eight holes, where had to play two extra clubs more than the normal distance. Still, in that span he notched three birdies in a back nine that saw him go -3.
The double bogey on the front was placed right between three birdies for Frisk. On both the fourth and fifth holes, Frisk made a 15-footer for birdie. Then on hole No. 7, he sunk a 10-footer for his final birdie of the day. Frisk took pride in his putting despite a day of spotty wedge shots.
"Two of (the birdies) were tap-ins and the other four were pretty lengthy putts so it was good," Frisk said.
Right behind the four leaders stood Daniel Rodgers, Rich Steinmetz and Austin Barbin, all of whom shot 67 (-3), which placed them in a three-way tie for fourth place.
The Pennsylvania Golf Association would like to thank the staff and membership of Longue Vue Club for the hospitality shown in hosting the event. Thanks as well to DICK'S Sporting Goods for sponsorship of the event.