Fieger Sr. and Kliewer crowned Senior Four-Ball Champs
HARRISBURG, Pa. - Chris Fieger, Sr. and Craig Kliewer stormed past the field and held on through a tough weather day at Colonial Golf & Tennis Club to win the 30th Pennsylvania Senior Four-Ball, presented by DICK'S Sporting Goods. The pair finished with a 36-hole score of 133 (-11) to win the Senior division by four shots. The Super-Senior division had an impressive showing of its own, as Don Donatoni teamed with Brian Rothaus to fire a 10-under par 134 to win by three shots.
Fieger and Kliewer shot a 67 in Monday's opening round and were tied with David Blichar (2022 Pennsylvania Senior Amateur champ) and Jeff Hudson going into Tuesday's final round. With the bad weather approaching, they came out quick with birdies on three of the first six holes to get ahead of Blichar and Hudson, and they remained their on their way to the victory. Fieger and Kliewer's second round featured just one bogey while they carded seven birdies.
The win continues a strong season for Fieger, who finished as runner-up in the Senior Match Play to Jeff Frazier. Fieger, of Philadelphia Publinks, and Kliewer, of nearby Lebanon Country Club, notched their first wins in this event. Fieger, the 2020 winner of the Senior Amateur, got things started on Tuesday with a birdie on the par-5 second hole. It was a balanced effort the rest of the way as he and Kliewer each carded three red numbers.
Blichar and Hudson, of Olde Homestead Golf Club, parred the first 13 holes of the day before making birdies on No. 14 (by Blichar) and No. 15 (by Hudson) before a closing bogey to finish at 137 (-7).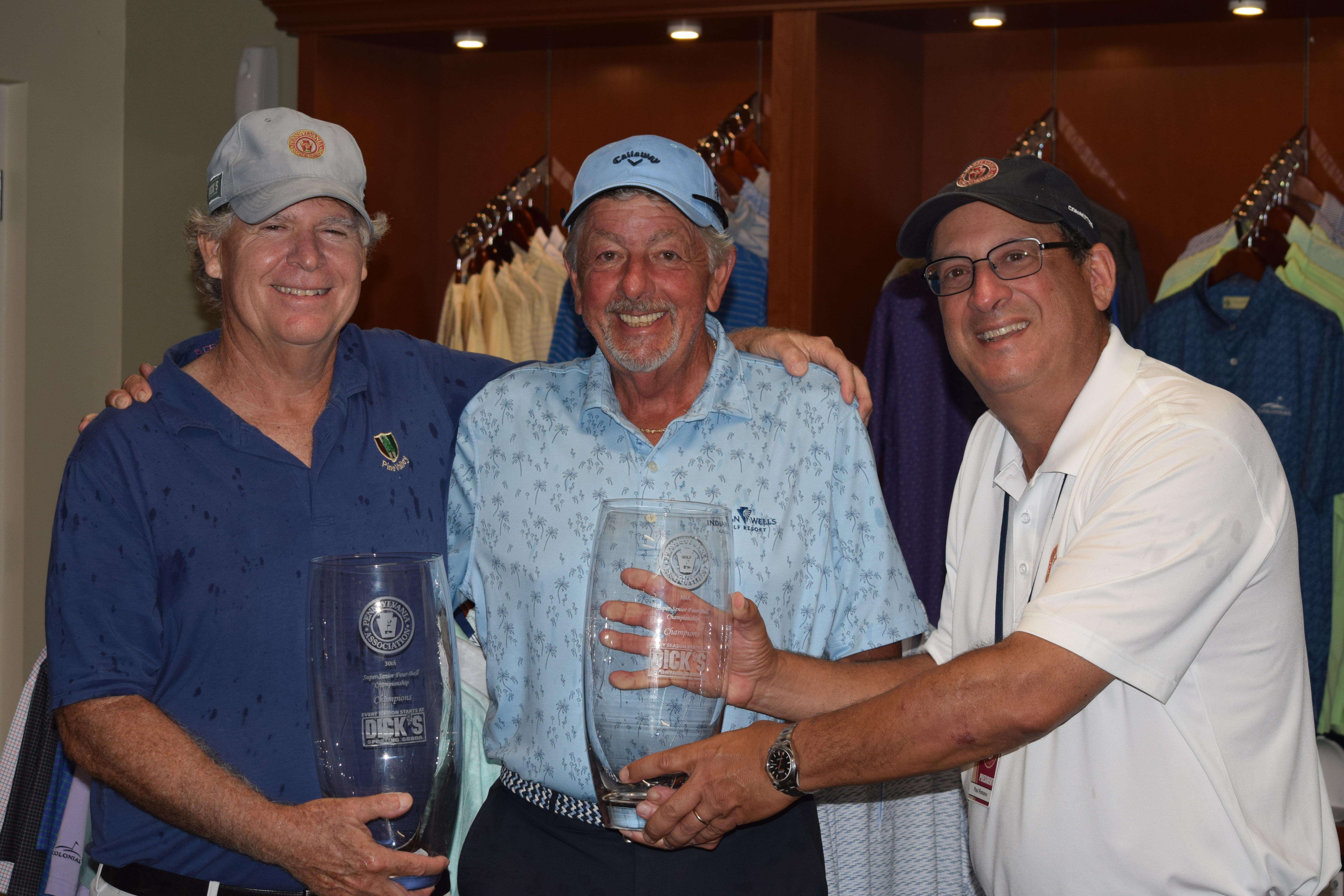 In the Super-Senior division, Donatoni and Rothaus entered the second round in a five-way tie for third place after an opening score of 70 (-2). But they excelled on Tuesday, shooting a 8-under par 64 that was three shots clear of any other team in the division to pull away for the victory.
Donatoni, of White Manor Country Club, and Rothaus, of Five Ponds Golf Club, birdied three of the first four holes and ultimately seven of the first 12 on their way to the win. They did not card a single bogey after having two in Monday's round. It was the first win in the Senior Four-Ball for either player.
For Rothaus, it was a nice reward for the PAGA title after he finished as runner-up in the Super-Senior division of the Senior Amateur championship in each of the past two seasons. Donatoni, meanwhile, will have his name in the PAGA champions roll for the seventh time in his decorated career.
The Pennsylvania Golf Association would like to thank the staff and membership of Colonial Golf & Tennis Club for the hospitality shown during the championship. Thanks as well to DICK'S Sporting Goods for sponsorship of the event.