Stimmel, Osborne Take Art Wall Titles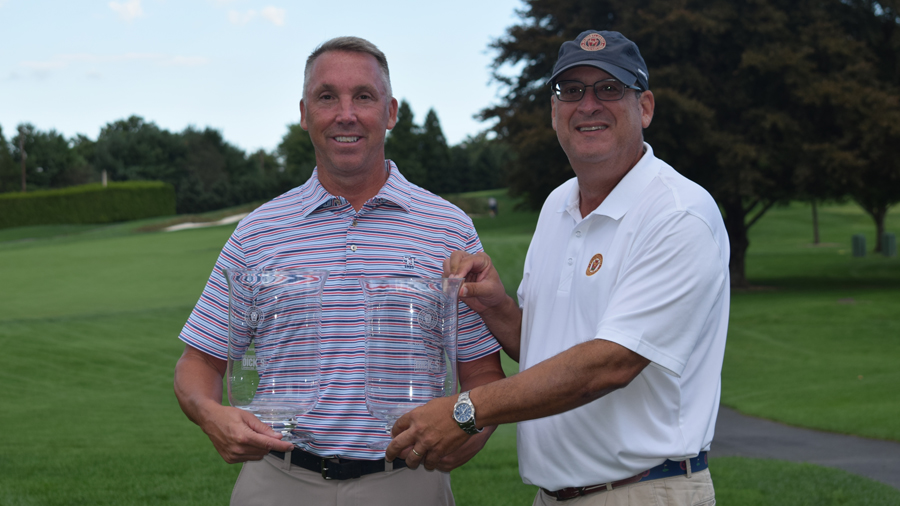 Scorecards
CAMP HILL, Pa. - Rick Stimmel was the only golfer under par in both rounds at West Shore Country Club in the 18th Art Wall Jr. Memorial Championship, and he used a final round score of 69 (-3) to hold off Clay Davidson to win the championship, which was presented by DICK'S Sporting Goods. The win was Stimmel's fourth in a Pennsylvania Golf Association crown in his illustrious career.
Stimmel's two-round total of 5-under par 139 gave him the win in the overall division (ages 40-64) as well as the Senior Division.
"This caps off what I think is a pretty decent year," said Stimmel, of Diamond Run Golf Club. "I was glad to play well this week and sneak a victory in."
To do so, Stimmel had to hold off first round leader Davidson, a longtime member of West Shore who shot 3-under par on Monday. Davidson began Tuesday's round with birdies on No. 3 and No. 4 to extend his lead.
"Clay kept saying how fast the greens normally were, but I couldn't stop leaving putts short," Stimmel said of his front nine. "I couldn't get anything to the hole."
Stimmel's rally began on the 333-yard eighth hole, where he drove the green and two-putted for a birdie. After Davidson bogeyed the ninth, they were tied heading to the back side. But it was on the par-5 12th that Stimmel pulled ahead for good.
"I had a downhill, sidehill lie from 250 yards and hit 3-wood to about six feet," said Stimmel. "And I made a nice downhill putt from there."
That finally put him in the lead in the championship, but Davidson proved to be a tough competitor.
"He got himself up and down from tough spots three times out there today," Stimmel said.
After a self-described "sloppy" bogey on the 17th, Stimmel and Davidson, playing together in the final group, moved to the 36th and last hole of the championship with Stimmel up by two shots.
There, Stimmel safely hit the green with a nice approach shot, leaving him plenty of margin for error on the par-3 closer and he safely two-putted for the championship.
"I was fortunate to sneak one out. Clay is a really nice player," Stimmel remarked.
Jeff Daniels of Country Club of Harrisburg finished in third place overall at even par 144, with Dan Brown of Manada Golf Club in fourth at 1-over par and Lancaster Country Club's John Barry in fifth at 2-over par. Davidson did capture the Championship Division (40-54 years of age) while finishing second overall.
In the Super-Senior Division, Gregory Osborne of Overlook Golf Course bookended a fantastic season in the PAGA ranks with a two-round score of 144 (E) to edge out Don Donatoni and add the Art Wall crown to his season-opening win in the Dressler Memorial Championship at Berkshire Country Club.
"I don't know what to say," said Osborne. "I really had no expectations coming in here."
The key was the dialed-in approach shots for Osborne, who had four birdies in Tuesday's second round, and none longer than three feet.
"It was a crazy start," Osborne said. "I hit it to inside a foot on the first hole."
After that tap-in for birdie, he hit it close again on No. 3 and No. 4. He dropped back a bit with a double bogey on the fifth hole and then bogeys on No. 6 and No. 11, but on No. 12, another fantastic approach left him with another short birdie.
"My playing partner laughed after I hit it close on No. 4 out of the bunker," said Osborne. "It was just one of those days."
Osborne withstood a late bogey on the 17th to finish with a second round score of 73 (+1) to win by three shots over Donatoni. Brian Rothaus of Five Ponds Golf Club came in third in the division with a score of 148 (+4). Lancaster Country Club's Dan Burton was fourth at 6-over par and Frank Polizzi of Whitemarsh Valley Country Club finished fifth at 151 (+7).
The Pennsylvania Golf Association would like to thank the staff and membership of West Shore Country Club for the hospitality shown during the championship. Thanks as well to DICK'S Sporting Goods for sponsorship of the event.