Butler Rolls to Mid-Am Title at Scranton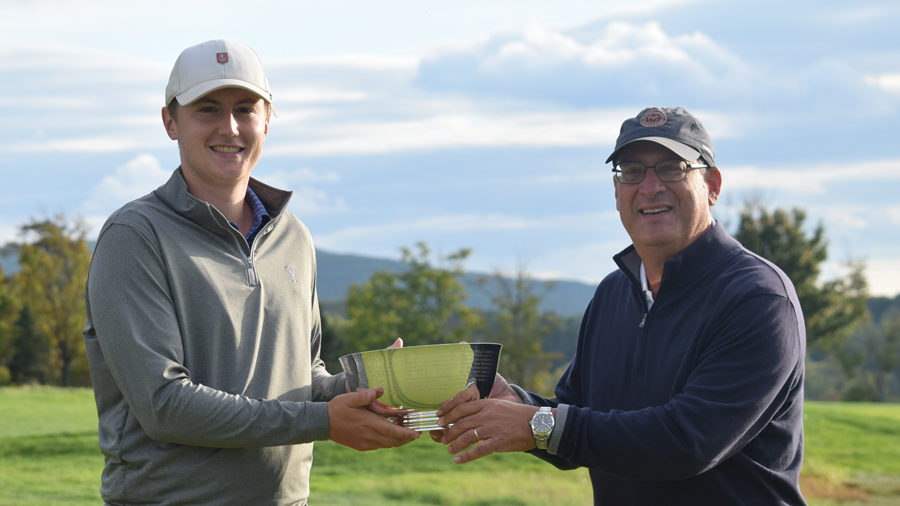 CLARKS SUMMIT, Pa. - The Mid-Am lifestyle is an adjustment for golfers who have played throughout their teenage years and through collegiate golf, as there's a need for a work/golf balance once they hit the magic number of 25 years of age. Huntingdon Valley Country Club's Andy Butler personified that this week at the Country Club of Scranton, as he sat on his first round lead and put a half-day work shift in before shooting a second round 73 to finish at 138 (-6) and win the 29th Pennsylvania Middle-Amateur Championship, presented by DICK'S Sporting Goods.
With a 1 p.m. tee time on Tuesday, Butler didn't come to the course early to let his mind dwell on the three-shot lead he had entering the final round of the championship.
"I worked from 8 until 12 today," said Butler. "Got a nice little half day of work in and then switched my mind over to golf at that point."
Whatever he did, it worked, as Butler cruised to a three-shot win for his first PAGA championship. After parring the first three holes, he really broke things open with an eagle on the 4th, a 514-yard par 5.
Butler's drive on No. 4 found the left rough, and from 248 yards out, he hit a 3-hybrid that tracked with the flag but ended up about 10 feet short. He rolled in the eagle putt from there to give himself even more separation from the field.
He made a couple of what he termed "good" bogeys on No. 5 and No. 7. Then, protecting his lead, he played solid golf the rest of the way, with all pars up until a bogey on the 36th and final hole of the championship.
"I just wanted to start from scratch today and play a solid round of golf," said the 26-year old Butler. "I figured if I did, I probably wasn't going to be caught."
After getting through the front 9 at even par, the end was in sight.
"I was really kind of grinding at that point," said Butler. "I just wanted to keep making pars and moving on to the next hole."
When it was all said and done, that was plenty good enough for Butler to win at one of the most celebrated tracks in the Commonwealth.
Three shots behind Butler at 141 (-3) was former Pennsylvania Amateur champ Michael Brown, Jr., who fired rounds of 71-70. In third place was local standout John Barone of Glenmaura National Golf Club. Barone and Brown were the only golfers under par in both rounds, as Barone shot 71-71 to finish at 2-under par.
Tied for fourth were PAGA Individual Member Cody Cox and Blue Bell Country Club's Daniel Oh at even par. Defending champ Tug Maude finished in a tie for sixth place at 2-over par 146.
The Pennsylvania Golf Association would like to thank the staff and membership of the Country Club of Scranton for the hospitality shown during the championship. Thanks as well to DICK'S Sporting Goods for sponsorship of the event.