President's Letter (Archived)
December 2013 (Archive)
President's Letter
Mr. King T. Knox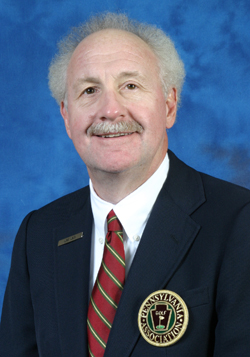 Mr. King T. Knox, of Lancaster Country Club, was elected President of the Pennsylvania Golf Association at its recent fall meeting.

"I'm honored to have the opportunity to lead the Association. I have been a member of the Executive Committee since 2004 and have enjoyed every minute of it. My dad started to teach me golf at an early age and it has been a big part of my life ever since."

Knox captained his golf teams at Manheim Township High School and Franklin & Marshall College where he earned Little All-American honors. More recently he won the 2005 PA Senior Amateur Championship and the 2008, 2010 and 2011 PA Super-Senior Better Ball Championships.

"Over the years, I have been fortunate enough to be competitive, but even more importantly golf has opened an infinite number of doors for me in both my personal and professional lives. My work with the PAGA has provided me the opportunity to give something back to this wonderful game."

Knox has been a career banker with CoreStates Financial, Sterling Financial and now TriState Capital Bank. He also currently serves as president of the Lancaster County Career & Technology Foundation, an organization that has raised over $3 million for technical education in Lancaster County. In addition to Lancaster Country Club, he is a member of Pine Valley Golf Club, in New Jersey, and Enniscrone Golf Club, in Northwest Ireland.


"2012 was another successful year for the Pennsylvania Golf Association. Participation levels were excellent in all of our championships. Our Father & Son Championship, in only its third year, had a record number of players and we expect even more in 2013 as this tournament has really taken hold and become one of our most popular events. 2013 promises to be an exciting year for several reasons and I look forward to it with great anticipation. First, our Amateur Championship will be our 100th and with Saucon Valley as our venue, we should have a very competitive and memorable championship. Also, 2013 will see a first, with the addition of a girls division in our Junior Championship. We have been working with the PA State Women's Golf Association to help them find ways to improve participation in their Girls Championship. The innovative result has been to include their competition with ours at the same time and at the same venue in the hope that together we can successfully expand their event and promote women's golf. Finally, 2013 will be the second year for the expanded and improved Sigel Match Play Championship, along with the new upgraded Senior Match Play Championship to be held separately. Both are anticipated to be terrific events."

"Our goal at the Pennsylvania Golf Association is to conduct first-class events at top quality venues. 2013 is no exception with Saucon Valley (Amateur), Allegheny CC (Art Wall), Commonwealth National GC (Open), Country Club of Scranton (Senior Amateur), White Manor (Sr. Better-Ball) and Sunnehanna (Better Ball) among next year's venues. Most importantly, we have a dedicated and unequalled staff whose only goal is to insure that each event is run smoothly, professionally and efficiently so that each participant will look forward to their next State event. To this end, one of our initiatives this year is to add substantially to our volunteer group. Our goal is to add at least 20 new volunteers, so please call us if you'd like to be more involved in our events."

"To those of you who have not yet played in an Association event, I encourage you to find an event to your liking and tee it up with us. To our loyal friends, I look forward to seeing you often this year. It should be a great one!"
Recent Letter Archives