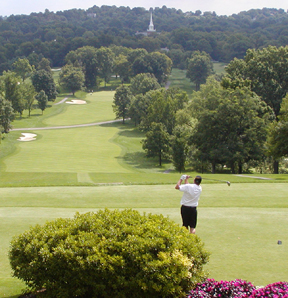 Sikora sizzles at Pennsylvania Open
Pittsburgh, Pa. - Ryan Sikora, an assistant pro from Edgewood CC, continued his stellar play with a final round 69 to win the Frank B. Fuhrer Pennsylvania Open at Pittsburgh Field Club (par 71, 6,636 yards). He finished four strokes ahead of three-time past champion Bob Ford of Oakmont CC.
Sikora, 26, started the day with a three-stroke lead after rounds of 67 and 68. "I thought I needed to shoot under-par going in," said Sikora. His lead was trimmed to one after he bogeyed the sixth hole but he pulled away after birdies on 11, 12, and 13.
"The chip-in at 12 was the turning point and then the birdie on 13 was great. We [he and his father who was caddying for him] just tried to hit the middle of the green coming in and make pars," said Sikora. The victory was the first as a professional for Sikora who is in his first year in the section.
Stu Ingraham of Overbrook GC and defending champion Steven Wheatcroft finished in a tie for third at 4-under-par 209.
For the victory, Sikora earned $10,000. Ford netted $6,000 for second place.
Three players finished in a tie for low amateur at a total of 3-under-par 210. They were Blaine Peffley of Lebanon CC, Sean Knapp of Longue Vue Club and Greg Pieczynski of Irem Temple CC.
Yesterday's second round included a two-hour delay because of inclement weather and was also marred by a power outage at the Club. Three players had to finish their second round this morning before the final round began at 9:00 a.m. A total of 46 players made the cut and of that group 27 were professionals and 19 were amateurs. The professionals were playing for a total purse of $50,000.
Results to follow:
Pos

Name

City

Rd 1

Rd 2

Rd 3

Total

+/-

1

Ryan Sikora

North Huntingdon

67

68

69

204

-9

2

Bob Ford

Oakmont

69

69

70

208

-5

T3

Steven Wheatcroft

Washington

69

69

71

209

-4

T3

Stu Ingraham

Newtown Square

71

67

71

209

-4

T5

(a) Blaine Peffley

Lebanon

71

71

68

210

-3

T5

(a) Gregory Pieczynski

Kingston

70

69

71

210

-3

T5

(a) Sean R. Knapp

Oakmont

73

68

69

210

-3

T5

Rick Stimmel

Cranberry

72

68

70

210

-3

T9

Jim Cichra

Pittsburgh

71

67

73

211

-2

T9

Roy Vucinich

Moon Township

72

69

70

211

-2

T11

John D. Mazza

Beaver Falls

68

71

73

212

-1

T11

Robert McClellan

Butler

68

74

70

212

-1

13

Mark Sheftic

Norristown

72

73

68

213

Even

T14

Dave Roberts

Ambler

71

72

71

214

+1

T14

Gordon Vietmeier

Pittsburgh

70

71

73

214

+1

T14

John Aubrey

Butler

71

74

69

214

+1

T14

Travis Deibert

Doylestown

72

70

72

214

+1

T18

(a) Arnold K. Cutrell

Greensburg

71

70

74

215

+2

T18

(a) Chip Zimmerman

Cheswick

68

72

75

215

+2

T18

(a) Frank Fairman

Punxsutawney

69

75

71

215

+2

T18

Adam Decker

Exton

65

77

73

215

+2

T18

Graham Dendler

Ardmore

73

72

70

215

+2

T18

Paul A. Oglesby

Ardmore

72

73

70

215

+2

T18

Terry Hatch

Dottsville

70

74

71

215

+2

25

Andy Latowski

Pittsburgh

72

71

73

216

+3

T26

(a) Dan Walters

Lititz

73

71

73

217

+4

T26

(a) Eric Williams

Honesdale

71

71

75

217

+4

T26

John Pillar

Hawley

70

73

74

217

+4

T26

Mike Moses

Boothwyn

69

74

74

217

+4

T30

(a) Bennett V. Smith

Bakerstown

71

74

73

218

+5

T30

(a) Clint A. Deibert

Doylestown

71

74

73

218

+5

T30

(a) John Michael Pelet

Atglen

72

72

74

218

+5

T30

(a) Jonathan Johasky

Lower Burrell

76

68

74

218

+5

T30

(a) Mike Lebow

Royersford

74

71

73

218

+5

T30

Bob Friend

Pittsburgh

75

69

74

218

+5

T30

John Cooper

Lansdale

74

70

74

218

+5

T30

Nick Sabol

Beaver Falls

72

73

73

218

+5

T38

Brandon Knaub

Seven Valley

69

72

78

219

+6

T38

G. Ryan Felty

Selinsgrove

71

71

77

219

+6

40

(a) Richard Thon

Swarthmore

70

75

75

220

+7

T41

(a) David Brown

Pittsburgh

74

71

76

221

+8

T41

(a) Joe Corsi

Greensburg

71

72

78

221

+8

T41

(a) Rick Collins

Wexford

73

72

76

221

+8

44

Rich Steinmetz

Perkiomenville

71

74

77

222

+9

T45

(a) Logan Riester

Pittsburgh

72

73

78

223

+10

T45

(a) T.J. Ostrom

York

69

75

79

223

+10

~ MISSED CUT~

(a) Harvin Groft

State College

73

73

146

(a) John G. Jones

Lower Burrel

70

76

146

(a) Malcom Spatz

Allison Park

75

71

146

(a) Patrick Hardin

Bethlehem

74

72

146

(a) Patrick Rutter

Wyomissing

69

77

146

(a) Scott Micklewright

Harrisburg

72

74

146

Dave Martin

Pittsburgh

72

74

146

Dennis Dolci

Sharon

73

73

146

Joe Boros

Saxonburg

70

76

146

Rodney L. James

Lenhartsville

74

72

146

(a) Chris Lilly

Harrisburg

75

72

147

(a) Lynn T. Kilduff

Dallas

71

76

147

(a) Michael Domenick

Phoenixville

75

72

147

Adam Brigham

Oakmont

74

73

147

Tom Ryan

Collegeville

72

75

147

(a) David DeNunzio

Jeannette

78

70

148

(a) David Vallina

Langeloth

75

73

148

(a) Paul Schlachter

Bridgeville

75

73

148

(a) Ronald DeNunzio

Jeannette

74

74

148

(a) Scott Ehrlich

Blue Bell

74

74

148

Brian P. Kelly

Lewisburg

72

76

148

George Forster, Sr.

Blue Bell

71

77

148

John D. Allen

Media

75

73

148

John Spina

Schwenksville

74

74

148

Michael R Brown

Cheltenham

72

76

148

Stuart Hanford, Jr.

Lebanon

74

74

148

(a) James J Bryan

Latrobe

77

72

149

Chris Hoyle

Havertown

76

73

149

(a) Andrew Achenbach

Royersford

73

77

150

(a) Thomas Dell

Leola

74

76

150

Chuck Scally, Jr.

Imperial

74

76

150

David Pagett

Oakmont

75

75

150

Joe Klinchock

Pittsburgh

72

78

150

Mark Borkovich

Pittsburgh

76

74

150

Michael Funk

Drexel Hill

76

74

150

(a) Ed Blechschmidt

Villanova

73

78

151

(a) Gerard F Ascolese

Blue Bell

75

76

151

(a) James M. Gardas

Honesdale

74

77

151

(a) Marlin Detweiler

Lancaster

78

73

151

(a) William Smith

Newville

73

78

151

Rob Shuey

Mechanicsburg

71

80

151

Vincent P Zachetti

Greensburg

77

74

151

Andrew D. Zook

Manheim

75

77

152

Terry Hertzog

Lititz

77

75

152

(a) Christopher Wallin

Blue Bell

75

78

153

(a) Steven Scarpetta

Moosic

74

79

153

Joe Makowski

Philadelphia

78

75

153

(a) Chris Esbenshade

Lititz

79

75

154

(a) Justin Scott

Monroeville

77

77

154

(a) Marc Mandel

Lafayette Hill

81

73

154

Tony Traci

Sewickley

75

79

154

(a) Santo Lafoca

Pittson

75

80

155

(a) Todd Vonderheid

Wilkes-Barre

79

76

155

(a) Tom Piersanti

Malvern

71

84

155

Andy Watters

King of Prussia

79

76

155

Bobby Kershner

Royersford

81

74

155

Jim Buch

Manheim

78

77

155

Jon Patterson

Erie

80

75

155

Sean P. Smyth

Harrisburg

73

82

155

Joshua Lewis

East Norriton

75

81

156

(a) Don Erickson, III

Dubois

75

82

157

(a) Jonathan Thomas

Pittsburgh

75

82

157

(a) Joseph M. Cordaro

Pittsburgh

80

77

157

(a) Robert Ockenfuss, Jr.

Perkasie

80

77

157

(a) Geoffrey Kelowitz

Jim Thorpe

79

79

158

Michael Ladden

Norristown

80

78

158

(a) Ed Knoll

Etters

79

80

159

(a) Logan Terry

Plymouth Meeting

79

80

159

Bernard Hough

West Newton

79

80

159

Pete Kohelis

Pittsburgh

76

83

159

Randy Haffley

Presto

79

80

159

Stephen Wojnar

Pittsburgh

79

80

159

(a) Craig Morrow

York

79

81

160

Chris Carpenter

Glenville

81

79

160

Greg King

Harrisburg

79

81

160

(a) Pete Moran

Chester Springs

79

82

161

(a) Jeff Huntzinger

Dresher

85

77

162

(a) Ryan Mikita

Aliquippa

78

84

162

(a) Tony R. Perla

Collegeville

80

84

164

(a) David Dankmyer

Gibsonia

83

83

166

(a) Matthew Mattare

Bethlehem

81

86

167

(a) Bill Mullen

Norristown

74

WD

WD

(a) Stephen Arnold

Langhorne

78

WD

WD

(a) Timothy Hager

Ivyland

83

WD

WD

(a) Trent Karlik

Corapolis

77

WD

WD

Kevin Shields

Presto

75

WD

WD
[ Back ]