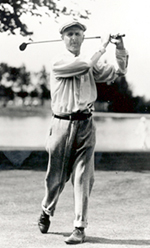 Current Player of the Year
W.C. Fownes, Jr. was the quintessential amateur golfer who led by example and whose good influence - personal and institutional - was extensive. W.C. Fownes' major golf credits include being a Pennsylvania Amateur and U.S. Amateur Champion, Walker Cup organizer, player and team captain, and USGA president.
The William C. Fownes, Jr. Amateur Player of the Year Award is given to the player that exemplifies the highest standards of excellence on the golf course in skill, sportsmanship, and etiquette in the Commonwealth of Pennsylvania.
2023 W.C. Fownes, Jr. Amateur Player of the Year Point Leaders
1
Calen Sanderson
460
2
Karl Frisk
447.5
3
John Peters
387.5
4
Gregor Meyer
350
5
Rick Stimmel
337.5
6
Aiden Oehrie
270
[ 2023 Full Standings ]
2023 Senior Player of the Year Point Leaders
1
Rick Stimmel
1212.5
2
Sean Knapp
595
3
David Brown
460
4
Jeff Frazier
323.33
5
Bob Crnjarich
282.5
6
David West
210
[ 2023 Full Standings ]
2023 Super-Senior Player of the Year Point Leaders
1
Brian Rothaus
400
2
Michael Vassil
232.5
3
Gregory Osborne
227.5
4
Michael Capotis
167.5
5
Gregory Buliga
117.5
6
Don Donatoni
80
[ 2023 Full Standings ]
2023 Women's Amateur Player of the Year Point Leaders
1
Rylie Heflin
350
2
Natasha Kiel
275
3
Paige Richter
260
4
Clare Gimpel
225
5
Riley Quartermain
200
6
Allison Wix
200
[ 2023 Full Standings ]
Player of the Year Archives