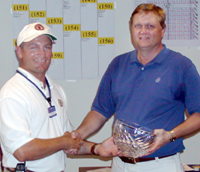 Pennsylvania Golf Association
George Dressler
Pennsylvania Amateur Public Links Championship
Dauphin Highlands Golf Course
May 17, 2004
Today's second round of the 65th George Dressler Pennsylvania State Amateur Public Links Championship came down to the final hole. With Jud Gemmill in the clubhouse with a one-over par total of 145, Greg Adams needed a birdie on the final hole to tie. His tee shot on eighteen landed in the left rough and his six-iron second shot landed in the rough to the right of the green. Facing a tough downhill chip with little green to work with, Adams landed his ball in the fringe and it skidded towards the hole. Fate was not his side however. The ball raced past just inches from the hole and came to rest just two feet away. Adams made an improbable run towards victory after starting the back nine with a double bogey and then three straight bogies. After birdies on 15, 16, and 17 however Adams needed just one more birdie to tie, but came up just short.
Gemmill, 44, played steady golf over the two days backing up his even-par first round with a one-over par second round. His round included two birdies and three bogies. This was his first state championship win. Rob Barnes also finished at two-over par 146 and wound up in 2nd place after a match of scorecards. Nate Reck finished in 4th place at 147 and seven players finished in a tie for 5th place at 148.
The Public Links is open to all male amateur golfers residing in the Commonwealth of Pennsylvania and who have, since January 1st of the current year, been bona fide public course players, with up-to-date USGA Handicap Indexes not exceeding 16.0. There were 50 entries received this year with 48 players teeing off in the first round. Players ranged in age from 15 to 70.

Final Round Leaderboard

Jud Gemmill, East Petersburg, Pa., 72-73--145
Rob Barnes, York, Pa., 73-73--146
Greg Adams, Palmyra, Pa., 71-75--146
Nate M. Reck, Mountville, Pa., 72-75--147
Brian J. Fisher, Norrstown, Pa., 77-71--148
Byron Whitman, Birdsboro, Pa., 76-72--148
Richard E. Piger, III, Orefield, Pa., 75-73--148
Chuck Britton, Dillsburg, Pa., 72-76--148
James Bohn, Lewisburg, Pa., 72-76--148
Richard Mottura, Vandergrift, Pa., 71-77--148
Chris Kovaly, Dillsburg, Pa., 71-77--148
Christopher Allan, Jr., West Chester, Pa., 74-75--149
Craig Costik, Middletown, Pa., 74-75--149
David C. Sirolly, Hershey, Pa., 78-72--150
Michael Schmidt, Jr., Palmyra, Pa., 78-72--150
Brent L. Will, Lemoyne, Pa., 75-75--150
Kevin Haag, Hummelstown, Pa., 75-75--150
Richard Brewbacker, Marysville, Pa., 75-76--151
Brady Ruffner, Freeport, Pa., 73-78--151
Benjamin Smith, Lancaster, Pa., 75-76--151
Mike Paukovits, Nazareth, Pa., 79-73--152
Alan R. Kline, Jr., Lewisburg, Pa., 76-76--152
Darren Riddle, Harrisburg, Pa., 78-74--152
Rich Nuse, Morgantown, Pa., 80-73--153
Robert Fritz, Collegeville, Pa., 77-76--153
Scott Kuhnle, Downingtown, Pa., 77-77--154
Phil D'Amato, Harrisburg, Pa., 80-74--154
Scott Stoltz, Harrisburg, Pa., 73-81--154
Kyle McCandless, Landisville, Pa., 80-75--155
Jim Pierami, Etters, Pa., 79-76--155
Michael J. Madar, Maytown, Pa., 77-79--156
Nicholas Saggers, West Chester, Pa., 79-78--157
Michael Trymbiski, Chalfont, Pa., 81-76--157
J. Andy Ranieri, Harrisburg, Pa., 77-80--157
Ryan Moran, Hershey, Pa., 82-77--159
Jerry Harvey, Hummelstown, Pa., 74-85--159
Michael Beskid, Harrisburg, Pa., 78-81--159
Dan O'Callaghan, Oreland, Pa., 81-79--160
Thomas Will, II, Erie, Pa., 85-76--161
Ken Waldron, Sarver, Pa., 82-79--161
Douglas Graby, Harrisburg, Pa., 86-77--163
Mark A. Searer, Thompsontown, Pa., 78-85--163
Frank W. Schnee, Robesonia, Pa., 82-82--164
Henry Wadsworth, Warrington, Pa., 83-86--169
Michael Grove, Oxford, Pa., 88-83--171
Tom Prestia, Easton, Pa., 89-85--174
Ron Hershey, Denver, Pa., 90-84--174
Matthew E. McGuire, Malvern, Pa., 92-NC--NC

[ Back ]