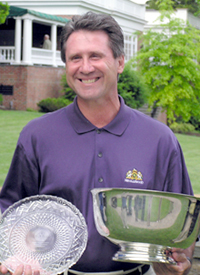 Nevillewood's Schlachter earns Senior Amateur title
BETHLEHEM, Pa.-Paul Schlachter of The Club at Nevillewood, a honors history teacher at Upper St. Clair High School in Pittsburgh, added another chapter to his impressive textbook sized resume on Tuesday at Saucon Valley CC (par 72, 6, 575 yards, Grace Course).
Schlachter, 55, of Pittsburgh, earned his first Pennsylvania Senior Amateur Championship (55 years of age and older) title with a final score of even-par 144 on the difficult Grace Course with its treacherous greens. Schlachter carded rounds of 68-76 to distance himself from the other 131 players in the field.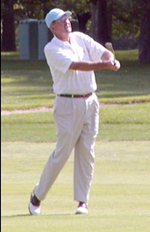 He adds the Senior Amateur title to a list of accomplishments that already includes the 1988 Pennsylvania Amateur Championship and five USGA National Championship appearances.
"It's a big deal to win both the state Amateur and Senior, especially for the resume," said Schlachter. "It's terrific and at a place like this, it's wonderful. Pennsylvania's [viewed as] one of the top states for golf.
Thomas R. Davis of Saucon Valley CC and Michael Sanger of Merion GC tied for second at 146, two strokes behind the leader. David K. Brookreson of Huntingdon Valley CC and Peter Smith of The Kahkwa Club placed fourth at 151.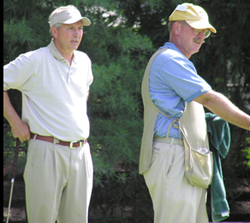 Schlachter entered the final day of the 36-hole tournament with a four-shot lead over Davis and company. However, a 2-over-par 38 on the front preceded bogeys on No. 10 (par 5, 515 yards) and No. 13 (par 4, 328 yards) to drop Schlachter to even par. He drilled a 6-iron to three feet on No. 14 (par 3, 150 yards) to get back into red figures, but failed to get up and down on No. 18 (par 4, 405 yards) to finish with a second-round 76. The day was a reversal of his torrid opening-round 68 (which including an opening-nine score of 31, on the back side).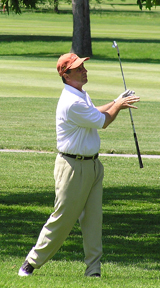 "I kept making the wrong choices with my irons," said Schlachter, who registered only nine greens in regulation. "I didn't hit it solid. I was just hanging on. I bogeyed the second hole (No. 2, par 4, 384 yards) from the right rough and was never sharp the rest of the day."
A constant breeze, those lightening greens and the pressures of a final round appeared to take its toll on everybody, however.
Davis, who began play in the afternoon, and after Schlachter finished, grabbed the lead at the turn, knowing what he had to do. Starting on the back nine, Davis netted birdies on No. 16 (par 4, 425 yards) and No. 17 (par 4, 410 yards) to finish the front with an impressive 1-under-par 35. At the time, he led Schlachter by two strokes.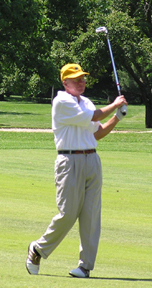 "I've never been in that position before," said Davis, 55, a rookie when it comes to state championship tournaments. Jokingly, he added, "I kept saying to my caddie tell me when we are having fun."
The fun stopped on No. 3 (par 3, 180 yards). His 18-degree hybrid club from the tee stayed straight instead of with the draw he needed. He failed to get up and down from the right bunker.
The turning point then came a few holes later on No. 8 (par 4, 382 yards), his 17th hole.
A drive left Davis with 155 yards. His 8-iron to a tight hole location came up a yard short and into the left bunker. He just missed saving par.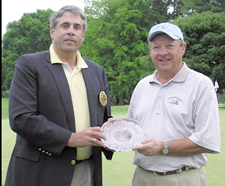 The difference between victory and second place came in his sand game. Davis had four sand save opportunities and failed to convert any of them.
Mike Rose of Ashbourne CC registered the highlight of the day. On No. 14 (par 3, 150 yards), Rose holed out for an ace with a 7-iron. Maybe even more impressively, the other two players in his group, Peter Smith of The Kahkwa Club and Todd R. Kennedy of the CC of York, both posted birdies on the hole.
Super-Senior Division
In the Super-Senior Division, Richard Smith of Philadelphia CC and Walter Kuharchik of Fox Hill CC ended the two days tied at 157 (13-over-par) and had to decide the Super-Senior Division in a playoff.
Smith, 67, of Villanova, Pa., carded a par on the first extra hole (no. 18, par 4, 390 yards) and Kuharchik a bogey.
It is the first Super-Senior Division (65 years of age and older) for Smith.
Senior Division (55 years of age and older)
Name
Club
Score
Paul Schlachter
Club at Nevillewood
68-76--144
Michael Sanger
Merion GC
74-72--146
Thomas R. Davis
Saucon Valley CC
72-74--146
David K. Brookreson
Huntingdon Valley CC
77-74--151
Peter Smith
Kahkwa Club
75-76--151
Jay Howson
St. Davids GC
76-76--152
Stephen M. Foster
Diamond Run GC
75-77--152
Larry L. Novinger
Harrisburg North GC
80-73--153
Ed Hennigan
Fox Hill CC
75-78--153
Michael Rose
Ashbourne CC
75-78--153
Michael McAdams
Longue Vue Club
82-72--154
Ronald Pieczynski
Irem Temple CC
75-79--154
Jerry Janeski
Bent Creek CC
79-75--154
Don Donatoni
White Manor CC
76-78--154
Michael G. Anton
Lookaway GC
75-79--154
Ned McFarland
St. Clair CC
80-76--156
Frank Polizzi
Whitemarsh Valley CC
79-77--156
Phil Saylor
Sunnehanna CC
78-78--156
William P. Lawler
Fox Hill CC
73-83--156
Michael C. Rowland
Lehigh CC
75-81--156
Doug Dick
Chester Valley CC
82-77--157
Mike McGuire
Hannastown GC
76-81--157
Lee Lykens
Clearfield-Curwensville CC
76-82--158
Jim Haynie
Lu Lu CC
77-81--158
William B. Whitman
Berkshire CC
79-80--159
Robert Marek
Carlisle CC
77-82--159
Philip M. Tredway
Kahkwa Club
79-80--159
Jim Walters
Sunnehanna CC
81-78--159
Daniel B. Burton
Bent Creek CC
76-84--160
Don Lamb
Montour Heights CC
78-82--160
David R. Gale
Stonewall
83-77--160
Stephen Daley
Lu Lu CC
78-82--160
Kenneth Gaskill
Philadelphia Publinks
78-83--161
Curt Fromal
Springhaven Club
78-83--161
Todd R. Kennedy
CC of York
83-78--161
Charles J. Whipple
Huntingdon Valley CC
82-79--161
Edward Gregrczyk
Glenmaura National GC
82-80--162
Charles McClaskey
Wyncote GC
80-82--162
Don Neill
Talamore at Oak Terrace CC
82-80--162
Ross K. Van Wagenen
Windber CC
87-75--162
Ed Strickler
Huntingdon CC
79-83--162
Edward K. Houser
Hershey GC
81-81--162
David A. Kearney
Lehigh CC
82-81--163
Scott Yard
Whitford CC
83-81--164
Edward M. Tansey, Sr.
Kahkwa Club
79-85--164
Rich Kovacs
Green Pond GC
84-80--164
Michael Egan
Lookaway GC
82-82--164
Andy Tompos
Lancaster Host Resort
84-80--164
Frank T. Shuman
Lookaway GC
79-85--164
Neil McDermott
Llanerch CC
85-80--165
Jamie McWilliams
Yardley CC
83-82--165
Bill Kunsman
Club at Nevilewood
82-83--165
Vernon Kelly, Jr.
Philadelphia Cricket Club
88-78--166
Bill Stasiulatis
West Shore CC
84-82--166
Phil Schaltenbrand
Nemacolin CC
82-84--166
Ralph Bincarowsky
Kahkwa Club
83-83--166
O. Gordon Brewer
Huntingdon Valley CC
84-83--167
Larry E. Casebeer
Hershey GC
85-82--167
Brian Bezark
Lu Lu CC
86-81--167
Samuel J. Kursh
Stonewall
82-85--167
Carlyle Robinson
Fox Hill CC
83-84--167
Christopher S. Frazier
Sunnybrook GC
83-84--167
Thomas Fleig
Colonial CC
85-82--167
Carl B. Everett
Merion GC
86-82--168
Gregory Smee
Colonial CC
82-86--168
George Elias
Sand Springs CC
82-86--168
Edward E. Bondi
Huntingdon Valley CC
82-87--169
Herbert Gordon
Doylestown CC
83-87--170
James P. Sylves
State College Elks CC
92-78--170
Donald C. Galbraith
Stonewall
83-87--170
Pete Emigh
Lehigh CC
88-82--170
A. Kent Weymouth
Lu Lu CC
85-85--170
Jim Hoffer
West Shore CC
86-85--171
Bernie E. Zbrzeznj
Whitemarsh Valley CC
86-85--171
Andrew Beechko
CC of Scranton
90-82--172
Gary H. McQuone
Allegheny CC
88-84--172
Joseph F. Virdone
Philadelphia CC
88-84--172
Douglas R. Chambers
Longue Vue Club
89-83--172
Bill Coyle
Saucon Valley CC
79-93--172
Richard T. Ford
Club at Nevillewood
87-85--172
John O'Sullivan
Chester Valley CC
87-85--172
William E. Moot
Windber CC
82-91--173
David A. Jones
Windber CC
90-84--174
Charles S. Rogalla
CC of Scranton
89-85--174
Steve Huston
Huntingdon CC
86-88--174
Mike Szymanski
Blue Ridge CC
90-87--177
John P. Pagana
Susquehanna Valley CC
93-85--178
Tom Verney
Carlisle CC
90-88--178
Ed M. Roberts
Old York Road CC
88-90--178
Norm Kulujian
Lookaway GC
89-90--179
Louis P. DeGennaro
CC of Scranton
93-86--179
Gordon Bennet
Northampton CC
91-90--181
Milton H. Drennen
Bent Creek CC
90-91--181
Michael J. Brigandi
State College Elks CC
91-91--182
Don Warner
State College Elks CC
92-92--184
Richard C. Daniels
Club at Nevillewood
90-94--184
Bob Brooker
Blue Bell CC
90-95--185
Richard C. Franklin
Stonewall
91-94--185
Bill Kinley
Williamsport CC
92-94--186
Geoffery R. Chambers
North Fork G & TC
96-91--187
Murray Felzer
White Manor CC
91-98--189
Clyde Fuller
State College Elks CC
94-97--191
Thomas Kaczor
Yardley CC
88-NC--NC
Stephen R. Stelecki
Saucon Valley CC
87-WD--WD
Terrance J. Sawyer
Yardley CC
83-WD--WD
Theodore A. Beringer
Philadelphia CC
81-WD--WD
Super-Senior (65 years of age and older)
*Richard A. Smith
Philadelphia CC
79-78--157
Walter A. Kuharchik
Fox Hill CC
75-82--157
Leon Buchter
Golden Oaks CC
82-78--160
James R. Sherratt
Old York Road CC
83-78--161
Rich Jacob
Pittsburgh Field Club
79-84--163
Fran Tusak
Silver Creek CC
82-85--167
Tony Joseph
Windber CC
86-81--167
Tom Conboy
Sandy Run CC
82-86--168
James J Ginsberg
Philmont CC
83-85--168
Merv Isaacman
Blue Ridge CC
82-88--170
Robert J. Farley
Williamsport CC
79-91--170
Merrill A. Dunlop
Clearfield-Curwensville CC
88-84--172
William H. Bayles, Jr.
Phoenixville CC
84-88--172
George S. Thorbahn
Rolling Green GC
87-86--173
Peyton D. McDonald
Williamsport CC
91-85--176
Rocco J. Limongell
Fox Hill CC
85-92--177
W. Robert Van Zandt
Springhaven Club
89-88--177
Jim Ake
Huntingdon CC
93-86--179
Frank J. Taylor
Kahkwa Club
89-90--179
Rod Eaken
Berkshire CC
89-91--180
Kent Replogle
Hershey GC
85-96--181
George Becker, Jr.
Doylestown CC
92-100--192
Dennis A. McLaughlin
Pinecrest CC
91-WD--WD
Fred Tyler, Jr.
Reading CC
91-WD--WD
Pete Walk
Edgewood CC
83-WD--WD
WD-withdrawal
NC-no card
*-won in playoff