*Day One results
Butler's Pratkanis still ahead, pursuers mount
FARMINGTON, Pa.–Jon Pratkanis, the 20-year-old amateur from Butler, Pa., who unexpectedly charged into the lead of the 90th Pennsylvania Open Championship after an opening-round 66 yesterday, remained atop the leaderboard on Tuesday after finishing 36 holes in 5-under par (139 total). Pratkanis carded a 1-over-par 73 on the difficult Nemacolin at Woodlands Resort Mystic Rock Course (par 72, 7,049 yards) and holds a one-stroke advantage on Rob Shuey, 44, a teaching professional from Mechanicsburg, Pa. Shuey moved up the scoreboard with a 5-under-par 67.
Kyle Davis, 20, of Kennett Square, Pa., a soon-to-be sophomore at the University of Central Florida, Nicolas Milito, 18, of Jeannetta, Pa., a soon-to-be freshman at the Indiana University of Pennsylvania, and Conrad Von Borsig, 19, of Swarthmore, Pa., a soon-to-be sophomore at the University of Virginia, are tied for third place at 3-under par (141 total).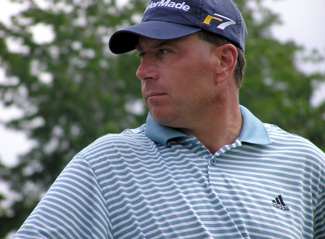 ROB SHUEY
A total of nine players are at even par or better. A cut to the low 40 players and ties for the third and final round fell at 6-over-par 150. A total of 41 players advanced.
Pratkanis and Shuey begin their quest for the title in the final pairing of the tournament at 10:50 a.m.
"I didn't want to try and force anything today," said Pratkanis, a member at Kittanning CC. "I wanted to hit a lot of greens and make some putts. Unfortunately, I only did half of that. I had plenty of opportunities but I couldn't get anything to fall into the hole."
Pratkanis hit 12 greens in regulation but again needed 31 total putts.
Following a first round in which he made an eagle and five birdies, Pratkanis managed only two red digit scores on Tuesday. He birdied Nos. 8 (par 5, 491 yards) after burning the edge from 20 feet for eagle and 10 (par 4, 438 yards) when he punched a pitching wedge from 109 yards to eight feet. Pratkanis opened with a bogey on No. 1 (par 4, 368 yards) when he left his second shot in the bunker and made over-par numbers on No. 11 (par 5, 613 yards), a poor approach, and No. 13 (par 4, 369 yards), when his second shot bounced off a mound located over the green and landed in the water.
"I hit a lot of good irons shots and I made a lot of short putts which sometimes cause some problems but I can't get [any] long [putts] to fall," said Pratkanis, who plans on heading to Orlando and the Leadbetter Academy this fall. "[A win] would obviously be the biggest [moment] in my career, by far."
Pratkanis enjoyed a stellar junior career, winning the Western Pennsylvania Golf Association's Boys Championship as a 16 year old and the C.R. Miller Match Play Invitational the following year.
Pratkanis did head to Duquesne [University in 2004-05] after high school but left college after a year and as recently as last winter was in Arizona building and racing high horsepower street cars.
He said he lost "interest in the game," during college but it has been rejuvenated this summer.
Shuey, the 2002 Philadelphia Section of the PGA Player of the Year, opened his round with three birdies and a bogey for an outward 33. He knocked a pitching wedge on No. 4 (par 4, 383 yards) to three feet for birdie, had a kick-in one on the par 5, 8th hole and drained a 20-footer for another on No. 9 (par 4, 415 yards).
"I stole one there," said Shuey of No. 9.
He added a birdie on No. 11 when he sent a 120-yard wedge to five feet and after bogeying the difficult 12th (par 3, 166 yards), the result of a poor chip shot, bounced back with a 15-foot three on No. 13 (par 4, 369 yards). "That was big," he added.
He penned more red on the scorecard with birdies on No. 15 (par 4, 433 yards), a 175-yard, 7-iron to 10 feet, and No. 16 (par 5, 517 yards), an 80-yard wedge shot to a foot.
"I wanted to get to even par today and have a chance in the last round," said Shuey. "I'm ecstatic after today.
"To be able to win a State Open at this point in my career in which a lot of my friends have already done so would be great. It would be nice to have my name including on the trophy with all those other names. But there is a long way to go before we get to that point."
Shuey's top Open finish came in 2001 at Sunnehanna CC when he tied for third.
This is Pratkanis' first Open experience.
NOTES–This is the first time the Pennsylvania Open Championship has visited the Nemacolin at Woodlands Resort, site of the PGA Tour's 84 Lumber Classic … Eric Fonner of Abington, Pa., aced the treacherous 17th hole (par 3, 201 yards) with a 5-iron. It was the first hole-in-one of the tournament ... A total of 132 players comprised the Open Championship field.
Name, hometown

Rd. 1

Rd. 2

Total

Jon Pratkanis, Butler, PA

66

73

139

Robert Shuey, Mechanicsburg, PA

73

67

140

Conrad Von Borsig, Swathmore, PA

70

71

141

Kyle Davis, Kennett Square, PA

70

71

141

Nicolas Milito, Jeannette, PA

75

66

141

Robert McClellan, Butler, PA

73

69

142

Scott Ehrlich, Blue Bell, PA

70

72

142

Mark Sheftic, Ambler, PA

73

70

143

Rich Steinmetz, Gilbertsville, PA

73

70

143

Geoffrey Kelowitz, Jim Thorpe, PA

75

70

145

Kevin Shields, Bethel Park, PA

72

73

145

Sean Farren, Oakmont, PA

69

76

145

Artie Fink, Jr., Altoona, PA

69

77

146

Bob Ford, Oakmont, PA

73

73

146

Bob Friend, Pittsburgh, PA

73

73

146

Brian Kelly, Lewisburg, PA

71

75

146

Cole Willcox, Berwyn, PA

71

75

146

George Forster, Villanova, PA

76

70

146

John Mazza, Beaver Falls, PA

72

74

146

Robert Rohanna, Waynesburg, PA

73

73

146

Travis Deibert, Doylestown, PA

73

73

146

Gordon Vietmeier, Pittsburgh, PA

74

73

147

John Michael Pelet, Atglen, PA

74

73

147

John Sawin, Haverford, PA

73

74

147

Dan Thompson, Johnstown, PA

76

72

148

Greg King, Harrisburg, PA

78

70

148

John Pillar, Sr., Hawley, PA

74

74

148

Roy Vucinich, Moon Twp, PA

73

75

148

Tug Maude, Rosemont, PA

73

75

148

Arnie Cutrell, Greensburg, PA

73

76

149

Gregory Pieczynski, Kingston, PA

78

71

149

Philip Bartholomew, Yardley, PA

73

76

149

Terry Hertzog, Lititz, PA

75

74

149

Alex Knoll, Bethlehem, PA

77

73

150

Clint Deibert, Doylestown, PA

76

74

150

David DeNunzio, Jeannette, PA

76

74

150

Jason Tyska, Mt. Pleasant, PA

79

71

150

Mark DiGiacomo, Lebanon, PA

74

76

150

Ryan Sikora, Greensburg, PA

76

74

150

Tyler Brewington, Orangeville, PA

75

75

150

Tyler Witman, Manheim, PA

74

76

150

Failed to qualify

Robby Walizer, State College, PA

79

72

151

Russell Harbold, Lancaster, PA

79

72

151

Brian Belden, Jr., Emmaus, PA

72

80

152

Chase Duncan, Lancaster, PA

76

76

152

Dan Walters, Lititz, Pa.

76

76

152

Ed Perrino, Mifflintown, PA

76

76

152

Eric Fonner, Abington, PA

78

74

152

Eric Williams, Honesdale, PA

78

74

152

Graham Dendler, Havertown, PA

77

75

152

Adam Corson, State College, PA

77

76

153

Brian Tutich, Greensburg, PA

79

74

153

Chad Bricker, Waynesboro, PA

75

78

153

Chris Gallagher, West Chester, PA

76

77

153

David Wedzik, North East, PA

79

74

153

Harvin Groft, State College, PA

75

78

153

Jim McGrath, Connellsville, PA

79

74

153

Joe Boros, Saxonburg, PA

79

74

153

John Spina, Schwenksville, PA

73

80

153

Sean Knapp, Oakmont, PA

78

75

153

Shawn Lavin, Drexel Hill, PA

78

75

153

Chad Zelenak, Punxsutawney, PA

78

76

154

Christopher Ault, Yardley, PA

76

78

154

David Olexson, Easton, PA

75

79

154

Doug Stadler, Wexford, PA

79

75

154

Jake Pleczkowski, Valencia, PA

81

73

154

John Aubrey, Butler, PA

79

75

154

Stephen Arnold, Langhorne, PA

72

82

154

Stuart Ingraham, Newtown Square, PA

74

80

154

Tony Perla, Collegeville, PA

77

77

154

Travis Dickson, Butler, PA

74

80

154

Dan Pinciotti, Jr., Churchville, PA

74

81

155

Joe Corsi, Greensburg, PA

79

76

155

Joshua Krumholz, Reading, PA

82

73

155

Kevin Nicholson, Lansdale, PA

76

79

155

Brandon Detweiler, Akron, PA

80

76

156

Michael Brown, Cheltenham, PA

79

77

156

Thomas Ryan, Collegeville, PA

77

79

156

Jim Haus, Lititz, PA

79

78

157

Michael Gross, Clarks Green, PA

81

76

157

Henry D'Alberto, Easton, PA

79

79

158

James Bohn, Lewisburg, PA

83

75

158

Lucas Serbun, Abington, PA

78

80

158

Matthew Mattare, Bethlehem, PA

77

81

158

William Smith, Newville, PA

79

79

158

Christopher Reedman, Yardley, PA

78

81

159

Dave Figura, Langhorne, PA

78

81

159

Jacob Wetzel, Blue Ridge Summit, PA

80

79

159

Jim Cichra, Pittsburgh, PA

82

77

159

Rich Thon, Swarthmore, PA

80

79

159

Tyler Glassman, Ft. Washington, PA

77

82

159

Brian Corbett, Shavertown, PA

81

79

160

Paul Oglesby, Ardmore, PA

86

74

160

James Rattigan, Orwigsburg, PA

84

77

161

Robin McCool, Bethlehem, PA

80

81

161

Ronald DeNunzio, Jeannette, PA

78

83

161

Steven Wager, State College, PA

81

80

161

Vincent Zachetti, Greensburg, PA

78

83

161

Charles Tait, Harrisburg, PA

80

82

162

Cody Kersey, Fredericksburg, PA

77

85

162

Malcolm Spatz, Allison Park, PA

83

79

162

Ryan Franks, Bethel Park, PA

83

79

162

Bennett Boyer, Millersburg, PA

83

80

163

Justin Hilgert, Delaware Water Gap, PA

82

81

163

Stu Michaels, Curwensville, PA

82

81

163

Joseph Cordaro, Pittsburgh, PA

80

84

164

Cole Peffer, Philadelphia, PA

82

83

165

Joe Cunningham, Blue Bell, PA

85

80

165

Ryan Gelrod, Warminster, PA

84

81

165

Eric McNamee, Exton, PA

82

84

166

Mitch Mercer, Wexford, PA

87

79

166

Robert Loftus, Bryn Mawr, PA

88

78

166

Scott Kegerreis, Chambersburg, PA

82

84

166

Adam Langford, Gibsonia, PA

87

80

167

Andrew Hardin, Bethlehem, PA

84

83

167

Dennis Clark, Farmington , PA

86

81

167

Kevin Reiber, Waynesboro, PA

85

82

167

Christopher Sturgell, Malvern, PA

84

84

168

Scott Jenkins, Erie, PA

81

87

168

Brian Sterlitz, Natrona Heights, PA

90

79

169

Bryan Ott, Whitehall, PA

84

85

169

Sean Smyth, Harrisburg, PA

83

87

170

Trevor Pope, Elizabethtown, PA

82

88

170

Geoff Forcino, Malvern, PA

91

80

171

Miles Blundell, Farmington , PA 

84

87

171

Glenn D Dolfi, Sewickley, PA

94

83

177

Michael DiGiandomenico, Elverson, PA

87

93

180

David Malatak, Pittsburgh, PA

79

WD

WD

WD-withdrawal
[ Back ]