Huntingdon Valley CC's Sullivan repeats
as Middle-Amateur Champion
DALLAS, Pa.–James Sullivan Jr., of Huntingdon Valley CC became the second player in the 14-year history of the state Middle-Amateur Championship to successfully defend his title on Tuesday at Huntsville GC (par 72, 6,919 yards). Sullivan finished at 6-under-par 138 to edge the 89-player field by a stroke.
Eric Williams of Honesdale GC birdied his final two holes to place second and Sean Knapp of Longue Vue Club was third.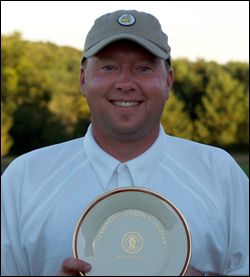 Eric Williams of Honesdale GC
finished second.
"I've never really been successful as a defending champion so this feels great," said Sullivan, who joined James Bryan of Latrobe CC as the only other two-time winner. In the process of repeating, Sullivan also equaled his own prior Middle-Amateur Championship tournament record score of 6-under par set last year at Applebrook GC.
The 32-year-old Glenside, Pa., resident entered the final round in a three-way tie atop the leaderboard with Glenn Smeraglio of Yardley CC and P. Chet Walsh of Philadelphia CC at 5-under-par after yesterday's opening round. A quick early burst on Tuesday helped Sullivan separate himself from the pack but some late struggles combined with a Williams' strong surge made it a photo finish.
"I was playing well for the first 11 holes and then I got nervous," said Sullivan. "I got wrapped up in thinking about winning and all of that other stuff. I was gasping for air at the end."
Sullivan made the turn in 4-under par, 9-under overall, four shots clear of the field and well in control. He birdied No. 1 (par 5, 497 yards) with a two-putt from 25 feet; No. 3 (par 3, 182 yards) with a 7-iron to six inches; No. 4 (par 4, 353 yards) with an 8-iron from 135 yards to eight feet; and No. 7 (par 4, 410 yards) with a 7-iron from 175 yards to two feet.
A bogey on No. 12 (par 5, 532 yards) preceded a birdie on the next par 5, No. 15 (485 yards), and Sullivan was comfortably in front. Knapp stood at 5-under par after 15 holes and was the closest pursuer.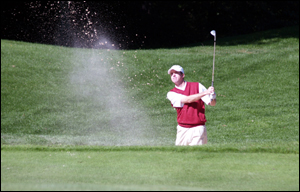 P. Chet Walsh of Philadelphia CC knocks
this long bunker shot on No. 6 close.
That's when things got interesting. Sullivan put his tee ball on No. 16 (par 4, 391 yards) in the right treeline. A punch out and three-putt later resulted in a double bogey. Williams, meanwhile, in the group immediately in front hit a 7-iron on the par 3, 17
th
(179 yards) to 11 feet and made the birdie to move to 4 under. Sullivan fanned his drive right into the greenside bunker and somehow willed in a 25-footer for par from above the hole.
On No. 18 (par 4, 438 yards), statistically the most difficult of the day, Williams found the fairway bunker and was forced to lay up with his second shot. However, the 35-year-old from Honesdale, Pa., jarred his wedge from 91 yards for birdie and a 5-under finish. Sullivan, too, found the fairway bunker, laid up as well and clipped a nice wedge to three feet. Not knowing what Williams did – Sullivan said he figured he had two shots to play with – he rolled his first putt past by six feet. No harm, no foul, though, and Sullivan made the next for the win.
"My goal was to finish in the top 10 and earn some exemptions for next year," said Williams. "I was blown away when they said I was going to finish second."
NOTES–Next year's Middle-Amateur Championship is tentatively schedule for Sept. 15-16 at Rolling Green GC in Springfield, Pa.
Name, club

Rd. 1

Rd. 2

Total

James E Sullivan, Jr., Huntingdon Valley Country Club

67

71

138

Eric W. Williams, Honesdale Golf Club

69

70

139

Sean Knapp, Longue Vue Club

71

69

140

P. Chet Walsh, Philadelphia Country Club

67

74

141

Warren J. Choate, Williamsport Country Club

71

71

142

Glenn Smeraglio, Yardley Country Club

67

76

143

Rich Pruchnik, West Chester Golf & Country Club

75

69

144

James Bohn, Bucknell Golf Club

70

74

144

Christopher Schultz, Schuylkill Country Club

73

73

146

Ed Chylinski, Chester Valley Golf Club

73

74

147

James M. Gardas, Honesdale Golf Club

74

74

148

Ryan J Gelrod, Commonwealth National Golf Club

74

74

148

Frank Fairman, Totteridge Golf Club

74

74

148

James G Rattigan, Schuylkill Country Club

78

70

148

James Kieserman, Talamore at Oak Terrace Country Club

76

72

148

Joseph Weiscarger, Wyoming Valley Country Club

76

73

149

Joe Corsi, Hannastown Golf Club

75

75

150

Heath Davidson, Carlisle Country Club

79

71

150

Edward H. Knoll, Deer Run Golf Club

75

75

150

Todd Vonderheid, Huntsville Golf Club

80

71

151

Craig Kliewer, Meadia Heights Golf Club

74

77

151

Mike Owsik, Plymouth Country Club

73

78

151

Jon Thomas, Pittsburgh Field Club

78

73

151

John Olszewski, Wyoming Valley Country Club

76

76

152

Gregory Ulp, Country Club of Harrisburg

74

78

152

Kenneth Phillips, Lancaster Country Club

76

76

152

Thomas Hyland, Little Mill Country Club

78

74

152

Charles Whalen, Golf Course at Glen Mills

74

79

153

Eric Fonner, Huntingdon Valley Country Club

75

78

153

Anthony F. List, Jr., Philadelphia Publinks GA

77

77

154

Gerard Ascolese, North Hills Country Club

79

75

154

Jeffrey Dyer, Totteridge Golf Club

82

72

154

Brian Corbett, Huntsville Golf Club

77

77

154

Robert Campbell, Lancaster Country Club

74

80

154

Michael Vassil, Country Club of Scranton

78

76

154

Michael Domenick, Phoenixville Country Club

72

83

155

Sam W. Lewis, Huntsville Golf Club

74

81

155

Jeff Frazier, Carlisle Country Club

81

74

155

Scott Klee, White Manor Country Club

76

79

155

Chip Lutz, LedgeRock Golf Club

75

80

155

Stuart Hanford, Lebanon Country Club

79

76

155

Jeff Hudson, Allentown Municipal G C

78

78

156

Charles Scalzott, Talamore at Oak Terrace Country Club

76

80

156

Rich Thon, The Springhaven Club

78

78

156

Dino Volpi, III, Plymouth Country Club

75

82

157

John Sweeney, Lancaster Country Club

76

81

157

John Castleman, Merion Golf Club

81

77

158

Justin Hilgert, Great Bear Country Club

80

78

158

Edward Mesko, Great Bear Golf & Country Club

78

81

159

James Bryan, Latrobe Country Club

81

78

159

Mike Danner, Lu Lu Country Club

80

79

159

Fred Stern, Green Oaks Country Club

77

82

159

Chris G. Esbenshade, Meadia Heights Golf Club

85

75

160

David Blichar, Blue Ridge Country Club

79

81

160

John W. Robinson, Commonwealth National Golf Club

77

83

160

Jeffrey J. Wuerstle, Indian Valley Country Club

79

81

160

Jim Simmons, Stonewall

80

80

160

Bryan Winsko, Philadelphia Cricket Club

81

80

161

Santo Lafoca, Huntsville Golf Club

85

77

162

Phil Over, Penn Oaks Golf Club

78

84

162

Jeff Ranck, Huntsville Golf Club

84

79

163

Robert W Fritz, PGA Individual Member

81

82

163

Nate Reck, PGA Individual Member

82

81

163

Shane Gunning, Silver Creek Country Club

77

86

163

Jason Barkley, Huntsville Golf Club

82

81

163

Jeff Ernst, Carlisle Country Club

83

80

163

Jeffrey Prickitt, Manufacturers Golf & Country Club

80

84

164

Marc Mandel, White Manor Country Club

85

80

165

Jeffrey B. Huntzinger, North Hills Country Club

85

80

165

Brian Brown, Totteridge Golf Club

82

83

165

Drew Panebianco, Talamore at Oak Terrace Country Club

83

83

166

Christopher Sturgell, Applebrook Golf Club

79

87

166

Pete Tarutis, Wyoming Valley Country Club

85

81

166

Jay R. Stoner, Deer Run Golf Club

89

78

167

Mark Answini, Fox Hill Country Club

87

81

168

Tom Wasilewski, Wyoming Valley Country Club

81

87

168

Phil D'Amato, Deer Run Golf Club

82

88

170

Michael DiGiandomenico, Philadelphia Publinks GA

83

88

171

Chuck Britton, Dauphin Highlands Golf Course

90

81

171

Rick Scott, West Shore Country Club

83

88

171

Philip Petroll, Penn Oaks Golf Club

83

89

172

John Donnelly, Concord Country Club

80

92

172

Lynn Kilduff, Huntsville Golf Club

87

85

172

Maurice Ferentino, Sewickley Heights Golf Club

88

85

173

Drew Mamary, Wyoming Valley Country Club

85

88

173

Keith Kopec, Wyoming Valley Country Club

81

93

174

Donny Wessner, Golden Oaks Golf Club

96

79

175

Stephen Tabone, The ACE Club

91

86

177

Mark Fisher, Pleasant Valley Golf Club

92

86

178

John Zavada, Elkview Country Club

86

WD

WD

Jeffrey Brunn, Berwick Golf Club

78

WD

WD

Art Brunn, Jr., Berwick Golf Club

79

WD

WD

Tom Piersanti, Applebrook Golf Club

82

WD

WD

WD-withdrawal
[ Back ]