Spring Grove's Krebs tops
Deardorff Open leaderboard
LANCASTER, Pa.–Richie Krebs of Spring Grove, Pa., an assistant professional at Hanover CC, entered the 91st Chuck Deardorff Memorial Open Championship on Monday at Lancaster CC (par 70, 6,828 yards) with very little expectations. The 25-year-old is readying himself for the PGA of America golf management program this fall and, in fact, only turned professional to qualify for the Open with that designation.
"I [didn't] play in much amateur stuff anyway, so I figured I mine as well turn [professional] for the Pennsylvania Open," said Krebs. "I didn't expect to come out here and shoot that low of a number. A lot of things clicked today. I just wanted to make the cut, that was my main goal."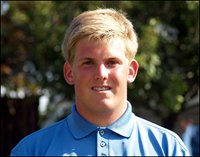 CHRISTIAN DAVIS
The cut seems a mere formality for Krebs at this point. The Spring Grove, Pa., resident finds himself two strokes in front after carding a spectacular 5-under-par 65 under sunny skies and breezy conditions. Christian Davis, an amateur from Scranton, Pa., and Mike Van Sickle, an amateur from Wexford, Pa., both carded 3-under-par 67s. A group of four players stand three shots back. A total of 11 players were under par.
The second round begins at 7:30 a.m. tomorrow. The low 40 players and ties will advance into the third and final round on Wednesday.
Krebs' final score included a magnificent closing nine in which he birdied five of his last nine holes for an inward 30. He registered only 11 putts in that span.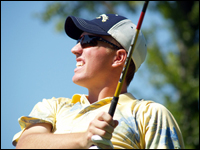 MIKE VAN SICKLE
The run started on No. 10 (par 4, 459 yards) where he hit a three-quarter, 8-iron from 160 yards to 20 feet. It continued on No. 12 (par 3, 181 yards), when he dropped an 8-iron to three feet and on No. 13 (par 5, 517 yards) where he smacked a 3-wood, 6-iron to 90 yards short of green before lobbing a sand wedge to 10 feet. He drilled an 8-iron from 155 yards to three feet on No. 15 (par 4, 442 yards) for another red figure before closing it out on No. 18 (par 4, 470 yards) with a 9-iron to five feet.
"I played about as good as I could play tee to green. I hit only two bad tee shots and was able to chip out close enough to the green where I was able to get up-and-in for pars," said Krebs, who played for York College before heading to Hanover CC. "A lot of things went my way today."
Krebs pointed to a pair of par saves on that back nine that kept his momentum going. He got up-and-down from short of the green on No. 11 (par 4, 478 yards) and made a nice six-foot par save on No. 14 (par 4, 404 yards) after finding the right tree line with his drive.
Davis, who plays out of Glenmaura National GC, said he viewed the Open as a vacation.
Little did the 23-year-old Davidson College graduate know it might be a memorable work break.
Davis, like Krebs, posted a 5-under-par 30 on the backside. He birdied four of his final five holes.
"My goal coming in here was to just make the cut and that's still my goal," said Davis. "When you don't play a lot of golf pretty much anything can happen. Like I said this is just vacation and I'm happy to be out here."
Davis serves as the Director of Alumni Relations for his alma mater Scranton Preparatory School in Scranton, Pa.
Davis' final flurry included a gap wedge from 100 yards to 15 feet on No. 14 (par 4, 404 yards); a flip to 10 feet on No. 15; a 20-foot birdie putt with a foot of break on No. 16 (par 4, 357 yards) and a 9-iron from 140 yards to five feet on No. 18.
Van Sickle, a junior at Marquette University, posted his low nine, 32, on the front side.
He opened with four birdies in his first seven holes, including a lob wedge from behind a tree on No. 3 (par 4, 399 yards) that he lofted to 18 feet.
"I wanted to keep the ball inside the tree line and get some under," said Van Sickle, a member at Treesdale G&CC. "After the start, I thought I might get something real nice."
Van Sickle, 20, slipped back to even-par after No. 14, with two bogeys and a double bogey, but rallied to birdie three of his final four holes to finish at 3-under par. He closed with an 8-iron from 161 yards to four feet on No. 18.
Van Sickle captured the Tri-State Amateur Championship in June and place in the top three in both the Western Pennsylvania Golf Association Amateur and Open.
NOTES–The field for the Open is 119 players (62 amateurs, 57 professionals). The purse is $50,000 with $10,000 going to the low professional.
Name, city

Rd. 1

Class

Richie Krebs, Spring Grove, PA

65

P

Christian S. Davis, Scranton, PA

67

A

Mike Van Sickle, Wexford, PA

67

A

Alan Borowsky, Bala Cynwyd, PA

68

A

Brian Bergstol, Mt. Bethel, PA

68

A

Christopher Schultz, Shillington, PA

68

A

Gregory Pieczynski, Kingston, PA

68

P

Arnie Cutrell, Greensburg, PA

69

A

Geoffrey Kelowitz, Jim Thorpe, PA

69

P

Robert McClellan, Butler, PA

69

P

Stuart Ingraham, Newtown Square, PA

69

P

Brian Kelly, Lewisburg, PA

70

P

Gregg A. Hostetter, Leola, PA

70

A

Brett Diakon, North Wales, PA

71

A

Chip Lutz, Reading, PA

71

A

Gordon Vietmeier, Pittsburgh, PA

71

P

Rich Steinmetz, Gilbertsville, PA

71

P

Travis Dickson, Butler, PA

71

P

Bob Ford, Oakmont, PA

72

P

Bob Friend, Pittsburgh, PA

72

P

Chad Bricker, Waynesboro, PA

72

A

Conrad Von Borsig, Swarthmore, PA

72

A

Jason Hrynkiw, Gladwyne, PA

72

P

Kenneth Phillips, Lancaster, PA

72

A

Philip Bartholomew, Yardley, PA

72

A

Roy Vucinich, Moon Twp, PA

72

P

Sean Knapp, Oakmont, PA

72

A

Terry Hatch, Pottsville, PA

72

P

Adam Cohan, Wayne, PA

73

A

Alex Knoll, Bethlehem, PA

73

P

Brandon Detweiler, Akron, PA

73

A

Chris Gallagher, West Chester, PA

73

A

Clint Deibert, Doylestown, PA

73

P

Cole Willcox, Berwyn, PA

73

A

Dan Thompson, Johnstown, PA

73

P

Daniel Obremski, Irwin, PA

73

A

David Malatak, Pittsburgh, PA

73

P

John Mazza, Beaver Falls, PA

73

P

John Michael Pelet, Atglen, PA

73

A

Mark D. Miller, Levittown, PA

73

A

Paul Oglesby, Ardmore, PA

73

P

Scott Ehrlich, Blue Bell, PA

73

P

Chad M. Zelenak, Punxsutawney, PA

74

P

Chris A. Storck, Sinking Spring, PA

74

P

George Forster, Villanova, PA

74

P

Hugh Reilly, Willow Grove, PA

74

P

James M. Gardas, Hawley, PA

74

A

Jarred Texter, Millersville, PA

74

A

Jimmy Markovitz, Bridgeville, PA

74

A

Kevin Shields, Pittsburgh, PA

74

P

Lowell Miller, Brodheadsville, PA

74

P

Robert Shuey, Mechanicsburg, PA

74

P

Ryan P. Castanet, McDonald, Pa

74

A

Ryan Sikora, Greensburg, PA

74

P

Stuart Hanford, Lebanon, PA

74

A

William Sautter, Warrington, PA

74

P

Andrew Turner, Lititz, PA

75

P

Dick von Tacky, Jr., Titusville, PA

75

P

Doug Stadler, Wexford, PA

75

A

Jerry Hostetter, Lancaster, PA

75

A

Mark DiGiacomo, Lebanon, PA

75

P

Matt Moot, Johnston, PA

75

A

Michael Moses, Garnet Valley, PA

75

P

Tyler Brewington, Orangeville, PA

75

P

Brian Tutich, Greensburg, PA

76

P

Cary Walton, Red Lion, PA

76

A

Dan Walters, Lancaster, PA

76

P

James Bohn, Lewisburg, PA

76

A

Jeff Daniels, Harrisburg, PA

76

A

John Allen, Media, PA

76

P

Kyle Davis, Kennett Square, PA

76

A

Mark Sheftic, Ambler, PA

76

P

Nate Reck, Mechanicsburg, PA

76

A

Rob Scott, Ardmore, PA

76

P

Ronald DeNunzio, Jeannette, PA

76

A

Travis Deibert, Doylestown, PA

76

P

Travis J. Howe, Osceola, PA

76

A

Wilson Zehner, Lancaster, PA

76

P

Brian Belden, Jr., Emmaus, PA

77

A

Eric Figueroa, Kennett Square, PA

77

P

Henry L DAlberto, Easton, PA

77

P

Michael Vassil, Dalton, PA

77

A

Stephen Kidron, Horsham, PA

77

A

Tyler Glassman, Ft. Washington, PA

77

P

Tyler Witman, Manheim, PA

77

P

Vincent P Zachetti, Greensburg, PA

77

P

Alexander Maguire, Jr., Philadelphia, PA

78

A

Bo Maguire, Pottstown, PA

78

A

Christian Breed, Waynesboro, PA

78

A

Christopher W Ault, Yardley, PA

78

A

Eddie Perrino, Mifflintown, PA

78

P

Jim Cichra, Pittsburgh, PA

78

P

Joe Boros, Saxonburg, PA

78

P

John Pillar, Sr., Hawley, PA

78

P

Justin Lamason, Scotland, PA

78

P

Matthew Goudie, Conestoga, PA

78

P

Michael Ladden, Coatesville, PA

78

P

Rick Flesher, Bethlehem, PA

78

P

Terry Hertzog, Lititz, PA

78

P

Zachary Drescher, Landisville, PA

78

A

Zachary Rockwell, Uniontown, PA

78

A

Joey Bonargo, Warrington, PA

79

P

John Sweeney, Lititz, PA

79

A

Jordan J. Griggs, South Williamsport, PA

79

A

Matthew Rebitch, Delmont, PA

79

A

Lucas V. Serbun, Abington, PA

80

A

Ryan M. Franks, Bethel Park, PA

80

A

Jacob W. Pleczkowski, Valencia, PA

81

A

Chad N. Warmbein, McMurray, PA

82

A

Charles Tait, Harrisburg, PA

82

A

Jarred Johnson, Waynesboro, PA

82

A

Phil D'Amato, Harrisburg, PA

82

A

Jim Smith, Jr., Jenkintown, PA

83

P

Stephen Arnold, Langhorne, PA

83

A

Peter J. Moran, Chester Springs, PA

84

A

Robert Rohrbach, Ephrata, PA

84

P

Lynn Kilduff, Dallas, PA

85

A

Jeffrey W. Herb, West Chester, PA

87

P

Sean Smyth, Lebanon, PA

88

P

John Aber, Pittsburgh, PA

NS

P

Michael Moffat, Warrington, PA

WD

A

WD-withdrawal; NS-No show

A-amateur; P-professional
[ Back ]