Overbrook GC's Ray Thompson takes
48th Senior Amateur Championship title
ALLENTOWN, Pa.–Ray Thompson of Overbrook GC entered the state's elder circuit with a dominant victory over a strong field in the 48
th
Senior Amateur Championship presented by Your Pennsylvania Toyota Dealers on Tuesday at Lehigh CC (par 70, 6,486 yards).
Thompson, 55, of Drexel Hill, Pa., finished the two days and 36 holes in a spectacular 6-under par (136 total). Paul Schlachter of The Club at Nevillewood, the defending champion, placed second at 3-under par and Andy Thompson of Overbrook GC, Ray's older brother, finished in third at 1-under par.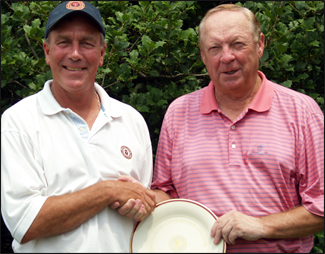 Tom Paul presents Richard Smith
of Philadelphia CC with the
Super-Senior Division trophy.
"It's nice to win a state tournament," said Ray Thompson. "I've been working really hard on my game for five years and I'm finally starting to see the results."
Ray Thompson opened the second round with a three-shot lead on brother Andy and Ed Chylinski of Chester Valley GC after an opening-round 66. A pair of birdies and bogeys combined with a push from Andy cut Ray's advantage to one after nine holes. However, Ray responded in style on the back side, carding birdies on No. 11 (par 5, 501 yards) with a smooth 4-iron from 218 yards to 15 feet and two putting, and a 6-iron on the par 3, 184-yard 13th to four feet. He would par the final five holes for the victory.
"That birdie on 13 turned out to be huge because it gave me a cushion," said Thompson. "It allowed me to par my way in."
Schlachter, 58, of Bridgeville, Pa., the top-ranked senior in the Golfweek rankings, did his best to surge into contention after a rough beginning. He bogeyed the opening two holes after a pair of poor second shots but responded with three birdies on holes 4-5-8 to make the turn at even par for the championship. He stood four shots back of Ray Thompson at the time. Schlachter continued to grind away and birdied No. 13 (par 3, 184 yards) with a 6-iron to 20 feet; No. 15 (par 4, 369 yards) with a 7-iron to four feet and No. 16 (par 3, 177 yards) with a 6-iron to six feet.
The round may have been just the beginning for Schlachter. He's focused on fundamentals, lately, and that's led to some uncharacteristic struggles.
"I've been playing my swing instead of playing golf," said Schlachter. "I'm to the point I'm kind of doing it decently on the range but haven't got it to the course yet."
Schlachter finished his second round in 4-under-par 66.
Andy Thompson, 58, of Marple Newtown, Pa., pressed his brother with a 2-under-par 33 on the front nine behind birdies on Nos. 5 (par 4, 398 yards) and No. 8 (par 4, 381 yards), but fell back with two bogeys and no birdies on his inward side.
In the Super-Senior Division, for players 65 years of age and older, Richard Smith of Philadelphia CC posted a second-round 72 to finish at 1-over par for the two days and three strokes ahead of the field. The victory was Smith's second Super-Senior Division title. He also captured that championship in 2004 at Saucon Valley CC. Smith has finished second the last two years.
"I won it three years ago at Saucon Valley so it's nice to win it again," said Smith, 70, of Villanova, Pa. "I played solid all week. I had no double bogeys and I missed only one fairway over the two days."
Senior Division

Name, club

Rd. 1

Rd. 2

Total

Raymond Thompson, Overbrook Golf Club

66

68

134

Paul Schlachter, The Club at Nevillewood

71

66

137

Andy Thompson, Overbrook Golf Club

69

70

139

Ed Chylinski, Chester Valley Golf Club

69

73

142

Dennis M Perna, Spring Ford Country Club

71

73

144

John Benson, Totteridge Golf Club

74

70

144

David K. Brookreson, Huntingdon Valley Country Club

70

75

145

Francis McFadden, Overbrook Golf Club

71

74

145

Don Donatoni, White Manor Country Club

72

75

147

John Gonsior, The ACE Club

74

73

147

Lee Lykens, Totteridge Golf Club

76

71

147

Thomas Bartolacci, Jr., Saucon Valley Country Club

74

73

147

Don H. Erickson III, Indiana Country Club

76

72

148

Ed Hennigan, Fox Hill Country Club

74

74

148

George Knapp, Uniontown Country Club

72

76

148

John F Teel, Hanover Country Club

71

77

148

Michael C Rowland, Lehigh Country Club

77

71

148

Robert P Billings, Rolling Green Golf Club

74

74

148

Andy Tompos, Lancaster Host Resort

74

75

149

Bill Baloh, Greensburg Country Club

72

77

149

Craig Scott, Huntingdon Valley Country Club

72

77

149

Gary D. Daniels, Saucon Valley Country Club

74

75

149

Sam W. Lewis, Huntsville Golf Club

72

77

149

Wally Swiger, Huntingdon Valley Country Club

73

76

149

Carl B. Everett, Merion Golf Club

71

79

150

Edward Gregorczyk, Glenmaura National Golf Club

75

75

150

Michael Rose, Philmont Country Club

75

75

150

Mike McGuire, Hannastown Golf Club

74

76

150

Peter Dellovade, Rolling Hills Country Club

74

76

150

William P. Lawler, Fox Hill Country Club

76

74

150

Dave DeNezza, Hannastown Golf Club

76

75

151

Keith Li, Heidelberg Country Club

76

75

151

Ed Blechschmidt, Whitemarsh Valley Country Club

77

75

152

Frank S. Polizzi, Whitemarsh Valley Country Club

76

76

152

Ted Beringer, Philadelphia Country Club

78

74

152

Vincent A. Scarpetta, Jr., Glenmaura National Golf Club

77

75

152

Bob Newcomer, Out Door Country Club

75

78

153

Mark E. Shuman, Philadelphia Country Club

75

78

153

Stephen E. Daley, Lu Lu Country Club

77

76

153

Thomas Fleig, Colonial Country Club

76

77

153

Allan T. Falvey, Bent Creek Country Club

78

76

154

Daniel B. Burton, Bent Creek Country Club

76

78

154

Len W. Coleman, Emanon Country Club

75

79

154

Roc Irey, Cedarbrook Country Club

77

77

154

Bob Allshouse, Hannastown Golf Club

76

79

155

Fred Riley, Toftrees Golf Club

76

79

155

James D Coleman, Rolling Green Golf Club

78

77

155

Joseph M. Cordaro, Longue Vue Club

79

76

155

William J Vostinak, Lehigh Country Club

76

79

155

Frank T. Shuman, Lehigh Country Club

78

78

156

James E Prendergast, Spring Ford Country Club

76

80

156

Todd R Kennedy, Country Club of York

77

79

156

Ed M Roberts, Manufacturers Golf & Country Club

80

77

157

Eugene J Maginnis, Jr., Whitemarsh Valley Country Club

82

75

157

George H. May, Manufacturers Golf & Country Club

80

77

157

Gibby Young, Hartefeld National

70

87

157

John N Gershey, Jr., Country Club of Scranton

82

75

157

Larry L. Novinger, Harrisburg North Golf Course

79

78

157

Ronald R. Yarnell, Bent Creek Country Club

78

79

157

Thomas S Pomroy, Windber Country Club

80

77

157

Bernie Zbrzeznj, Whitemarsh Valley Country Club

81

77

158

David A Kearney, Lehigh Country Club

79

79

158

George Dimoff, West Shore Country Club

76

82

158

James R. Haynie, Lu Lu Country Club

78

80

158

Joe Ruby, Uniontown Country club

80

78

158

Michael J. Nilon, Philadelphia Country Club

80

78

158

Robert Majczan, Lookaway Golf Club

78

80

158

William A Duncan, Carlisle Country Club

77

81

158

Anthony Choy, Blue Ridge Country Club

81

78

159

Charles W Jones, Philadelphia Publinks GA

79

80

159

Gregory M Smee, Colonial Country Club

81

78

159

Clyde W Shuman, Lehigh Country Club

77

83

160

Jeff Ranck, Huntsville Golf Club

83

77

160

Joel McFadden, Philadelphia Publinks GA

82

78

160

Al Beeken, Longue Vue Club

78

83

161

Ed Strickler, Huntingdon Country Club

80

81

161

Richard Kovacs, Northampton Country Club

84

77

161

Carlyle M. Robinson, Fox Hill Country Club

79

83

162

Mark A Battista, Philadelphia Publinks GA

82

80

162

Robert Marek, Carlisle Country Club

80

82

162

Scott Yard, Whitford Country Club

82

81

163

Charles J Whipple, Huntingdon Valley Country Club

84

81

165

Edward E Bondi, Huntingdon Valley Country Club

84

81

165

J. Peter Pierce, Philadelphia Country Club

85

81

166

Charles Caparo, Plymouth Country Club

79

88

167

George Anderson, The ACE Club

82

85

167

Gregory I Gaul, Merion Golf Club

83

84

167

John C Snyder, Waynesborough Country Club

84

83

167

Peter N. Gebhard, Lebanon Country Club

81

86

167

Henry P McCullough, Rolling Green Golf Club

84

84

168

Vernon C. Kelly, Jr., Philadelphia Cricket Club

87

82

169

William J Marano, Rolling Green Golf Club

82

87

169

Charles S. Rogalla, Country Club of Scranton

83

87

170

Andrew Beechko, Country Club of Scranton

85

86

171

C. Andrew Hobbie, Lehigh Country Club

84

87

171

Tom O'Rourke, Chester Valley Golf Club

89

82

171

William P. Fleckenstein, Elks Club of State College

81

92

173

Al Pianelli, Fox Hill Country Club

86

88

174

Albert J. Flora, Huntsville Golf Club

88

86

174

John Pagana, Susquehanna Valley Country Club

90

84

174

W. Garth Sprecher, Lancaster Country Club

89

86

175

Joseph R Grubb, III, Honeybrook Golf Club

83

97

180

Alan Beily, Deer Run Golf Club

77

WD

WD

Donald Ashley, Philadelphia Country Club

77

WD

WD

Donald S Landis, Lancaster Host Resort

89

WD

WD

Frank Kunze, Spring Ford Country Club

82

WD

WD

King T. Knox, Lancaster Country Club

77

WD

WD

Martin Klagholz, Rolling Green Golf Club

76

WD

WD

Thomas Lusto, PGA Individual Member

77

WD

WD

Thomas Mairone, McCall Golf & Country Club

89

WD

WD

Super-Seniors

Name

Rd. 1

Rd. 2

Total

Richard A Smith, Philadelphia Country Club

69

72

141

Michael Kanoff, Jr., Colonial Country Club

73

71

144

Phil Saylor, Sunnehanna Country Club

71

74

145

Jay Y. Howson, Jr., St. Davids Golf Club

77

72

149

George C Bilowick, Butler Country Club

76

74

150

Curt Fromal, The Springhaven Club

78

75

153

James R. Sherratt, Old York Road Country Club

76

77

153

Warren W. Deakins, Philadelphia Country Club

77

76

153

Don Lamb, St. Clair Country Club

80

75

155

James Hoffer, West Shore Country Club

76

79

155

A. Fred Rudy, Jr., Lancaster Country Club

78

79

157

Bill Stasiulatis, West Shore Country Club

81

77

158

A. Kent Weymouth, Jr., Lu Lu Country Club

79

82

161

Ernest F. Eichenberg, III, Waynesborough Country Club

81

80

161

Danny G Scheurich, Lancaster Host Resort

84

78

162

Gary H. McQuone, Allegheny Country Club

82

80

162

William Walk, Edgewood Country Club

80

84

164

G. Clay von Seldeneck, Sunnybrook Golf Club

79

86

165

Jim J. Callaghan, Rolling Green Golf Club

81

84

165

Louis Degennaro, Country Club of Scranton

81

85

166

Richard Genoni, Waynesborough Country Club

80

86

166

Ronald D Schrotberger, Bent Creek Country Club

88

80

168

Tom Balog, Bella Vista Golf Course

83

89

172

Rocco J. Limongell, Fox Hill Country Club

85

89

174

Tony Joseph, Windber Country Club

84

90

174

John H. Guenther, Jr., Heidelberg Country Club

76

WD

WD

WD-withdrawal
[ Back ]