COMPLETE RESULTS
Knapp edges Schlachter for Art Wall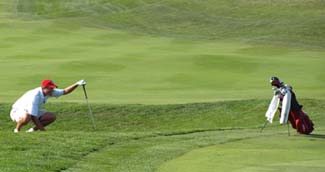 Sean Knapp lines up his chip on 18.
He got up-and-down for par to win by 2.
Sean Knapp of Oakmont, Pa. carded rounds of 65 and 69 to finish at 10-under-par and defend his Art Wall, Jr. Major title at Totteridge Golf Club (par 72, 6,659 yards). Knapp won last year's contest at Chambersburg Country Club, in Chambersburg, Pa.
Knapp shot out to a 3-stroke lead on the first day posting nines of 32 and 33. Michael Domenick of Phoenixville, Pa. stood in second place after carding a 68 for the first round. He finished third for the championship after scoring a one-under-par 71 on Tuesday.
Paul Schlachter of Nevillewood, Pa. gave Knapp his strongest contest after posting a 32 on his front nine for the second round, to move to 2 strokes back. Although, Knapp quickly posted a 33 on his own front nine to lead by five.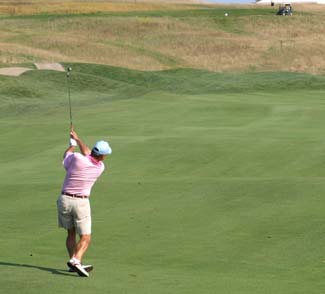 Paul Schlachter hits his approach into 18.
"I kind of expected the pressure to come from Paul, he's a great player," said Knapp.
Schlachter birdied the treacherous 543-yard, 15th hole to pull within 2 of the leader, but then missed a par putt on the 159 yard, 16th to give back a shot. Paul hit a beautiful approach shot to the 18th green to try and put some pressure on the leader, but missed his birdie effort.
Knapp seemingly coasted through his final nine of the tournament with 1 birdie and 1 bogey. He only carded 2 bogeys for the tournament, both coming on the 436-yard, 13th hole.
Knapp recently represented the state of Pennsylvania very well in the USGA Middle-Amateur Championship, held at Milwaukee Country Club. He advanced to the Semifinals, before losing to Todd Mitchell of Bloomington, Illinois, who later lost in the finals.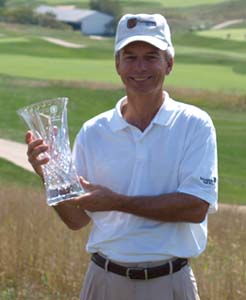 Mike McGuire won the Senior Division.
Senior Division
Mike McGuire of Greensburg, Pa., also carded a wire-to-wire title by posting rounds of 70 and 72. McGuire held off a charging Bill Baloh of Herminie, Pa., on the final round. Baloh started out 4 strokes behind on Tuesday, but carded 1 eagle and 3 birdies to finish one back.
Ed Strickler of Huntingdon, Pa. was the only player close to the two leaders. Strickler finished at 154 for the championship.
Super-Senior Division
James Hoffer of Lemoyne, Pa., carded a final round 3-over-par 75 to steal the championship away from, first round leader, George Bilowick of Butler, Pa. Hoffer finished the tournament with 5 birdies.
Next year's Art Wall, Jr. Major will be held at The Country Club of Scranton, in Scranton, Pa. 2009 will be the 50th anniversary of Mr. Wall's major championship win at The Master's. The Country Club of Scranton was his home club.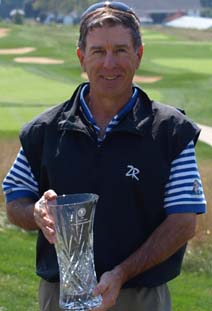 James Hoffer won the Super-Senior Division.
Created in 1909 with the intention of promoting the interests of golf throughout the Commonwealth of Pennsylvania, the Pennsylvania Golf Association (PGA) is the authoritative body of amateur golf in the state. The Association's focus is to promote growth, preserve traditions and protect the integrity of the game through its competitions and member services. The Association's individual members and 300 Member Clubs are spread across the entire Commonwealth of Pennsylvania.
[ Back ]