Gregor Orlando Captures State Crown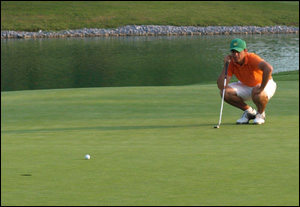 Gregor Orlando lines up his birdie putt
to advance into a playoff with Robert Galbreath, Jr.
HERSHEY, Pa. – Gregor Orlando of Erie, Pa., and Robert Galbreath, Jr. of Huntingdon Valley, Pa., carded final-round scores of 70 to finish 3-under par and in a tie for the championship.
Orlando made a 12 foot birdie putt on the 456 yard par 4, eighteenth, while Galbreath, the defending champion, three putted to send them to extra holes.
On a steamy day that threatened thunderstorms multiple times, it ended on the 170 yard par 3 sixteenth hole. Galbreath lead off by hitting his tee ball in the left bunker while Orlando was 30 feet left on the putting surface. Galbreath played a well judged sand wedge to 10 feet. Orlando nearly missed his putt and tapped in for par. Galbreath missed his putt and Orlando was crowned the 58th Junior Boys Championship.
The competition was very tough with a field of 156 players in the Championship flight. The final pairing included three players with a first round score of 2-under-par, 69. Gregor Orlando of The Kahkwa Club, Matthew Burkhart of Meadia Heights Golf Club, and Robert Galbreath, Jr. of Huntingdon Valley Country Club.
Easton Renwick of Punxsutawney, Pa., finished alone in third place with rounds of 71 and 72, with 6 birdies in his final round. Sam Hockfield of Gladwyne, Pa., finished in a tie for fourth place with the youngest player in the field, Zachary Herr of New Hope, Pa. Zachary, 13 years old and playing in the older division, started this years championship with an opening round of 70 to put himself in the last pairing for the second round. He finished with the championship 4-over-par.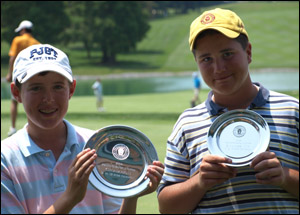 Brett Rinker (left) and David Pompey.
The Junior-Junior flight included 12 players, ages 13 and under. Brett Rinker of Slippery Rock, Pa., carded rounds of 77 and 75 to take the championship. Brett scored three birdies in the final round.
Created in 1909 with the intention of promoting the interests of golf throughout the Commonwealth of
Pennsylvania, the Pennsylvania Golf Association (PGA) is the authoritative body of amateur golf in the state. The Association's focus is to promote growth, preserve traditions and protect the integrity of the game through its competitions and member services. The Association's individual members and 300 Member Clubs are spread across the entire Commonwealth of Pennsylvania.
[ Back ]