Heydt Takes 2010 Junior Championship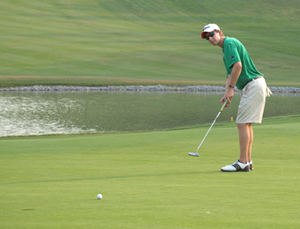 Jonathan Heydt putts on the 18th green at Hershey GC
Hershey, PA - Jonathan Heydt, of Moselem Springs Golf Club, was the co-leader after the first round with Michael Davis, of Merion Golf Club, after posting 2-under-par rounds of 69.
All of the players had to battle the scorching heat on both days of competition, as the thermometer reached 102 and 100 degrees respectively. The East Course at Hershey Golf Club held up tremendously and Heydt's play did as well.
Heydt started out the second round with a birdie on the 478 yard, par 5, first hole that features a pond on the right and five massive bunkers gaurding the two-tiered green. He followed that up with two pars and another birdie on the difficult 437 yard, par 4, fourth hole. He then faltered on the fifth hole with a bogey, but quickly forgot about that after rolling in an eagle on the 515 yard, par 5, sixth hole (he also eagled the sixth hole in the first round).
Heydt's 5-shot victory included front nine scores of 2-under-par, 34, in both rounds, even par and one-over-par rounds on the back nine, and finished with 5 birdies and 2 eagles for the tournament. His overall score, 139, is the fourth lowest in the history of this event since 1987, when it was changed to a 36-hole championship.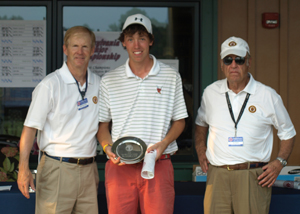 Ben Cooley is awarded the 2nd place trophy by
Chuck Dannenberg, President, and Pete Richter, Vice Pres.
Ben Cooley, of Lu Lu Country Club, began the day tied for second after posting a first round score of 1-under-par, 70. He started the second round solid posting pars on the first 5 holes, but then faltered with 2 bogeys and double bogey to round out his front nine. He was determined to get back into the fight though, with birdies on the 393 yard, par 4, 10th hole and the 379 yard, par 4, 17th hole. Cooley, the runner-up in the Golf Association of Philadelphia Junior Boys Championship, matched his previous finish with a runner-up finish at Hershey.
Jason Sauder, of the Lancaster Host Resort, began the second round in a tie for 24th place. That apparently did not bother him at all. He birdied the 427 yard, par 4, fourth hole, and eagled the 515 yard, par 5, sixth hole to post a front nine score of 3-under-par, 33; which hoisted him to second place at the time. He finished the tournament in a tie for third with a two day total of 3-over-par, 145.
Junior Team Championship
The Junior Team Championship is conducted concurrently with the Junior Championship. Three low scores out of four for each round will comprise the team total for each round. The low total team score will be declared Pennsylvania Junior Team Champions. A club may enter more than one team. Players must compete in the same age division to be eligible for a team.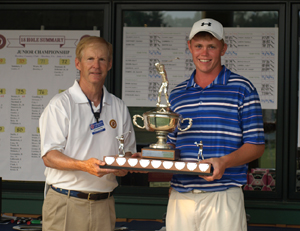 Conor Gilbert accepts the Team Championship trophy
on behalf of Bent Creek Country Club
Bent Creek Country Club prevented Commonwealth National Golf Club from completing the "Three-pete", with a team total of 454. Bent Creek CC's team was comprised of Conor Gilbert, Brandon Hartranft, and Rob Rowe who posted rounds of 224 & 230 respectively.
There was a three way tie for second place between Commonwealth National GC, CC of Scranton, and Lu Lu CC who all posted totals of 458
13 & Under Division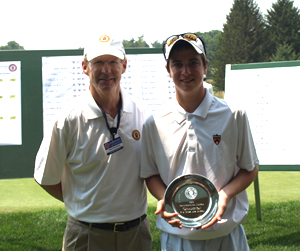 Jake Reilly accepts the 1st place trophy from
Chuck Dannenberg, Assoc. President
Jake Reilly, who had the luxury of playing on his home course, did not disappoint the hometown crowd. He lead after the first round which featured 3 birdies (back-to-back birdies on the 4th & 5th holes) and finished with a 2-over-par, 73. He followed that score up with another 3-birdie round on the second day and posted a one-over-par, 72, to win the championship by 4 shots.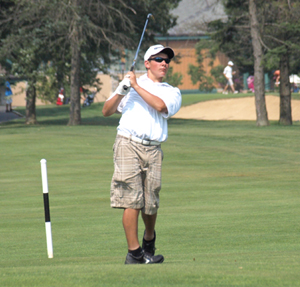 Ryan Dornes hits his approach on the 11th hole
Ryan Dornes, of Meadia Heights Golf Club, posted rounds of 75 and 74 respectively to win the second place trophy. Dornes posted a remarkable 7 birdies for the tournament, 3 of those birdies came on the front nine in the second round (back to back on the 5th and 6th holes).
The 2011 Junior Championship will be held at Hershey Golf Club, date to be announced at a later time.
Special thanks to the Director of Golf, Ned Graff, and his staff at Hershey Golf Club for a splendid job, and also for inviting us back next year.
[ Back ]