Schlachter Takes Senior; Howson Wins Super-Senior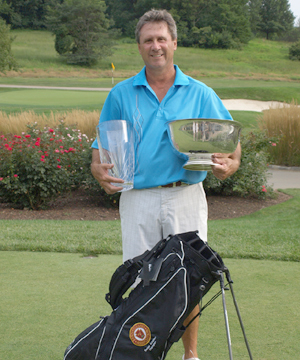 Paul Schlachter poses with his awards, including
an Ogio Vaporlite golf bag embroidered with
Senior Amateur Champion
Malvern, PA; Paul Schlachter, The Club at Nevillewood, won the 51st Senior Amateur Championship, his 3rd title, with a fantastic two-day score of even-par, 140, to win by two shots. Chester Valley Golf Club was the stage and proved to be a great challenge to the best senior players that the state of Pennsylvania has to offer. Schlachter started the final round with a two-shot lead after posting the only red numbers for the first round, a 2-under-par, 68. Schlachter's 68 featured six birdies, one double-bogey, and two bogeys.
The leader had multiple contenders looming behind him. Fred Stern, Totteridge Golf Club, began the second round two shots back of Schlachter. Defending Champion, Dave DeNezza (or "Double" as most call him), from Greensburg Country Club, was paired in the final group after he posted a 1-over-par, 71 in the first round. Chip Lutz, LedgeRock Golf Club, was 4-shots back of the leader to start the final round.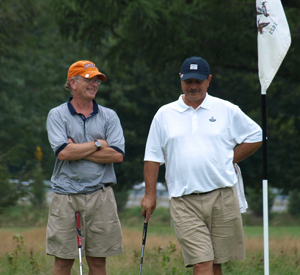 Fred Stern (left) and Dave DeNezza look on
Stern bogeyed early at the 380 yard, par 4, fourth hole and also at the 172 yard, par 3, fifth hole, but got back on track at the 400 yard, par 4, eighth hole with a birdie, and then made the turn 3 shots back of the leader. Stern lost steam on the back nine with two bogeys and a double-bogey on the uphill 485-yard, par 5, 14th.
Two contenders made a charge to put some pressure on Schlachter. Lutz and Tom Bartolacci, Jr., Saucon Valley Country Club, posted final scores of 2-over-par, 142. Bartolacci played the best on day two with a phenomenal 1-under-par, 69, which was posted to the leaderboard right when Schlachter was struggling down the stretch.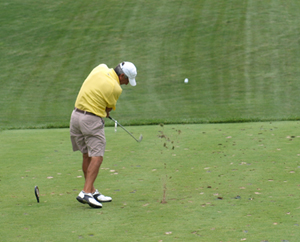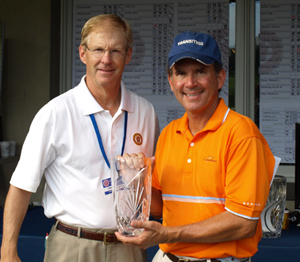 Tom Bartolacci hits his tee shot on #4 Chip Lutz is awarded the 2nd place crystal
by Chuck Dannenberg
Schlachter stood on the tee at the 185-yard, par 3, 15th hole, with a 6 shot lead over his closest competitors. With a hole location tucked on the left hand side, directly behind a bunker, he just wanted to be right of the flag. He blocked it out to the right and it ended up under a pine tree. Schlachter punched out into the thick rough, and was unable to get it to the green surface. He then chipped up and two putted for a triple bogey.
All of the sudden, Bartolacci birdies the 18th to post two-over par, while Schlachter is regrouping on the 16th tee. Chip Lutz, in the group ahead of the leader, birdied #16 and parred in to post two-over par, 142, as well. Schlachter made a par on the 16th, but then bogeyed the 396 yard, par 4, 17th after three putting from just short of the green.
The leader stood on the 18th tee with a one-shot lead and pounded his drive down the left hand side of the fairway and had a short iron left. He struck it crisply and it ended up hole high with 8 feet remaining. It was probably the straightest putt he could have asked for, and he drained it.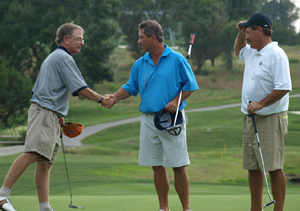 Fred Stern (left) and Dave DeNezza (right) congratulate
Paul Schlachter on the 18th green.
Team Championship
Frank McFadden, Andy Thompson and Ray Thompson, Overbrook Golf Club, won the Team Championship by 2 shots over Greensburg Country Club. The competition was a best 2 scores of 3 for each round. They followed up the Overbrook GC victory at the Amateur Championship, won by Michael and James Kania, Jr.
Super-Senior Amateur Championship
Jay Howson, Jr., St. David's Golf Club, won his second Super-Senior Championship in a row after winning a one hole playoff over George Bilowick. The players finished their 36th hole tied at 7-over-par, 147. So, they headed to the 413-yard, par 4, 18th tee for a sudden death playoff. Bilowick hit his tee shot down the left hand side and got caught up in the trees. Howson played his shot into the right hand rough.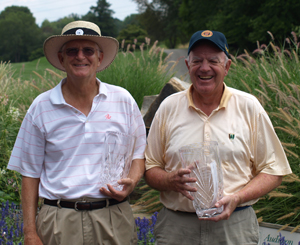 Jay Howson, Jr. (right) and George Bilowick
Bilowick was forced to punch out short of the crossing stream at about 75 yards short of the green. Howson played a hibrid onto the green and two putted for par. Bilowick was unable to get up-and-down and Howson was crowned again.
Don Lamb, St. Clair Country Club, who began the day tied with Howson and Bilowick, finished alone in third place. Tom O'Rourke, Chester Valley Golf Club, finished with 151 to take fourth place on his home course. O'Rourke and Mike Civitello won the Team Championship in the Super-Senior Division beating out West Shore Country Club's James Hoffer and Bill Stasiulatis.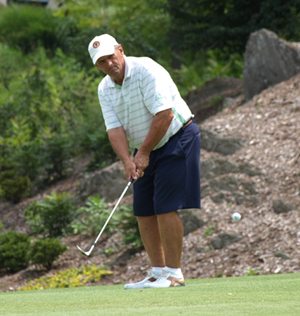 Don Lamb hits a chip shot on #6
The 2011 Senior Amateur Championship will be held at Edgewood Country Club on August 1-2.
Special thanks to Jonathan Doctor, Head Golf Professional, Scott Ussia, General Manager, and Dave Visocan, Head Superintendant, and their staffs for a fantastic job.
[ Back ]